Cambodia's top ophthalmologist shares how COVID-19 has changed eye health and why sight-saving work must not stop.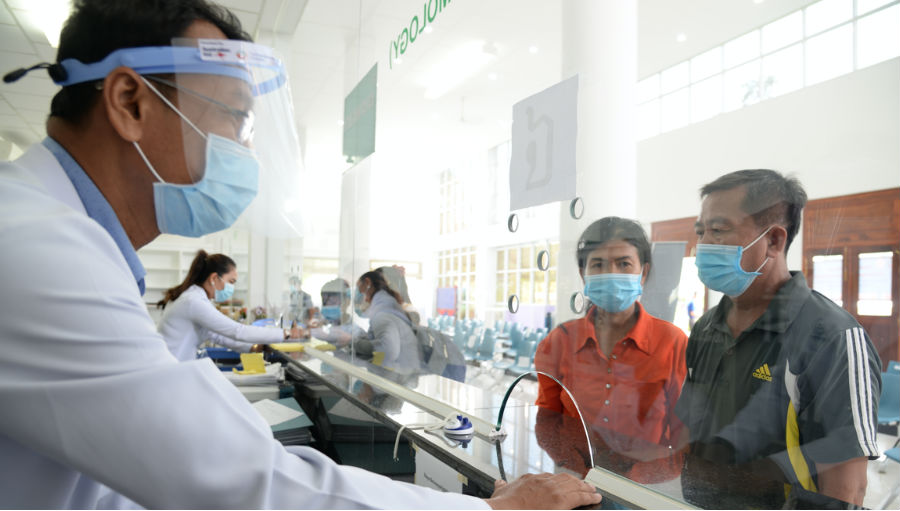 COVID-19 has put the world's health systems to the test. In countries greatly affected by the pandemic, the shortage of hospitals and healthcare workers is reducing people's access to other important and urgent health services.
Among those services is eye health care. Many people are at risk of becoming blind if they don't get screened and treated immediately. In four out of five cases, blindness can be avoided with appropriate and timely treatment.
Cambodia is among a handful of countries that managed the pandemic well. This country of 16 million had fewer than 300 COVID-19 cases and no recorded deaths to date. Despite the challenges in the 'new normal', the country has continued offering eye health services to its people.
Cambodia's National Program for Eye Health chairperson Dr Meng Ngy talked with Alison Hill, Brand and Communications Director of eye health NGO The Fred Hollows Foundation to discuss the importance of continuing eye health services in the middle of a pandemic.
Alison Hill: Hi Dr Meng, thank you very much for chatting with us. Cambodia is one of the few countries where COVID-19 has been managed properly. Could you share with us why you think Cambodia had been successful in keeping COVID-19 under control?
 Dr Meng Ngy: Good question – I think the strong leadership from the government played a big role.
At the start of the outbreak, our government reacted quickly and created a task force where all ministries are involved. The team worked together to set up a strategic plan. Under that plan, we first controlled the entry of imported cases from overseas. We were able to manage this quite well, so we didn't have a big outbreak. We also tasked the Ministry of Health to do extensive contact tracing.
People's knowledge is very important. They need to understand the disease and how to prevent it, and everyone has to work together to put the virus under control.
 Has there been a lot of really good public messaging around things like wearing masks and washing hands? Has that been a key to it as well?
 You know, we have developed a lot of public health materials like posters, video clips, and social media content to spread awareness on COVID-19. Even when using the phone – when you ring someone, you will hear messages and reminders from the Ministry of Health!
We are also working with committees on the provincial and district levels, as well as governors to spread public health messages.
That's fantastic. Let's talk about eye health programmes in Cambodia. What has been the impact of COVID-19 on your eye health programmes?
In every country, every sector has been impacted by COVID-19. In Cambodia, eye care programmes were also impacted.
We need to follow the Ministry of Health's strategy on hygiene and COVID-19 prevention. Now, we need to protect eye care patients by setting-up handwashing and providing masks and face shields to health staff. We have also developed video clips that explain how COVID-19 can be prevented.
We didn't stop eye care services, but we screen those who come to the clinic, and we try to ensure social distancing for the patients. We try to explain to the patients how the 'new normal' looks like. They need to know how to adapt to the COVID-19 situation. That one is really important.
 The 'new normal' does look different. I have seen photos of Cambodian eye doctors using face shields and protective equipment to minimize the risk of infection. Do you think that the changes that had to happen because of COVID-19 will permanently change the way eye health services are delivered in Cambodia?
 Well we don't know how big the impact of COVID-19 will be. We don't know how long COVID-19 will remain, so we cannot say permanent or not permanent, but we can say that it will take a long time.
But what we need to do – we need to adapt to the situation, and change to the 'new normal life.' Everyone in the world faces this, even in Cambodia, so we should think how we can adapt to this situation. It's very important.
 Why is it important to continue eye care services in the 'new normal'? And why should people consider it essential?
 It's very important. The eye care sector needs to continue in the 'new normal'. We cannot leave vison-impaired patients without doing anything. We have to save lives by restoring the sight of our patients.
We cannot stop, because we don't know how long the impact of COVID-19 will last. Even if you have vaccines soon, the pandemic will still leave an impact. But as we continue, we need to change our activities to help prevent the spread of COVID-19.
If we stop our work, we cannot eradicate avoidable blindness.
 Very important indeed. You've been working in ophthalmology for a long time now. Can you tell me about how eye health has changed in Cambodia over the past 10 years?
 There have been a lot of changes in the past 10 years. We can say that we have dramatically helped a lot of people – we restored the sight and saved the lives of so many Cambodians.
We have trained doctors, and many of them go back to serve their home province. We developed eye care facilities in provinces throughout Cambodia, so that people could go to their nearest facility to restore their sight.
Lastly, we have also increased public awareness, so everyone now knows that eye care is very important, and they know where to get eye care services. People change their lives when they have knowledge.
We are thankful for The Fred Hollows Foundation for supporting us in all these programmes.
 One of the things I like when I talk to ophthalmologists is hearing what it's like for them when they've done lots of cataract surgeries. Is that something that still inspires you after all these years as an eye doctor? Can you tell us about what that feeling is like?
 It is touching to see when a blind person – who used to see nothing – opens their eyes and starts to have a new life again.
Even for doctors like me, when we do cataract surgery and open our patient's eyes, it makes us very happy too. We are very happy to see what we can do for the patient.
I always love that reaction. Every doctor I've met, no matter which country they're in, it's such a joyous thing to give people's sight back. Thank you for the work you do, and for working with The Foundation to help restore people's sight.
Thank you too. We are very proud of The Fred Hollows Foundation. We are looking forward to your collaboration and support. We need your continuous support for the eye care programme in Cambodia.
We cannot do it alone, we need to help each other and work together as a team. We thank a lot The Fred Hollows Foundation, the people of Australia, and the Government of Australia who continue supporting the Cambodian people to this day. Thanks a lot!
For inquiries contact:
Global Communications Coordinator, The Fred Hollows Foundation