One of the most striking aspects I've witnessed on my visits to projects with IAPB is how committed the eye health personnel are, in spite of often having to work in extremely difficult and overstretched conditions. Whether in Africa, Asia, or elsewhere, it is evident how crucial all members of the team are to the delivery of quality eye health services across all levels, primary to tertiary, and how important it is to have sufficient, relevant, well trained and well-motivated staff to do the job – whether that is to help people see, or to provide people who are irreversibly vision impaired or blind the assistive devices and/or support needed to be as independent as possible.
The Global Health Workforce Alliance (GHWA) held an online consultation from September to November this year to develop a global strategy on human resources for health – as a means to tackle the global health workforce crisis. I prepared a submission with considerable support from the IAPB regions, including drawing from policy and position papers from IAPB Africa, where human resources for eye health is the main focus of work due to the sheer scale of the problem in the region.
The papers provided by GHWA to inform the consultation and new strategy, cover many important issues – the need for sufficient, well-trained, and appropriately skilled health personnel (mainly referring to doctors and nurses) including in rural and remote locations, the need for personnel and health systems to respond to inequities in health access and changing demographics, the need for greater emphasis on social determinants, attention to risk factors, promotion, and prevention, amongst many others.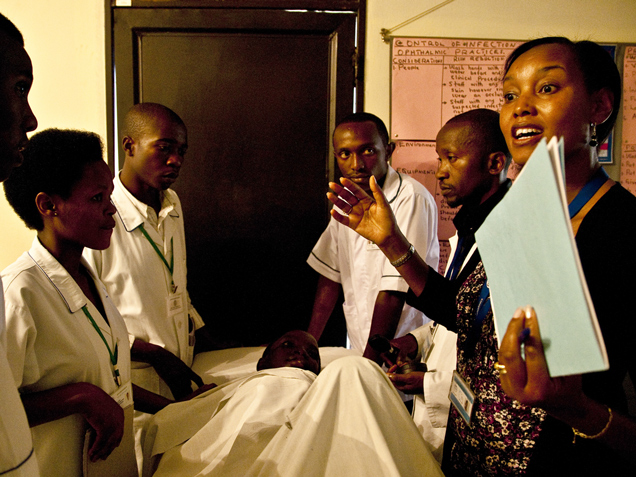 All of these are extremely important issues – but the papers are weakened by the complete lack of attention to specialised areas of health, including eye health personnel, and also mental health, dental health amongst others. The IAPB submission sets out the wide range of reasons why eye health needs to be explicitly accounted for within human resource strategies – highlighting that high prevalence rates of avoidable blindness cannot be tackled if there is a failure to do this.
The submission closes with the following recommendations:
The Strategy must place emphasis on tackling the global health workforce crisis within strengthened equitable health systems and multisectoral integrated approaches, via significantly greater investment and more sustainable approaches to health financing.
The Strategy must guarantee the adequate levels and distribution of well-trained personnel to tackle health comprehensively across diseases, taking account of national, sub-national and local health needs. This must include specialised personnel including personnel involved in delivering eye health at all levels.
The Strategy should involve broadening the eye health recruitment pool, by developing flexible routes into the workforce, and generating more and better data for workforce planning.
The Strategy must promote the inclusion of specialised health areas, including eye health, so that they become integral to Ministry of Health HRH plans.
The Strategy should promote the participation of eye health (and other specialised health) stakeholders in design, delivery, and the monitoring of national health and HRH strategies and policies that include task-shifting, training, and retention efforts.