On 3rd December – International Day of Persons with Disabilities – I was fortunate to chair an event in Parliament at which the Parliamentary Under Secretary of State for International Development, Baroness Northover, launched the UK Department for International Development (DFID)'s first ever 'Disability Framework'. This is a crucial step forwards in ensuring that persons with visual impairment are included and prioritised in future development efforts.
The event was organised by the Bond Disability & Development Group, a coalition of UK-based mainstream and disability organisations, and alongside the DFID Minister, we heard excellent speeches from Fiona O'Donnell MP (member of the International Development Committee), Dr Ray Lang from Leonard Cheshire Disability, Vladimir Cuk, who leads the International Disability Alliance, and it was also the first public engagement for Beverley Warmington, in her role as DFID's new 'Senior Managerial Disability Champion'.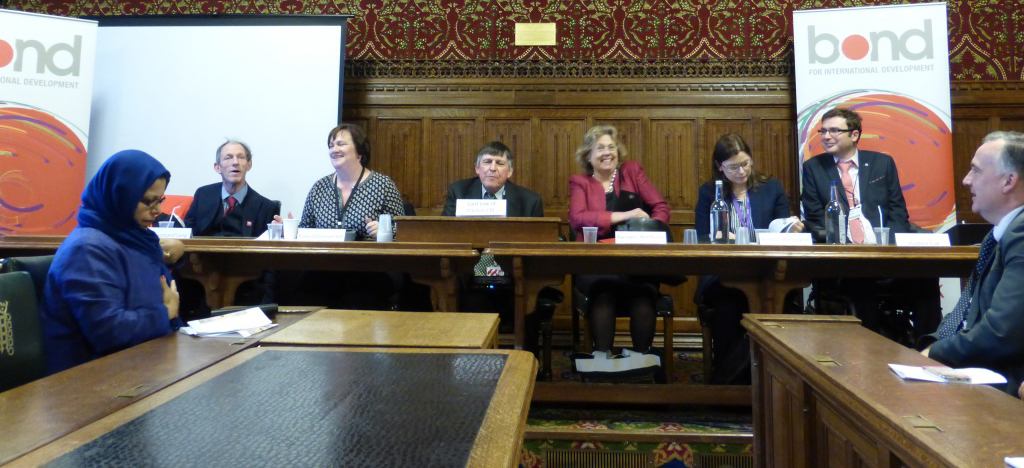 The launch of the framework comes after many months of much-needed progress towards a strengthening of focus on disability-inclusion in aid. In May 2013 the report of the UN High Level Panel on the Post-2015 Development Agenda broke new ground by calling for a Post-2015 framework that 'leaves no-one behind', by ensuring that no goal can be considered to be met unless it is met for all population groups, including people with disabilities.
In September 2013 at the UNGA convened High Level Meeting on Disability and Development, then UK Parliamentary Under-Secretary of State for International Development, Lynne Featherstone MP called on the international community to tackle the 'great neglect' of persons with disability. Following on from this, the UK pledged that it would address disability exclusion within international development and from now on all schools built with assistance from UK Aid would be fully accessible to children with disabilities.
In April 2014 The International Development Select Committee inquiry into 'Disability and Development' reported, urging DFID to take steps to ensure disability inclusion within the Department's work. The IDC recommendations included that DFID should produce a cross-departmental disability strategy in consultation with disabled people; should disaggregate its aid programmes measuring the extent they reach and support disabled people; should increase its specialist staffing on disability; provide training and guidance to all DFID staff on disability-inclusion; encourage partner governments, multilateral organisations and civil society to strengthen disability-inclusion; and should champion an inclusive post-2015 development framework that leaves no-one behind.
In June 2014, DFID responded by agreeing to appoint a senior level disability champion and produce the department's first "Disability Framework', setting out a clear commitment, objectives and timescales for strengthening its work with disabled people.
The event on December 3rd, therefore, represents the culmination of a year of progress in raising this issue up the political agenda, with tributes paid to Lynne Featherstone MP, the former DFID Minister who first announced that the department would do more to prioritise disability. I would recommend to everyone that they read the new Disability Framework themselves. It is an impressive document that lays out a vision and practical actions that will be undertaken by DFID. I particularly welcome the fact that DFID have laid out work-streams for focusing on key issues including addressing stigma and discrimination, improving access to education for people with disabilities, and importantly, strengthening health systems to improve people's health to prevent diseases including NTDS – which can cause blindness. I also welcome the fact that DFID are explicit that the document reflects a process of learning for them and their partners. Crucially, they plan to review and re-publish the document every 12 months to monitor progress, and make sure that momentum is maintained.
In the House of Lords last week, I spoke in a debate about the Post-2015 development agenda and welcomed the Disability Framework as a concrete example of how DFID and other development agencies must take forward the "leave no-one behind" agenda. The launch of the framework is a new beginning we must all keep a close focus on and support the department to turn the document into real change on the ground for people with disabilities.