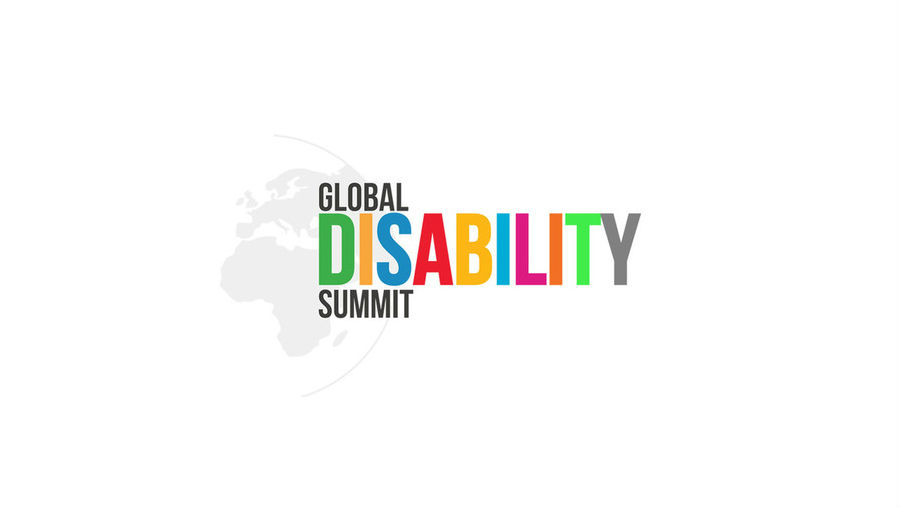 The Global Disability Summit, the first of its kind was held on July 24th at the Queen Elizabeth Olympic Park in London. It was hosted by the UK's Department for International Development, the government of Kenya and the International Disability Alliance.  The Summit aimed to vastly increase the pace breadth and depth of implementation of the Convention on the Rights of Persons with Disabilities (CRPD). To date disability inclusion has been lagging far behind expectations, with governments on the whole around the world falling short on their duties to combat discrimination and improve the lives of persons with disabilities.
I was fortunate to represent IAPB alongside Peter Holland at the summit. I was also involved in some of the preparations, and a number of IAPB members were active in contributing to shaping the summit and/or gaining commitments from governments and other stakeholders.
Stepping up on disability inclusion
On the day, governments, bilateral and multilateral organisations announced many large scale new policies and initiatives, and some planned investments. Also, encouragingly there was quite a good representation of persons with disabilities accounting for diversity of impairments and personal and contextual experiences.
Amongst the 170 commitments made some of the major ones include:
A number of governments committed to develop disability inclusion action plans, and some to formulating or revising legislation,
The World Bank pledged to ensure that all bank-financed education and urban mobility projects are disability inclusive by 2025,
The United Nations Children's Fund has pledged to help an additional 30 million children with disabilities gain a high-quality education,
A good number of governments, some donors, and many of the biggest multilaterals including the World Bank Group and ILO committed to improving data collection on disability through use of the Washington Group questions,
The UN plans to have a new UN system-wide policy, action plan and accountability framework for persons with disabilities by early 2019,
The Global Partnership on Assistive Technology was announced, aiming to help 500 million people get access to the life-changing AT they need by 2030
Revolutionising access to assistive technology
The announcement of the Global Partnership on Assistive Technology #ATScale is a never before level of recognition of the importance of assistive technology to people's lives and the dire need for increased access. Only an estimated one in ten people has access to the assistive technology they require. The bar is being set high in terms of the Partnership's target of reaching 500 million people and its intent "to revolutionise access to assistive technology". This will be an important advocacy space for IAPB and members – ATSCALE acknowledges the majority of those affected are people with sight loss.
Glasses, hearing aids,wheelchairs, prosthesis and Smart-tablets will be the five products that will be prioritised initially. The strategy includes driving innovation, addressing supply and demand blockages, creating enabling policy environments and tools, and partnerships with private sector for improved access and affordability in low resource settings.
Holding stakeholders to account #Nowisthetime
This is an exciting time with prospect of big changes. New impetus was needed to get multilaterals, bilateral donors and particularly national governments to step up. However adequate investment and political will shall prove major variables in ensuring that these commitments translate in country. All persons with disabilities have a right to access to health services and the assistive devices they need, the right to a quality education, access to employment and other opportunities as anyone else.   Consistent and commited advocacy at the international level and particularly at national level will be needed, and continued engagement of those affected. Promisingly there are plans to develop an accountability framework around the Summit to follow up on the commitments.
IAPB has signed up to the Summit's political declaration the "Charter for Change".  Additionally, for its part, IAPB has commited to aligning to the new Global Partnership on Assistive Technology. IAPB will continue to build on its work with WHO's GATE,  and other channels to increase access to vision-related assistive devices, including glasses, for those most in need and to promote the rights of persons with visual impairment.
Summary of commitments – https://assets.publishing.service.gov.uk/government/uploads/system/uploads/attachment_data/file/731878/Global-Disability-Summit-Summary-Commitments_2.pdf
The full list of commitments that were made are listed here.
https://www.gov.uk/government/collections/global-disability-summit-commitments
Member articles:
https://gazetteday.com/2018/08/sightsavers-ceo-disability-rights/
https://www.light-for-the-world.org/7-things-you-should-know-about-global-disability-summit
Article by Rachel Aston from CBM for BOND – https://www.bond.org.uk/news/2018/07/global-disability-summit-4-actions-to-further-inclusion