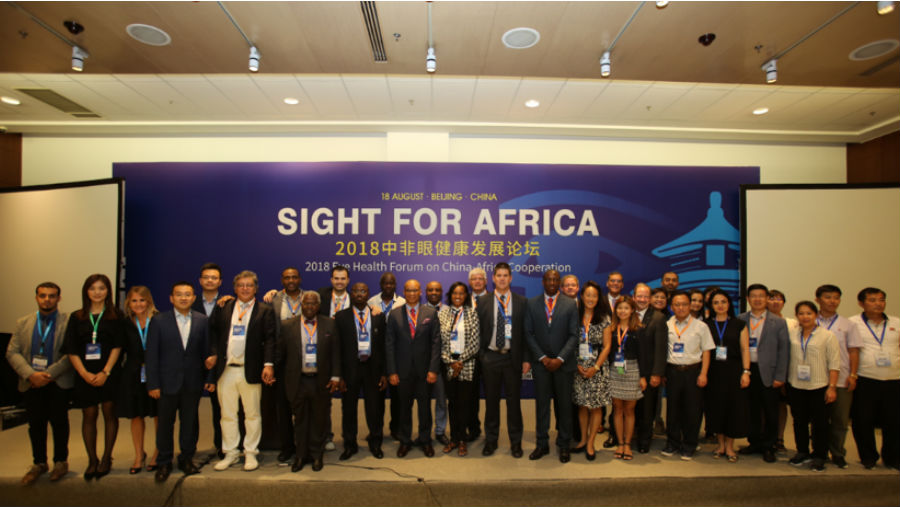 IAPB's China member, the Shenyang based He Eye Specialists Hospital (HESH) recently organised the 2018 China-Africa Eye Health Cooperation Forum. It was hosted by National Health Commission of P.R.China and co-organised by Orbis International, International Council of Ophthalmology (ICO), African Ophthalmology Council (AOC), HESH and National Training Base for Prevention of Blindness. The forum was held at National China National Convention Center (CNCC) on 18th August, 2018.
Nearly 100 ophthalmological experts from the International Agency for the Prevention of Blindness (IAPB), ICO and ophthalmological society of African countries, from international NGOs alongside "The Belt and Road" attended the forum.
As the National Training Base for Prevention of Blindness, which is appointed by National Health Commission of P.R.China, HESH, will export "capability trainings, technologies, precision medicine initiative and poverty alleviation model" in the area of ophthalmology to African countries. Thus HESH was the perfect choice to organise this conference. President Wei He pointed out that "helping Africa is the process of growth on both training and studying. Our medical team and research team will get self-development, as well as the ability to train."
Not only eye health, but health in general was one of the most significant focus areas of the China-Africa Health Cooperation. The forum was themed "Sight for Africa" , with discussions on prevention of blindness; looking at the latest results, strategies and opportunities to contribute towards blindness prevention in different countries It was suggested that we should integrate multiple resources, in order to jointly solve the problems of blindness in Africa.
At the conclusion of the Forum, 11 representatives from different countries came to Shenyang to visit He University and HESH. HESH signed a Memorandum Of Understanding with Ethiopian Society of Ophthalmology, Ghana Society of Ophthalmology, Rwanda Ophthalmology Society, Ophthalmological Society of South Africa, College of Ophthalmologist for Eastern, Central and Southern Africa, and University of Cape Town, after the visit.
HESH plans to build a tele-medicine system which could cover the whole of Africa in the future – in 5 years, and provide training and technologies to Africa. Moreover, HESH promised to build an African owned medical team, by personnel cultivating, technology exporting and prevention of blindness mode constructing. It will finally, improve the capability of African countries on prevention of blindness and promote the construction of "The Belt and Road'"
It was a very successful forum and HESH look forward to ongoing cooperation with our partners and friends in Africa and beyond.