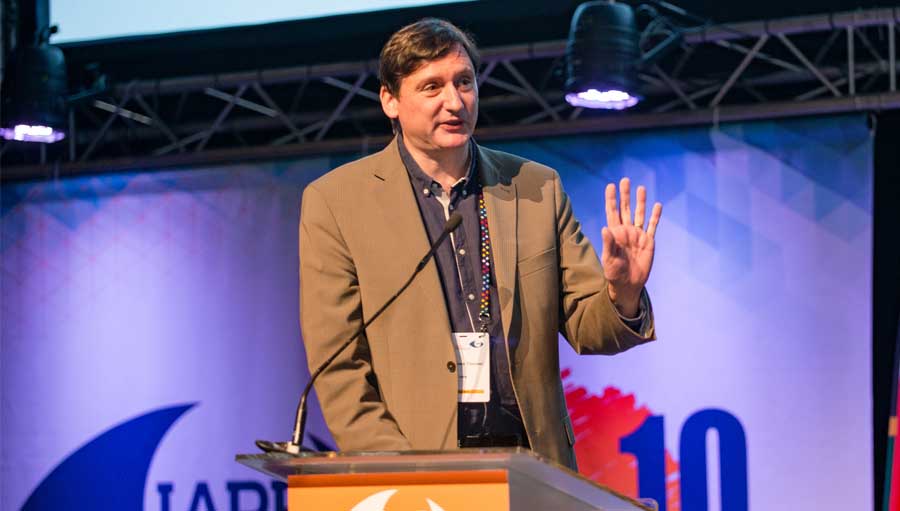 IAPB will be saying goodbye to two of our colleagues this month. Johannes Trimmel, IAPB's Director, Policy and Advocacy has accepted a new position as the Director of a new programme on Disability Inclusive Development at Sightsavers. John Trevelyan, IAPB's Fundraising and Partnerships Development Manager will be retiring after seven years at IAPB.
Johannes will be heading a new programme funded by UK's Department for International Development (DFID) that was announced at the Global Disability Summit earlier.
Johannes has helped shape IAPB policy and our work in inclusive eye health. He has made sure that our advocacy work and messages centre around key issues in eye health: growing threat of diabetes, achieving Universal Health Coverage,SDG's, momentum to continue global efforts to eliminate NTDs and more. He has worked closely with the WHO on the World Report on Vision. Johannes joined IAPB in October 2015 as our Director for Policy and Advocacy. Before that, he had worked for more than ten years at Light For The World and had been their Director for International Programme Support and Policies from 2010 to 2015.
During that period, Johannes was also elected Vice-President of IAPB in 2012 and served till 2015. Recently, he had served as interim CEO helping IAPB transition to a new Chief Executive.
"Johannes will leave an enormous gap. But I'm delighted for him – the role is both incredibly exciting and really important. It's a fantastic opportunity that's perfect for Johannes and I know he'll make the programme a great success", says Peter Holland, CEO, adding "Johannes has been very influential throughout the eye health sector."
"Disability inclusion is close to Johannes' heart and I cannot think of a better person to lead this programme. While we will miss his expertise, Johannes is one of the few who can make a real difference in the Inclusion field, and we wish him the very best', said Joanna Conlon, Director of Development and Communications.
"I am really excited to be leading a significant new programme on disability inclusive development. The IAPB alliance is positioned very well to tackle the eye health agenda in the coming years, and I look forward to contributing to this success with my friends and partners in this new role", said Johannes Trimmel.