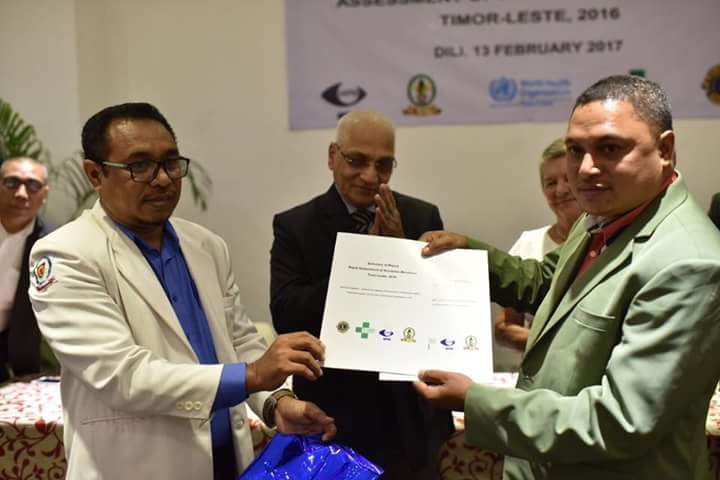 In 2016, I worked with the Ministry of Health (MoH) Timor-Leste to carry out a national representative blindness and visual impairment survey there.
The survey was carried out with generous financial support from Lions Club International Foundation, technical support from International Agency for Prevention of Blindness (IAPB), South East Asia Region and local financial administration by the Royal Australasian College of Surgeons (RACS).
On 13 February 2017, the MoH Timor-Leste in collaboration with the WHO Country office formally shared the survey results at a dissemination workshop in Dili, Timor-Leste. Participants included the Director of Health Services MoH and representatives from the education and social welfare ministries, the WHO Country Representative, WHO SEARO Regional Advisor, LCIF Technical Advisor of South East Asia and Pacific Region, RACS, Fred Hollows Foundation New Zealand, UNICEF, IAPB SEA and other development partners of Timor-Leste.
On that day, the Principal Investigator Dr Marcelino Correia handed over the report to the Deputy Director of Health Services and declared them "official". Dr Correia, along with ophthalmologists who were part of the survey and myself, presented the survey findings to all workshop participants. A detailed discussion highlighting the issues and causes was held. The group work organised after the presentation suggested solutions and recommendations to be included in Strategic Eye Health Action Plan of Timor-Leste. It was heartening to receive a message from the Honorable Health Minister (who could not attend) to arrange for the survey findings and recommendations to be presented to her and the Board of Directors from the MoH.
Summary of Survey findings
The survey was able to obtain a 97.1% response rate. The age and gender adjusted prevalence of blindness was 2.8% (Male 2.4% and female 3.1%) with presenting visual acuity (PVA) cutoff <3/60 (the WHO's definition of blindness). Similarly, severe visual impairment PVA <6/60 was 4.5% (Male 4.0 and Female 4.9) and moderate visual impairment PVA <6/18 was 12.5% (Male 12.0% and Female 12.5%).
Cataract was the leading cause of blindness- 79.4% of overall blindness. Age and gender adjusted cataract surgical coverage (CSC) was 41.5% (Male 52.6% and Female 30.6%) among PVA<3/60; 30.9% (Male 40.3% and Female 22.0%) among PVA <6/60 and 16.8% (Male 23.5% and Female 11.3%) PVA <6/18 was found in survey.
Overall the visual outcome after cataract surgery was 62.0% good, 22.6% borderline outcome and 15.3% poor outcome (according to WHO guidelines).
The major barrier for uptake of available cataract surgical service in the country was: access to the services (45.5%) and no one to accompany (24.8%).
Conclusions
Timor-Leste has a high prevalence of blindness and visual impairment. Cataract surgical coverage is very low compared to other Southeast Asian countries. Quality of cataract surgical outcome is not up to WHO recommendations.
An alarming fact revealed in the survey was the gender inequality among the service recipients. The magnitude of blindness was high and cataract surgical coverage was too low among women in the country.
The country needs to expand eye health services taking it closer to people living in rural and remote areas. Eye health human resources also need further attention to achieve satisfactory improvement in quality of eye health services.
Also read: Rapid Assessment of Blindness survey: Timor-Leste and see photos of Timor-Leste Dissemination workshop