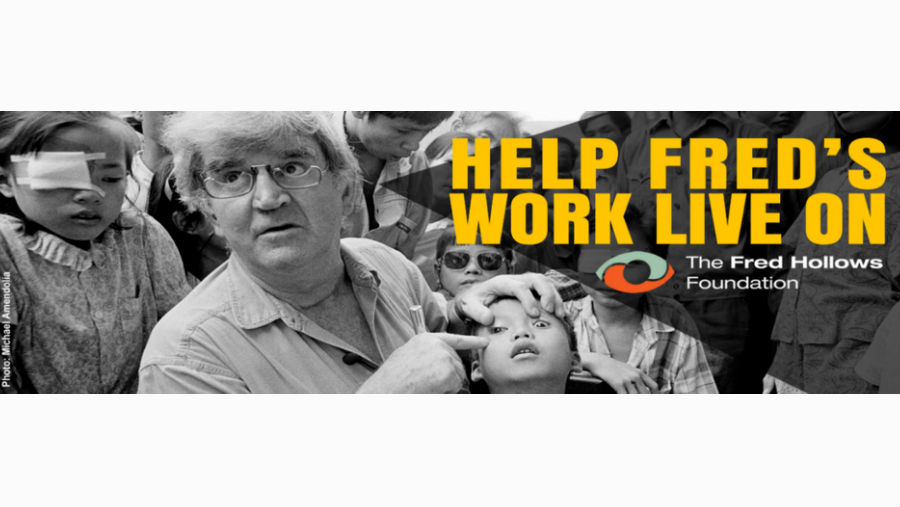 Unique Leadership role for a qualified Ophthalmologist
Position open for the first time in 20 Years!
Permanent position, based in Australia (other locations may be considered)
For the first time in 20 years, The Fred Hollows Foundation are looking to find their next Medical Director.   This is a unique opportunity for a qualified ophthalmologist to join their team and provide leadership and guidance across their global programmes portfolio.   This opportunity coincides with the launch of their new strategic plan, which sees them ramping up their efforts in the management of Cataract, Trachoma and Refractive Error, and exploring innovations to make the management of Diabetic Retinopathy affordable for all.
The Medical Director will own the following outcomes:
Strategic advice to FHF's leadership on medical and eye health issues, emerging issues and breakthroughs.
Leads the development of policies, standards & guidelines for our programmes, and ensures that that the medical work we support is delivered at the highest standard.
Supports capacity building of our staff in key medical issues
Oversees The Foundation's medical team and an FHF in-country medical network
Leads strategic projects of a medical nature that can increase FHF's impact.
Ensures that eye health and medical expertise is embedded in FHF's decision-making.
Ensures appropriate professional medical representation of The Foundation to external professional organizations and networks.
About you:
You are recognised globally as an expert in the field of Ophthalmology, bringing expertise in community ophthalmology in low resource settings, and a passion for bringing affordable eye care to the poorest. You are an excellent communicator with a strategic mindset, and have built a strong professional network across the eye health sector and beyond. You uphold the highest professional standards and keep abreast of the technologies, innovations and emerging issues that have the potential to end avoidable blindness. You are a team player who will support The Foundation to develop partnerships, influence senior stakeholders and raise resources for our work.
How to apply & who to contact
For a detailed Job description and for information on how to apply please visit our website http://www.hollows.org/au/careers/current-vacancies
Alternatively, If you would like further information please contact our Recruitment Specialist Victoria Cawley on +61 2 8741 1969 or via email at vcawley@hollows.org
Applications close: Monday 1st April
Aboriginal and Torres Strait Islander peoples are encouraged to apply.
The Fred Hollows Foundation is committed to protecting the rights of children in all areas where we work.  Applicants are advised that The Foundation reserves the right to conduct police checks and other screening procedures to ensure we maintain and promote a child safe environment.
This role is open to Non – Australian Citizens, willing to relocate and are eligible for sponsorship.