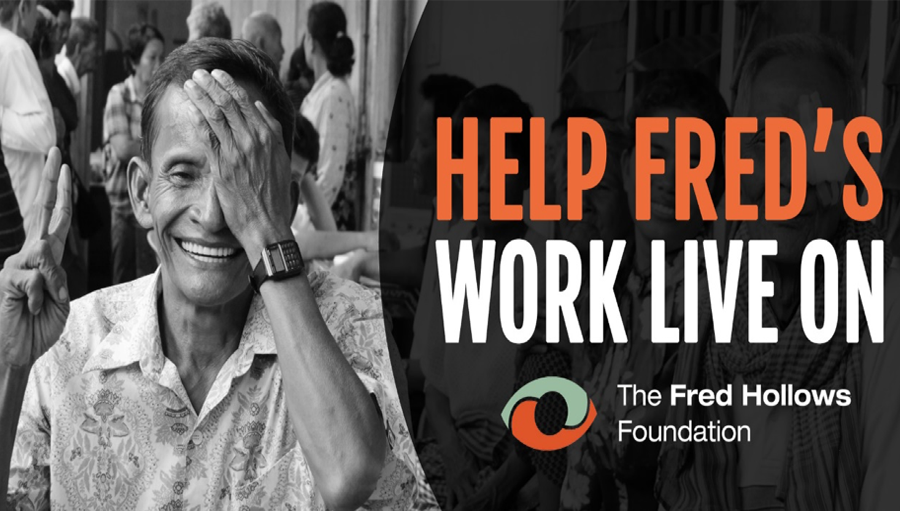 The Fred Hollows Foundation is looking to fill the position of a Regional Medical Advisor Asia.
A unique opportunity for a qualified Ophthalmologist
Bring your expertise to help us deepen our impact and end avoidable blindness
Permanent or retained Consultancy position, preferably based in either Vietnam, Nepal, Philippines, Cambodia, China, Laos, Myanmar or India. 
The Fred Hollows Foundation is one of Australia's fastest growing and most respected Not For Profits, and are known around the world as a leading international development organisation that works with purpose and determination. Their goals are ambitious, focused and achievable, making what they do even more exciting. They focus on results and are passionate about making affordable and accessible eye care a reality for everyone, so that no one person is needlessly blind.
The Role
They are currently looking to recruit a Full Time Ophthalmologist Regional Medical Advisor for their Asian country programmes to commence early in 2020.  With the launch of their new 5 year strategy (2019-23), they have identified the need to provide increased "Medical/Eye Health/Technical" support for Asia country programmes, which include their new "Alina Vision" Community Eye Hospital programme in Hanoi, Vietnam.
In this varied role, you will use your expertise to support quality improvement initiatives within their existing programme portfolio, whilst providing significant clinical and technical support to their new Alina Vision' community Eye Hospital programme.   Working as part of a Global team, you will liaise, support and be supported by their Asia country teams, programme development and monitoring and evaluation teams, so whilst there is lots to do, you won't be doing it alone.
In particular the Regional Medical Advisor will;
Act as first port of call for clinical and medical advice which supports in-country programmes
Lead the development and implementation of their Clinical Governance Frameworks within the region with a particular focus on "Quality Improvement Programmes", this will include reviewing and improving clinical outcomes, productivity, safety, cost and sustainability.
Support the implementation phase of Alina Vision Community Eye Hospital and associated vision centre Social Enterprise's, ensuring robust hospital management processes are implemented which support the accurate recording and optimal data capture to support their programmes.
Oversee the Integrated community/primary and secondary comprehensive eye care services including for example, supporting Alina's programme of Vision Centre development.
Advise on national prevention of blindness strategies in the region as required
Work as part of the Global Medical advisory team, providing advice and input into FHF Global Thematic themes
Develop and maintain good relationships with relevant public health and medical personnel and organisations, in-country staff and other stakeholders in the region
Represent FHF at external meetings as required by Medical Director and Public Affairs team 
About you
You are a qualified Ophthalmologist with significant experience in community ophthalmology.  You understand the challenges of working in low resource settings, and have a passion for bringing affordable eye care to the poorest. You are an excellent communicator with a strategic mindset, and have built a strong professional network across the eye health sector and beyond. You uphold the highest professional standards and keep abreast of the technologies, innovations and emerging issues that have the potential to end avoidable blindness. You are a team player who will support The Foundation to develop partnerships, influence senior stakeholders and raise resources for our work.
For those candidate that are looking to maintain some level of clinical practice, it may be possible to support this through their Partnership with Alina Vision.
Some useful information you need before you apply.
This position is open to anyone who is eligible to work in either Vietnam, Nepal, Philippines, Cambodia, China, Laos, Myanmar or India.
Unfortunately we are not able to provide sponsorship for this role.
Employments terms and conditions will be commensurate with the local terms and conditions of where the role is based.
We know you are busy people so to help you plan, here are some dates to be aware of;
1st round interviews (virtual) – 20th to 24th January 2020
2nd Round interview, in person and likely to involve travel to Vietnam – w/c 10th February, 2020
How to apply & who to contact
For a detailed Job description and for information on how to apply please visit our website http://www.hollows.org/au/careers/current-vacancies
Alternatively, If you would like further information please contact their Recruitment Specialist Victoria Cawley on +61 2 8741 1969 or via email at vcawley@hollows.org
Applications close:  Friday 3rd January, 2020
The Fred Hollows Foundation is committed to protecting the rights of children in all areas where we work.  Applicants are advised that The Foundation reserves the right to conduct police checks and other screening procedures to ensure we maintain and promote a child safe environment.