One sits back and wonders at the number of International Health Days in a year – a little too many perhaps? What happens – when like this year – the same date is shared by different health issues (World Sight Day and World Mental Health Day)? Are we on the verge of an international health day 'fatigue'?
It is not uncommon to see such discussion on blog posts and twitter feeds online. And so, it's also great to see the support World Sight Day enjoys and to get a glimpse of what it means to people around the world. For example, Stephen Thompson spoke to optometry graduates (and its his post that got me thinking about the other health days) from Universidade Lurio in Mozambique and discovered that participating in WSD celebrations, "…improves morale and gives a sense of belonging to a greater cause".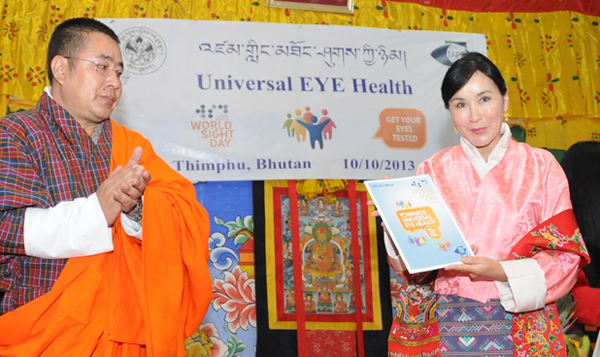 This year's World Sight Day celebrations and the social media 'chatter' have really generated a feeling of kinship and purpose. Hundreds of events – seminars, rallies, walks, screenings, free surgeries – were delivered on World Sight Day. The 'Volunteers for World Sight Day' from Trinidad and Tobago are a fantastic example of what can be done on WSD – from walks in WSD-branded tee-shirts and colour-coordinated balloons to meetings and endorsements from the country's President, it looks like they have done it all! The Lotus School of Optometry in Mumbai, India chose to focus on special 'groups' of the population who would otherwise not get their eyes checked – like taxi drivers, domestic help and children from shelters. The Taiwanese Ophthalmological Society and its partners celebrated the idea of "embracing old age with bright eyes" (along with a host of other activities). The Norwegian Association of the Blind and Partially Sighted (NABP) and its patrons discussed diagnosis and prevention of eye diseases – and celebrated their interventions in the Asia and Africa. The Asia-Pacific Academy of Ophthalmology (APAO) organized its third Asia-Pacific Eye Care Week in conjunction with WSD13, focusing on 'Dysthyroid Eye Diseases' and 'Corneal Diseases and Eye Banking'.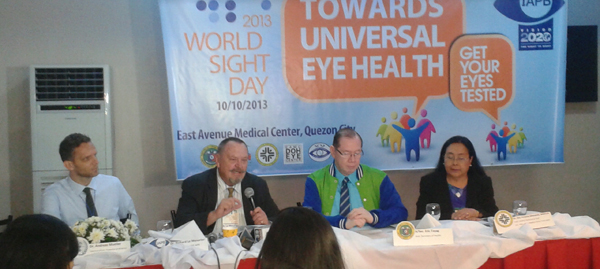 WSD this year also marked a new chapter of partnership, with the Standard Chartered Bank and the Queen Elizabeth Diamond Jubilee trust joining forces to fight avoidable blindness. TOMS' #BeShady campaign was very popular, and it encouraged celebrities like Jamie Foxx to tweet about WSD, doubtless increasing awareness. Alcon shared 'celebration kits' with their partners to mark WSD 13. Key messages included a survey result from Light House International that 8 out of 10 people feared losing their vision, over other senses. Optometry Giving Sight's World Sight Day Challenge, as always, saw great participation from the optical community (Both of them also supported the production and distribution of IAPB's WSD13 Report and material).
It would seem 2013 was the year social media woke up in a big way to World Sight Day. Many partners – and IAPB itself – have notched huge support online, with twitter, Facebook and LinkedIn mentions like never before. We made loads of new friends this year on those pages, and we hope to keep them interested with more!
IAPB too launched the WSD 13 report on Universal Eye Health in Bhutan, Manila and Kigali to much fanfare. In Bhutan, the Crown Princess launched the report in the presence of the Prime Minister and Health Minister. The event marks Bhutan's enhanced commitment to eye health for its people. In Manila, the report helped to cement commitment from the health officials and helped to build upon existing friendly relations. In Kigali, The launch event included a rally with people walking in twos and one person blindfolded. It raised a lot of curiosity!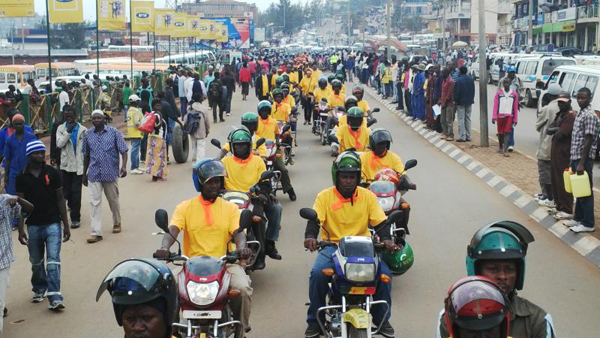 Finally, celebrating World Sight Day fosters a sense of fellowship and togetherness. On one day every year, we take note of the many seemingly small steps we take to restore and protect vision, or to support those who are irreversibly impaired.