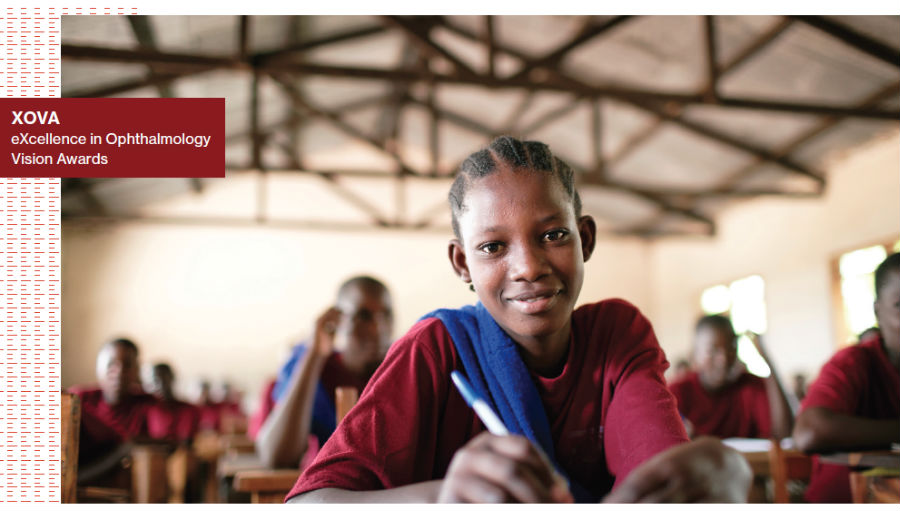 XOVA is an award programme sponsored by Novartis Pharma AG. XOVA is intended for medical specialists who have devised initiatives that are expected to have significant impact on unmet needs in the fields of ophthalmology and optometry.
This year 134 non-profit eye health initiatives from 35 countries were submitted to the eXcellence in Ophthalmology Vision Award (XOVA). Ten winners that aligned most with XOVA's mission to have a significant impact in unmet needs in the fields of ophthalmology and optometry were selected by an independent panel of experts. Novartis will award the winning initiatives with combined grants worth over $460,000.
XOVA congratulates this year's winners:
Amelia Geary (Director, Program Development and Quality), on behalf of Orbis International, will improve access to diabetic eye disease(OED) screening in Guyana using an artificial intelligence-supported screening and referral system. OED screening is not currently integrated into diabetes care in Guyana, leading to late detection and preventable blindness.
Bhairaja Shrestha (Consultant Ophthalmologist,)on behalf of Drishti Eye Care Centre Pvt. Ltd., Will aim to screen and treat 1,500 cases for diabetic retinopathy (DR) in Nepal, a country where 50 percent of diabetics go undiagnosed. The programme will also create a national DR database to track and help reduce visual impairment and blindness caused by the condition.
Simon Arunga (Clinical Lecturer Department of Ophthalmology) on behalf of Mbarara University of Science and Technology (MUST), will establish a Community Vision Centre (CVC) model in rural Uganda to improve access to quality eye care in an area where people have to travel 100km on average to access an eye exam.
Jayant Venkatramani Iyer (Consultant Ophthalmologist at Singapore National Eye Centre), on behalf of The Vision Mission Ltd (based in Singapore, the USA and India as a nonprofit organization), will expand its successful cataract programme in western Odisha, India, into a comprehensive sustainable eye care programme that offers cataract surgeries to people below the poverty line, promotes DR screening and management and offers additional ophthalmic training.
Frank Magupa (Executive Director Ona Network), on behalf of the Dodoma Cataract Consortium, Will increase the number of patient screenings and successful cataract surgeries performed in Dodoma, Tanzania, to tackle cataract-related blindness, a preventable condition that continues to increase in this impoverished area.
Amirul Islam (SeniorLecturer and Departmental Research Director), on behalf of Swinburne University of Technology will implement a three stage care plan for early screening and treatment for school children with vision impairment in rural Bangladesh, where currently approximately 52 per 1,000 children are blind.
Nathan Congdon (Director of Research, )on behalf of Orbis International, will use diabetic retinopathy screening programmes to facilitate earlier screening for glaucoma in low and middle income countries, where only 10% of patients with glaucoma are treated.
Sebastian Nwosu (Professor/Chief Consultant Ophthalmologist), on behalf of Nnamdi Azikiwe University Teaching Hospital Nnewi Nigeria, will train teachers now to screen children for visual impairment in Nnewi South, Anambra, Nigeria. Childhood vision loss is a public health concern in Nigeria, where prevalence and incidence are high, especially in rural areas.
Celso Takashi Nakano (Co-Founder), on behalf of Associagao Medicos da Floresta, Will identify and treat Brazilian indigenous communities suffering from trachoma and related blindness, which is caused as a result of poor living standards.
Dan Twelker, (Associate Clinical Professor, University of Arizona Department of Ophthalmology and Vision), on behalf of VOSH/International will raise awareness of Rigid Gas Permeable lenses among Ghana's optometrists to promote a more financially sound means of addressing Wide spread visual impairment issues in Ghana, while also offering a potentially more hygienic alternative to soft lenses.