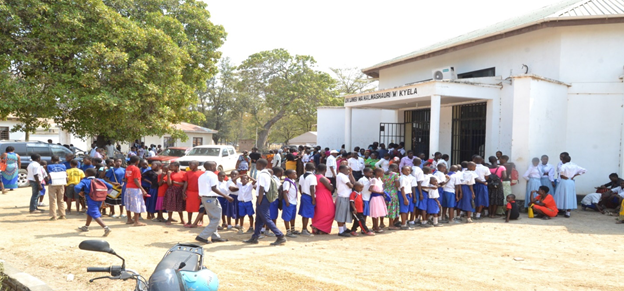 Seeing is Believing [SiB] project started in Kyela District Council from November 2013 and phased out in December 2016, the duration of 3 years. They targeted to screen and treat children under 15 years.
Kyela District Council integrated Eye health into the health system on the aspect of service delivery by training health workers from 33 health facilities. The training was for health workers who work at Outpatient Department, Labor ward, Reproductive and Child Health Clinics [RCH].
The aim of this training was to empower health workers to recognise eye health conditions in children by assessing and diagnosing of eye diseases such as white pupil, squint, corneal opacity, eyelid swelling and refractive error; and referrals of patient to the District Hospital for identification of blindness and visual impairment.
104 Health primary school teachers were trained to measure visual Acuity Assessment and to identify eye conditions in children. Teachers were equipped with Snellen charts, occlude torch and Meter tape, data form for recording whether the child can see or cannot see. Teachers also were taught how to refer all children with eye problems regardless of their vision. The aim of teaching Health school teachers was to improve eye health by screening of all school children under 15 years of age. This project was under Collaboration of Seeing is Believing, Brien Holden Vision institute and Standard Charted Bank.
During this screening few children have access to specialised eye care in Mbeya Zonal Hospital then to Muhimbili National Hospital for reducing the risk of childhood blindness and eye disease dramatically. By teaching the health workers and school health teachers in Kyela District Council, many children now have a better chance of having healthy eyes. Some of Primary school children were referred and benefited from specialised eye care in Muhimbili National Hospital.
Primary eye care has the potential to play a major role in reducing blindness in children by carrying out specific preventive measures and identifying and referring children with treatable conditions.
Early detection is essential to achieve a maximum visual recovery in children who need eye care services. If left untreated can result into blindness or severe visual impairment.
CHALLENGES OF INTEGRATING EYE HEALTH INTO HEALTH SYSTEM. AND HOW TO OVERCOME THEM.
During integrating eye health in the health system the following challenges were encountered;
CHALLENGES:
Burden of eye heath workers
Lack of continuous education to health workers on eye health
Inadequate community sensitization on child eye health
Low sustainability
Low uptake of eye services
STRATEGIES TO OVERCOME THE CHALLENGES
WORKING WITH COMMUNITY LEADERS
With the effort of eye health care staff, we also educated some of community leaders as a volunteer team to advocate eye care services and create community awareness and sensitisation on the importance of early detection and referral of cases.
SUPPORT FROM STAFF ACROSS THE REGION
Due to burden of eye health staff in our District we used to invite other staff from Regional level to attend the clients where necessary.
INTEGRATION OF EYE HEALTH INTO LEADERSHIP AND GOVERNANCE.
Leaders and Governance in Kyela District Council play a major role on advocating eye health services. Governments have prioritised eye health care into health budgets planning for example: Commemoration of World Sight Day each year; providing community health education through Local media and community meetings; Providing funds for outreach to Health Facilities. Thereby providing an opportunity to integrate eye health into workforce planning. Also they support transportation of the patient if there is any emergency referral from District Level to Mbeya Zonal referral hospital for further management.
Kyela district hospital in Mbeya Region Tanzania under SIB project has been equipped with ophthalmic equipment and the capacities of eye health staff has improved through refresher courses and primary eye care training of trainers workshops.
PROJECT BENEFITS FROM INTEGRATING EYE HEALTH INTO HEALTH SYSTEM
School health coordinators, Community volunteers, clinicians and midwives in primary eye care were able to offer primary eye care at the basic level and refer where appropriate. This has helped in integrating eye health into health system.
Another benefit of integrating eye health into health system is referral follow-up from family level to higher authorities. Through integrated of eye health employees have a chance at maintaining and improving their health.
Integrating eye care into the health system in other sectors, such as education has helped teachers to detect children with low vision and get proper referral management as we know that poor vision will hinder education because not all children who perform poor in schools are not active in class but they fail due to low vision problem.
When eye health was integrated into the health system early detection of chronic eye disease and management has improved. This has helped in reducing costs through early disease management.
ACKNOWLEDGEMENTS:
We would like to give our heart felt appreciation to the following stakeholders for their esteemed contribution to our district on matters pertaining to eye health;
BHVI, SiB, Standard Chartered Bank and Ministry of Health and social welfare Gender and child for supporting outreach services, medical equipment and child eye health project without forgetting CBM for supporting referral services of our clients to Muhimbili National hospital (MNH).
To the entire above mentioned stakeholder we appreciate all that you have supported and we would like it not to be the end since we need more support for the betterment of eye health for our council and country in general.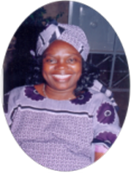 Monica Kamoza Francis
Registered Ophthalmic Nursing Officer
Tanzania
monicakamoza@gmail.com