Subhas Chandra Maity plays a key role in reducing the prevalence of avoidable blindness for some of the 4.7 million people living in the small remote islands of the Sundarbans region of West Bengal, India.
A shortage of health professionals in many rural areas in India creates numerous challenges and these issues become even starker in areas of extreme poverty such as the Sundarbans where tidal rivers and estuaries make access to health facilities extremely difficult.
Here communities rely on informal rural medical practitioners to provide basic health services, medical advice, and support rather than travelling to far away health clinics and hospitals.
These unqualified rural medical practitioners provide a critical health service.  The situation is no different for eye health care and they are approached for help with a range of eye problems.
Sightsavers in India, with support from Standard Chartered Bank, undertook a 'Seeing is Believing' project to strengthen eye care services in the Sundarbans region.  Rather than ignoring the informal rural medical practitioners, the project made it a priority to engage them and train them.
Despite legal prohibitions on their ability to practice, evidence shows there are many more informal providers than trained doctors in both rural and urban areas of India.  Even the government's National Health Mission (NHM) programme now recognises the need to engage with them.
Rural medical practitioners (RMPs) were trained on basic screening and diagnostic processes with an aim to help them to identify people with eye problems and to increase referrals them to the nearest Vision Centre or base hospital.
Subhas, who has been a rural medical practitioner for about 30 years, is one of the 2,521 RMPs trained by the project to help strengthen referral links from community to eye care services with the aim of reducing a backlog of cataracts and addressing growing numbers of refractive errors.
He has now referred more than 1,000 patients to health facilities.  When anyone comes to him with eye related concerns, he undertakes a preliminary assessment. He provides patients with guidance on minor eye health issues and more complex concerns are referred to a Vision Centre or a base hospital using an official referral slip pad to facilitate the process.
Subhas also checks blood pressure of patients advised for cataract surgery. He said: "I tell them if they have high pressure and advise them on stabilising it before going for surgery. I provide basic services. We need to stand by our own people."
Another rural medical practitioner said: "Patients come to me with issues like reddening of eyes, itching of eyes, pain in the eyes, swollen eye, and some patients come with blurred vision. Blurred vision means the patient has developed Cataract."
Another noted: "In rural areas, most of the people are engaged in separating rice from the hay and many times while working, hay dust may accidently fall in the eye or at times insects from the rice may enter the eye causing irritation and eye problems."
The project concluded its activities in December 2018, and a final evaluation shows the prevalence of blindness, severe and moderate visual impairment in Sundarbans has reduced. The eye health care system has been strengthened with seventeen new Vision Centres now serving communities that had previously had poor access, and improved procedures and standards in the NGO and government facilities involved in the project.
The evaluation concluded that working with RMPs was an important strategy with multiple benefits.  These included improvements in the quality of their eye health interventions, and increased referrals to Vision Centres and local hospitals.
A research project has also been undertaken to assess the knowledge and practice of the trained rural medical practitioners, to assess their referral practices and to identify any gaps in the training.
Interestingly, preliminary findings of the research show about 66 percent of the rural medical practitioners surveyed started referring their patients to Vision Centres after the training, and about 22 percent started referring patients to NGO hospitals rather than private hospitals.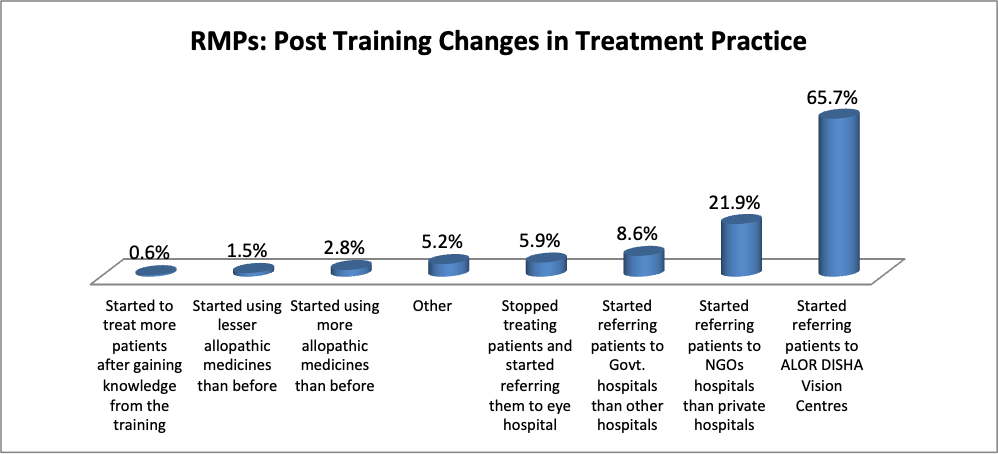 Researchers are recommending that future projects should ensure:
Training on eye care for RMPs is more comprehensive to ensure the delivery of effective primary eye care services in the rural areas;
Post training follow up support or linkages with registered physicians would help convert knowledge into skills and address the knowledge gap in rural medical practitioner's practice;
Trained RMPs should be used to create a referral linkage between eye care hospitals and the rural community; and RMPs should be trained and encouraged to maintain records of the patients;
RMPs should be engaged to generate awareness in the community on various eye related problems and their possible remedies, thus increasing the demand for services.
The report on the evaluation of the eye-care training for Rural Medical Practitioners is due to be published by Sightsavers in India in January 2019.
Sightsavers India