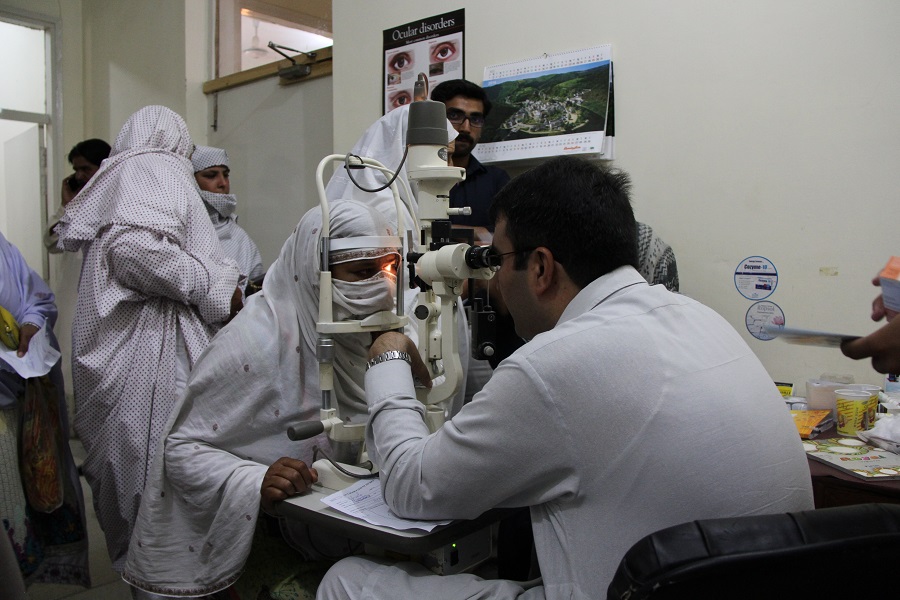 Sightsavers Pakistan
Our project 'A New Vision for Eye Health' in Pakistan's Khyber Pakhtunkhwa Province, has made significant contributions towards the provision of accessible and gender sensitive eye care services in project districts. We managed to improve primary eye care services at the primary level and strengthen referrals to the secondary level.
Prior to the project's inception in early 2016, limited eye care services were available at the primary level. Eye patients used to visit health facilities when their eye health conditions had substantially worsened. The main reasons for this are lack of awareness and practice in seeking eye health services and inadequate eye care services at the primary level.
The project therefore explicitly focused on the provision of eye screening services at the primary level with a particular emphasis on reaching women. For this purpose, Lady Health Workers (LHWs), Medical Officers (MOs) and Medical Technicians (MTs) participated in primary eye care trainings to screen and refer eye patients from the primary to the secondary level. The LHWs are form extensive network of female community health workers in Pakistan, providing health services to local communities at the household level. MOs/MTs are based at Basic Health Units (BHUs) which are the primary level health care units in the country. In addition to the training on primary eye care, LHWs, MOs and MTs received screening kits to undertake community eye screenings. For the first time in the project area, eye screenings became part of primary health care trainings in the public health system.
The provision of eye screening services at the primary level has significantly increased the participation of women. Since the start of our community level screenings, a total of 122,672 patients have been screened by the LHWs in the four districts; and 74% of them were women. Patients screened at BHUs by primary health care service providers (MOs and MTs) include 53% women. People identified with eye conditions during screenings by the LHWs, MOs and MTs were further referred to the next level of health care facilities for treatment. In addition to screening services, LHWs, MOs and MTs also disseminate eye care messages to increase the eye health awareness in communities. The impact of these interventions at the primary level has not yet been observed at the secondary level in terms of increased patient inflow at OPDs. However, the uptake of cataract surgical services by women has increased from 48.2% in 2016 to 50.8% in 2017. To increase the uptake of surgical services by women even more, we have set ourselves and ambitious targets: by the project end in 2019, we want to achieve that a share of 65% of the total patients accessing surgical services are female.

Itfaq Khaliq Khan
Programme Officer
Sightsavers Pakistan
ikhan@sightsavers.org

Khurram Shahzad
Project Officer
The Fred Hollows Foundation
kshahzad@hollows.org