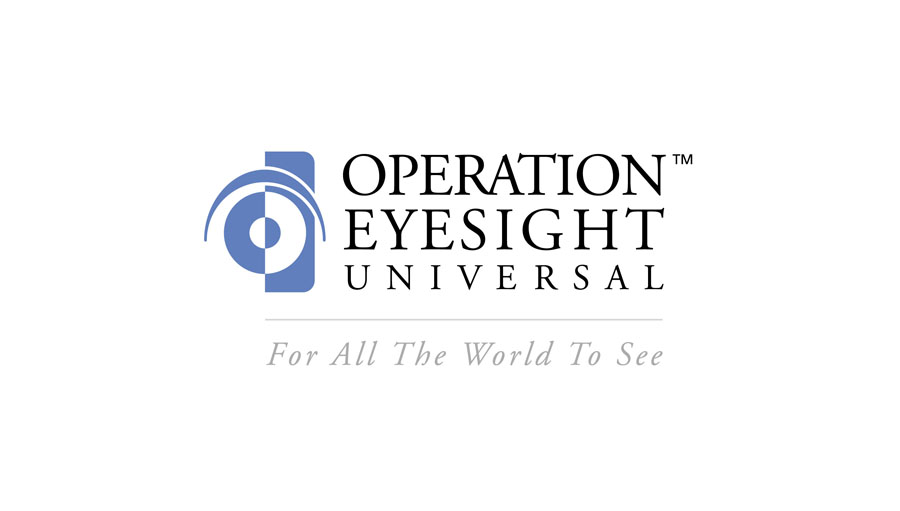 Against all odds, Narok County Referral Hospital's Eye Unit has set up an optical shop that might yet act as a model for other public hospitals in the country. Like many of the eye units supported by Operation Eyesight and implementing the Seeing is Believing Phase V project, Narok County Hospital's Eye Unit was grappling with how they could provide the much needed optical services when we hit on great idea. The eureka moment came when we figured out we didn't have to set up a physical optical shop as that would be too costly under the circumstances. A virtual shop 300 kilometers away, at The Kenya Society for the Blind (KSB) would work just fine! But first, a few things had to line up.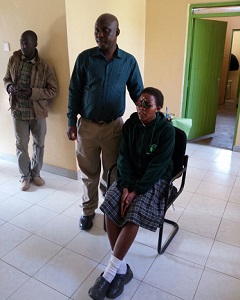 First, KSB and the hospital's management had to agree to the idea. Secondly, there had to be a payment system that did not offend county regulations that require all hospital income to be channeled to the county treasury and, thirdly, the arrangement had to earn the eye unit a surplus that could be ploughed back into a revolving kitty for re-stoking on frames. Luckily for us, all our ducks lined up!
KSB was established by an Act of Parliament in 1956 to promote the welfare, education and employment of the blind and to assist in the prevention and alleviation of blindness.  
Through Seeing is Believing – Child Eye Health project, KSB had earlier received support to set up an optical workshop to service optical needs of school children in 9 counties. KSB readily agreed to Narok Eye Unit's optical shop piggybacking on the optical workshop infrastructure set up under Child Eye Health project.
The pioneering mobile-phone based money transfer service, M-Pesa, would enable clients in Narok to make payments for their spectacles directly to KSB, where the eye unit's account is maintained. This way, the Eye Unit would be assured of a steady income for re-stocking on frames and other consumables.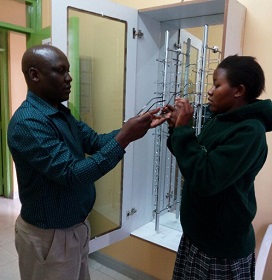 The whole process works unbelievably well. Sample this; clients are screened and refracted at the eye unit. Those found to have refractive error choose from among the many frames on display at the eye unit's reception area. Their choice of frame and prescription are then transmitted by email to KSB. The prices on display at the eye unit include a profit margin on the price KSB sells to the eye unit. Clients pay directly to KSB via M-Pesa and their orders are processed and sent to the eye unit for collection, within a week. Clients are then notified to collect their spectacles and receipts. Done deal!
The main reason why refractive errors remain uncorrected in Kenya is due to absence of optical services in most parts of the country. This is further compounded by inadequate skilled eye care personnel, expensive equipment for refractive assessment and lack of integration of refractive services in government health facilities. To illustrate this predicament, Optometrists are a missing cadre in the government's scheme of service, yet most of the country's population depends on government hospitals.
This state of disequilibrium leaves majority of Kenyans' optical needs uncatered for. And that's why we're excited by Narok Eye Unit's creative way of offering these important services against all odds.
But all this would not have been possible without the seed capital from Seeing is Believing Phase V and a lot of goodwill from KSB, Operation Eyesight and the hospital's management. With its first client purchasing their pair of spectacles on 20th January, 2016, Narok Eye Unit's optical shop is open for business.

Alice Mwangi
mwangia@operationeyesight.com
Country Manager for Kenya
Operation Eyesight Universal 

Ronald Kefa
Kefar@operationeyesight.com
Project Officer
Operation Eyesight Universal