Sightsavers has been working in collaboration with Standard Chartered Bank, under its "Seeing is Believing" initiative, to combat childhood blindness in Pakistan. Since 2009, the Pakistan Urban Paediatric Eye Care Programme has been working in collaboration with partners to screen 1.7 million school children for refractive error (RE) and to provide much needed eye health services, including the provision of spectacles, low-vision devices and sight restoring eye surgery.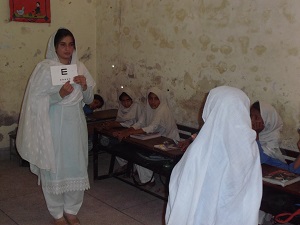 Screening activities are undertaken in schools and communities through a consortium approach which brings together different organizations in the public and private sector.  Since the projects inception the teams have established strong working relationships with all stakeholders working in the project area, including various government departments including health, education, special education, social welfare, child protection bureau and the Directorate of Staff Development (DSD).
The project has also been working closely with a number of international and national NGOs, including Plan International, United Methodist Education System, Aqueduct, and National Rural Development Programme, who have supported community awareness raising activities around health and hygiene. These partners have also ensured that screening activities benefit those children who are not in regular schooling.
Sightsavers continued engagement and networking with the DSD in Punjab has enabled us to train more teachers in vision screening skills. This has been made possible as DSD training facilities are available in all districts of Punjab (including project districts). They have a regular development plans for in-service teachers and all primary school teachers are required to attend a Professional Development day each month. Networking with the DSD has the project team's access to an increased number of teachers and they have subsequently been able to train more teachers with the same level of resources.
To date, project teams have been able to train more than 400 master trainers of the DSD in primary eye care, basics of Inclusive Education and vision testing of children. These master trainers are then able to cascade these skills to thousands of mainstream school teachers in the Punjab province.
Amy Clark