Brien Holden Vision Institute (the Institute) with support from SiB Phase 5 has initiated an optometry degree programme in partnership with Institute of Human Resource Advancement, University of Colombo (IHRA, UOC) in April 2014. The goal of the project is "development of a recognised optometry training programme in accordance with the HRD component of the National Eye Care Plan of Sri Lanka". Other key stakeholders include Ministry of Health and Nutrition; V2020 Secretariat; the ophthalmic technologists; and private sector practitioners.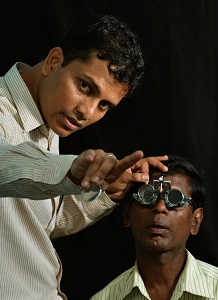 The optometry training programme is aligned with the National Eye Care Plan 2013-2017 for Sri Lanka and has a strong emphasis on public health. The programme has been designed keeping in view the huge gap between the growing demand for eye care services in Sri Lanka and the limited number of clinical staff, especially optometrists, available to provide these services.
The programme plans to prepare professional eye health workers who are able to provide the full range of optometric services required to function in a multi-disciplinary team focused on comprehensive eye care; and it will develop the local capacity of optometry faculty in clinical care, teaching and training, and research to ensure that eye health care becomes more accessible.
The project is in its initial phase and has faced a number of challenges during the implementation of certain activities. The foremost among these challenges is the complexity of university education system which requires any new degree programme to go through multiples approvals before it's launched. The approval system gets more challenging due to frequent changes in the senior management at the university and political changes in the country.
The key learning from the first phase of the project is that:
Ownership and commitment by the new political and institutional management is critical to move forward.
Dialogues and continuous engagement with all stakeholders is beneficial in preventing some of the evident challenges.
Leadership of each stakeholder group needs to be further engaged as they are the central tenet of sustainable policy change.
Alignment of the new programme with the existing structures and evolving policies is crucial for the smooth implementation of the project.
Coordination between government ownership and institutional leadership at all levels helps to reinforce policy change and the subsequent system changes. Moreover, collaboration between partnership structures is necessary as it is the stakeholders, at all levels, who will be enabling and facilitating the project implementation.
Systemic approach initiates and stimulates a long-term system change rather than solely focusing on project activities. The interventions that incorporate capacity development activities and a long-term vision with alignment and coordination between stakeholders lead to greater sustainability and strengthening of education and health systems.

Sumrana Yasmin
Regional Director, South East Asia & Eastern Mediterranean
Brien Holden Vision Institute
s.yasmin@brienholdenvision.org