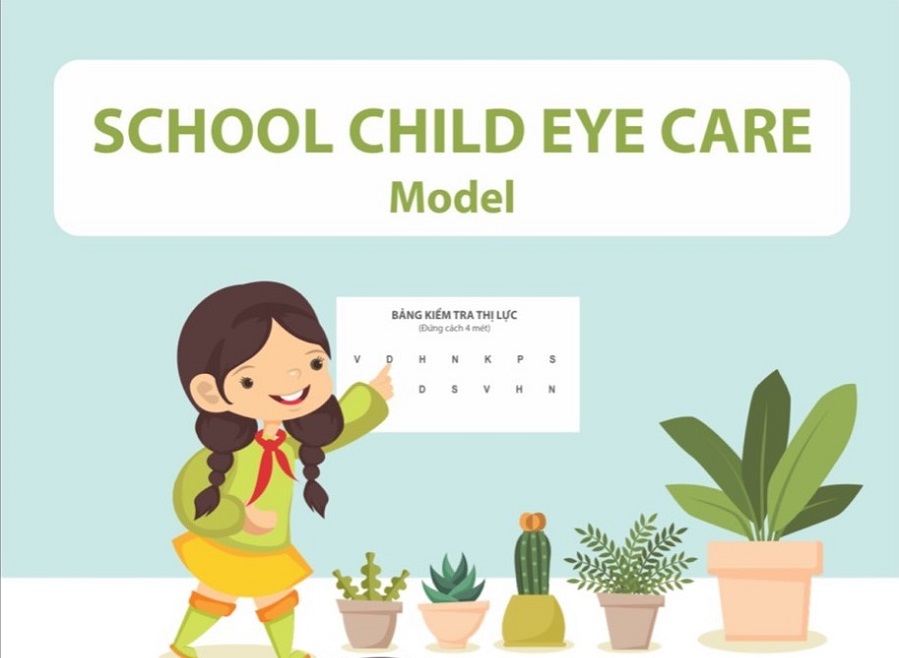 Designed to improve the eye health of schoolchildren, the Viet Nam Child Eye Care (VNCEC) Project brought together partners from the health and education sectors to develop and adopt national guidelines on school eye care. This project is funded by Standard Chartered Bank, under the fifth phase of the "Seeing is Believing" initiative.
Resulting from a long development process that involved consultations with government agencies and other international eye care NGOs in Viet Nam, the National School Eye Care Guidelines were officially approved by the General Department of Preventive Medicine (GDPM) – Ministry of Health (MoH) in November 2017.
Following the 13th Joint Circular by the Ministry of Health (MoH) and Ministry of Education (MoET), the guidelines are now being used as a handbook for school nurses, school teachers, school youth unions, and officials from the MoH and MoET.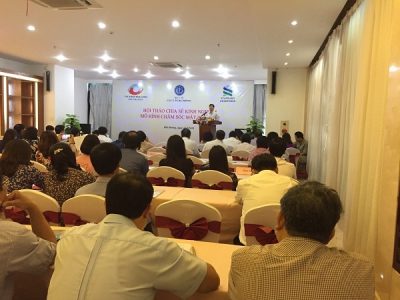 Thanks to sustainable commitments made after its approval, three national dissemination workshops were organised to share these guidelines by the GDPM. The Department of Physical Education of the Ministry of Education played a huge role in coordinating these workshops.
The workshops were held in three regions: Southern Viet Nam in December 2017, Northern Viet Nam in July 2018, and Central Viet Nam in January 2019. Hundreds have attended the workshops, which included representatives from the provincial Department of Education and Training, provincial Department of Health, and international eye care NGOs, as well as school nurses and school teachers from 21 provinces.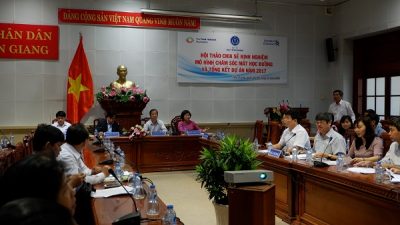 During the workshops, participants shared experiences and lessons learned in implementing the Child Eye Care model developed under the VNCEC Project.
In the Central Viet Nam workshop, Mr Ngu Duy Anh, the Director General of Department of Physical Education, MOET, thanks The Fred Hollows Foundation and Standard Chartered Bank for their support for the VNCEC Project.
''This project is a very good model to integrate child eye care into schools. We highly appreciate that the guidelines and Child Eye Care model enable students, school teachers, and school nurses to take care of their eyes from now on."
"I strongly encourage all schools to adopt these guidelines and the CEC model so that students can prevent refractive error and other child eye care issues," Mr Ngu Duy Anh said.
Proving its commitment to the program, the GDPM-MoH has taken concrete steps that ensure its sustainability. At their own expense, the Department has printed and distributed 10,000 copies of the National School Eye Care Guidelines and 7,000 simple visual acuity charts, which will be used in Viet Nam's 63 provinces.
The Department committed to share best practices from the VNCEC model in their own workshops. They also planned to post e-guidelines, simple visual acuity charts, posters, and other communication materials on their website – available for everyone to access and share.
Despite other challenges, the commitments and actions made by the partners ensure the sustainability of the program, ultimately leading to better eye care in all schools across Viet Nam.
---

Author name: Ha Thi Nguyet Minh
Author title: Project Coordinator
Email: mha@hollows.org