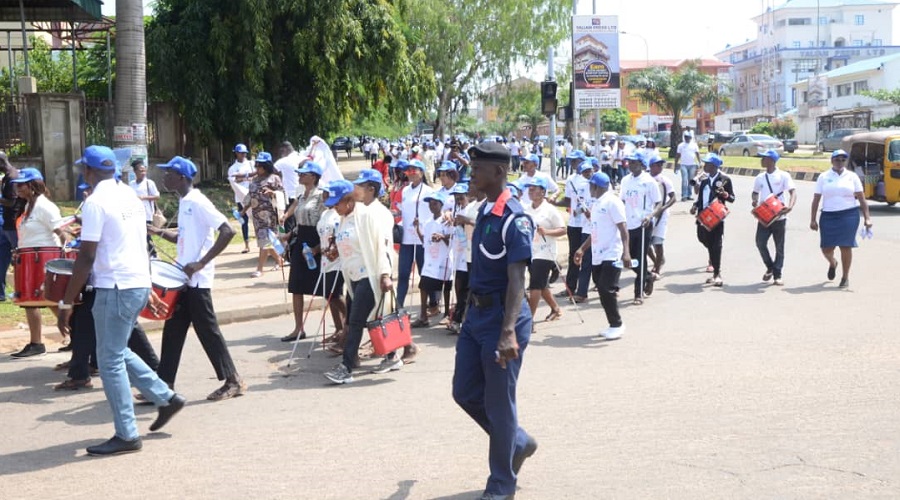 World Sight Day (WSD) is an annual, global event held on the second Thursday of October every year. The aim is to call global attention to the prevention of blindness, visual impairment, and improvement of general eye health. In line with the resolution 66.4 of the World Health Assembly (WHA) on Universal Access to Eye Health Care and the VISION 2020, the right to sight initiative, the Seeing is Believing programme in Nigeria joined with activities across the world to commemorate the 2018 World Sight Day, with Eye Care Everywhere as the call to action.
Children with disabilities, including vision impairment, are amongst the most marginalised in the world. Globally, over 30 million children with disabilities are missing out on education. They are denied the opportunity to contribute more productively to the development of their families, communities, and countries[1]. Nigeria has the highest number of out of school children in the world; between 10 and 13 million of the country's children aged 5-14 years are not in school[2]. The President of the Federal Republic of Nigeria in January 2019 approved the National Disability bill into law, but the provisions of the bill have not yet been put in place, with considerable work to be done to make public services inclusive of people with disabilities.
To address the situation, the programme, in line with CBM's vision of an inclusive world in which all persons with disabilities enjoy their human rights and achieve their full potential, is working to pilot strategies for inclusive eye health. This has involved actions to address accessibility requirements for children or carers with impairments: conducting accessibility audits, providing inclusion training to healthcare workers, developing inclusion IEC materials and messages and improving physical accessibility through construction of ramps and provision of signage in two secondary hospitals and a specialised school for children who are blind or severely visually impaired. There is also work ongoing to improve resourcing for specialised schools, to support access to quality education for children who are blind or severely visually impaired, and to work with the Government of Nigeria and professional bodies to integrate children with low vision into mainstream schools.
It was an obvious next step to ensure persons with disabilities were involved in leading efforts to increase awareness of the types, causes, treatment, and prevention of avoidable blindness and visual impairments, to call on the Government of Nigeria to accord priority attention to eye health, through World Sight Day activities. The programme went about this in the following ways:
Engaging with the umbrella organisation of people with disabilities in Nigeria (DPO or OPD). CBM in Nigeria has a long-standing relationship with the Joint National Association of Persons with Disabilities (JONAPWD), the umbrella DPO in Nigeria, and the two organisations have collaborated in various ways. The programme was able to capitalise on this relationship to involve JONAPWD in World Sight Day Activities. As a result of this engagement, 85 members of JONAPWD representing different Organisations of Persons with Disability (OPD) such as the National Association of the Blind in Nigeria, Organization of Persons with Physical Impairment, and Association of the Deaf as well as students from the School for Blind Children, Jabi took part in the Walk for Sight event in Abuja, and led the procession.
Ensuring measures were taken to make the activities accessible. The programme took steps to ensure that individuals with visual impairment and other impairments could participate fully in World Sight Day activities. Persons with disabilities including children with sight, hearing or physical impairments took part in the WSD procession. As part of an annual lecture on eye health, aimed at school children and teachers from six Junior Secondary Schools, a sign language interpreter was engaged to translate the lecture to persons with a hearing impairment. The procession was guided through a smooth road to ensure free movement by wheelchair users. The venue for the lecture was also carefully selected to ensure that it was accessible to persons with different types of disability, particularly those using wheelchairs.
Including an event specifically for children who are blind or severely visually impaired. Children aged 10- 14 years from Jabi School for the Blind in Abuja played a blind football match on 9th October 2018. The programme invited the media to attend the match and provided the kit for players and the bell balls required, which can be used during physical education lessons during the school year.
Working together with people with disabilities to tackle preventable blindness, a major cause of impairment, was a key success of World Sight Day activities in 2018. Through this, the programme was able to fulfil the call of the disability community: "nothing about us without us". The 2018 WSD programme received wide media coverage as TV, radio and print media representatives participated in the events.

Rebecca Molyneux
Programme Manager- West and Central Africa
CBM UK
Rebeccam@cbmuk.org.uk
[1] CBM, 2018, Series on Disability-Inclusive Development 03: My Right is Our Future The Transformative Power of Disability-Inclusive Education, p11. https://www.cbm.org/fileadmin/user_upload/Publications/DID_Series_-_Book_3.pdf
[2] https://www.unicef.org/nigeria/education and https://www.premiumtimesng.com/news/top-news/288344-nigeria-now-has-13-2million-out-of-school-children-ubec.html