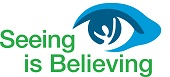 The Standard Chartered Bank are a leading international banking group, with more than 86,000 employees and a 150-year history in some of the world's most dynamic markets. The bank works with people and companies driving investment, trade and the creation of wealth across Asia, Africa and the Middle East, where they earn around 90 per cent of income and profits. The Bank's heritage and values are expressed in their brand promise, Here for good.
Standard Chartered PLC is listed on the London and Hong Kong Stock Exchanges as well as the Bombay and National Stock Exchanges in India.
Standard Chartered's Seeing is Believing programme has contributed substantially to the global VISION 2020 initiative, combining awareness-creating, volunteering as well as millions of dollars in fundraising support.
For more information about the Bank, please visit www.sc.com. Explore insights and comment on their blog, BeyondBorders. Follow Standard Chartered on Twitter, LinkedIn and Facebook.
Contact Details:
1 Basinghall Avenue
London EC2V 5DD
England
United Kingdom