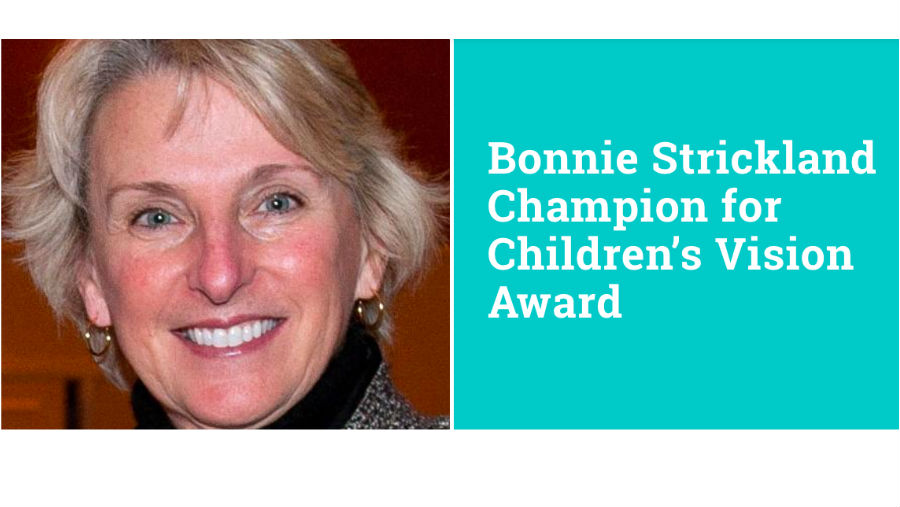 Nominations are now open for the 2020 Bonnie Strickland Champion for Children's Vision Award. The Award recognizes significant efforts by an individual or group of individuals to improve public health approaches for children's vision and eye health at the state or national level.  The award was established by the NCCVEH Advisory Committee to commemorate Bonnie Strickland and her groundbreaking work to establish a comprehensive system for children's vision in the United States.  Strickland served as Director of the Division of Services for Children with Special Health Needs, Maternal and Child Health Bureau prior to her retirement in 2014.  This year's award is significant since the Center is celebrating our 10th anniversary.
Nominees for the Award may include individuals or a group comprised of diverse stakeholders, including family/caregiver and community leaders, who are implementing changes to improve children's vision in the United States. Nominees should demonstrate an impact in one or more areas of a public health system supporting children's vision including:
Key Stakeholder Engagement or Collaboration, including representation from families and diverse racial/ethnic/geographic and socio-economic levels target populations
Training and Education
Public Awareness
Provision of Resources and/or Services
Surveillance and Accountability
Reduction of Health Disparities
Infrastructure Development-Local, State, or National Level
Making the connection between vision and overall health, early childhood development and learning
The Award will be presented at the meeting of the National Center for Children's Vision and Eye Health on August 15, 2020 in Baltimore, MD (due to the ongoing COVID-19 pandemic, this date may be postponed). Application materials can be found at: https://nationalcenter.preventblindness.org/content/bonnie-strickland-champion-childrens-vision-award.  The deadline for applications is June 5, 2020.