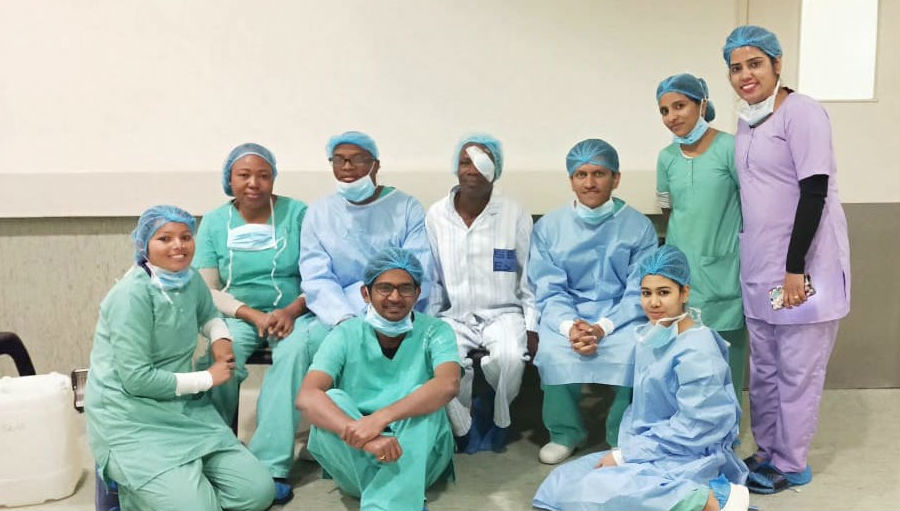 Press Release: Madison, WI, USA: Combat Blindness International (CBI), in partnership with Cambridge Global Health Partners (London, UK), Dr. Shroff's Charity Eye Hospital (Delhi, India), PEEK (London, UK) and the Botswana Ministry of Health and Wellness, has helped eliminate the backlog of cataract blindness in Botswana. Cataract is a clouding of the lens of the eye that accounts for 50% of all blindness globally and is especially prevalent in low income countries.
Together this group of organizations have eradicated the backlog of 6,000 cataract blindness cases in Botswana, effectively making the country of Botswana cataract blindness free. Africa has only one ophthalmologist per million people, so it was not uncommon for people in Botswana to wait three or more years for a 20-minute cataract surgery. Combat Blindness International is proud to be the only American organization to rise to the challenge in Botswana and they are thrilled to share the success of this project with its valued partners. This project involved 6 missions from Fall 2016 to Spring 2019 and reached completion on June 19, 2019.
"With this incredible global partnership, we were able to eradicate cataract blindness and improve the lives of so many people in Botswana," says Dr. Suresh Chandra, Founder and Chairman of Combat Blindness International.
Combat Blindness International was established by Dr. Chandra in 1984 with the goal of eliminating preventable blindness in developing countries. The organization currently has projects in India, Paraguay, Botswana, Gambia and the US. To date, they have provided over 360,000 cataract surgeries and screened over 2.2 million men, women and children for refractive error and eye diseases.