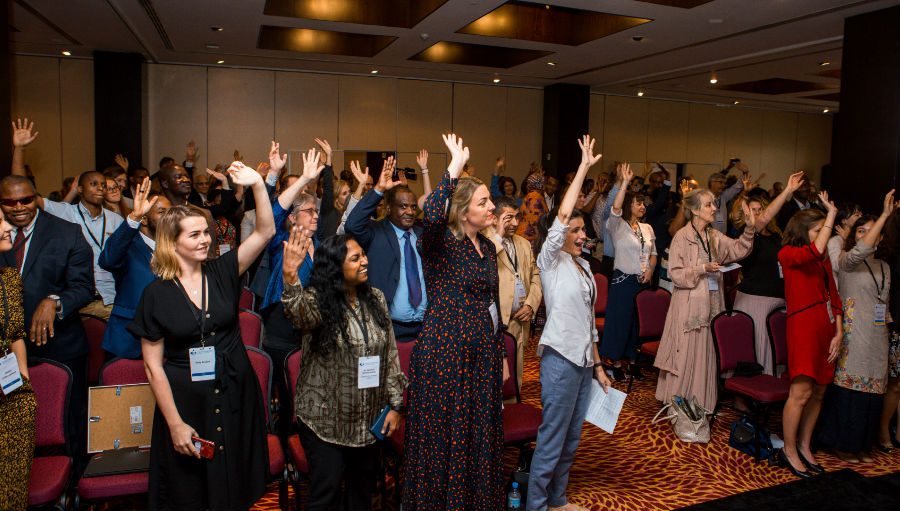 Since starting my career at IAPB, I have felt incredibly blessed and welcomed into the eye health community. Despite, having some background in this sector following an internship at the World Health Organization, my knowledge was very limited. Everyone I spoke to taught me something new and I am getting a clearer picture of public eye health every day. Leading up to the Council of Members (CoM) , my interactions with eye health professionals outside the secretariat were limited to Skype calls and emails and so while everyone in the sector had their own reasons to be excited for the Council of Members, for me it was finally being able to put a face to the emails.
It is worth adding that CoM 2019 wasn't like any of the previous events; it fell on the eve of the first World Report on Vision launch. To say the opening was bursting with excitement is an understatement.
During the opening ceremony, Peter Holland, IAPB's CEO, emphasised a commitment to increasing diversity and inclusion in eye health leadership and the need for this to be reflected in all eye health events. Peter went on to pledge that all future IAPB events will aim to have at least 50% of speakers who are women. As a young woman in this industry, not only does this inspire me that we as a sector are moving forward, but it motivates me to ensure that other aspects of health and public health will follow our path of gender equality and empowerment.
Following the opening ceremony, the workshops began. And in line with Peter's pledge, the first workshop I attended was run by two incredible women, Joanna Conlon and Jessica Crofts-Lawrence. The interactive "towards 2030" workshop was attended by the Permanent Representative of Antigua and Barbuda to the United Nations, Ambassador Webson. Ambassador Webson and the other attendees highlighted some concerns, opportunities and priorities for eye health in the next decade.
Getting to discuss global eye health priorities with someone like Ambassador Webson, for me, was incredible; knowing how much he has done for the sector and continues to do was so encouraging. One of the things Ambassador Webson said during the workshop stood out to me, "he said that as a sector we have for the most part kept to ourselves, this needs to stop and we need to collaborate with other industries and sectors if we want to achieve our goals by 2030". As I am part of the newer generation of eye health activists, this wise advice did not go unheard.
Following this workshop I attended the "Eye Care in Refugee & Conflict-Affected Populations" seminar. The session was led by Yuddha Sapkota and had various speakers including Jerry Vincent, Consultant Refugee Advisor at SEVA Foundation. Jerry gave an insightful presentation into various refugee crises and historical eye care responses. Using the historical eye care responses as an example, we were able to distinguish crucial lessons learned moving forward.
My first CoM experience was all I wanted it to be and more. I met many amazing and inspiring people and caught up with some former colleagues from WHO. One takeaway I have from CoM is forward-thinking; people aren't just thinking of right now but how they can help shape a better future for everyone, leaving no one behind.