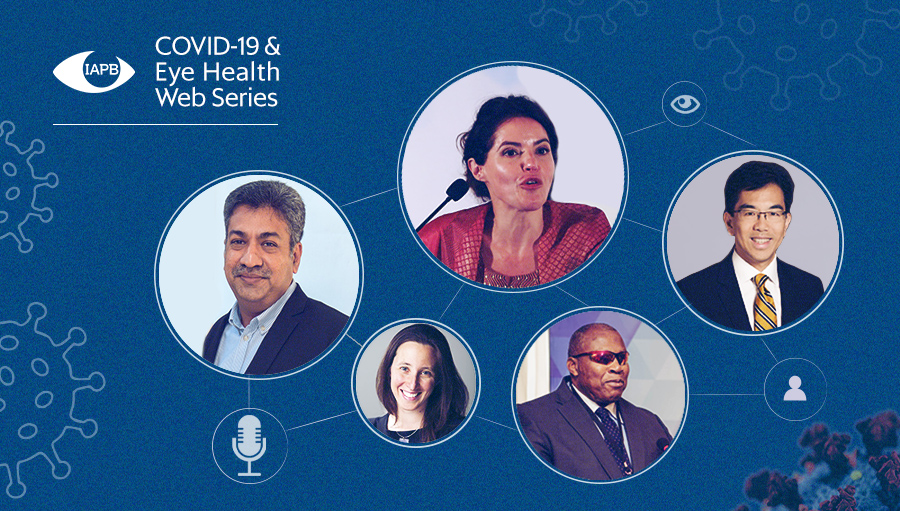 IAPB was delighted to host two webinars on the role of digital strategies and innovations in delivering eye health during the COVID-19 pandemic. On 19 May, Jude Stern, our Head of Knowledge, spoke to Prof Tien Wong, Medical Director, Singapore National Eye Centre (SNEC) on the role of digital technologies in delivering eye care. The next day, 20 May, Jude discussed cost-effective technologies including social messaging platforms with Dr Rengaraj Venkatesh of Aravind Eye Care System, Pondicherry and Guan Chunhong of Orbis international.
Webinar 1: Digital technologies and COVID-19
The webinar on Digital technologies with Prof Tien Wong discussed the possibilities and pit-falls of deploying Artificial Intelligence (AI) and telehealth to meet the stay-in-place and physical distancing needs of the pandemic. Singapore has been at the forefront of tackling COVID-19 and SNEC, Singapore's national eye service, has also played a role. Prof Wong noted that COVID-19 epitomises the duality of the Chinese character, "Wei Ji" – words that mean "danger" and "opportunity".
Based on their experiences over the past few years deploying a tele-health system for screening and diagnosing diabetic retinopathy, Prof Wong discussed a few ideas. Firstly, he noted that AI and telehealth were synergistic and complementary technologies. Combined, they help reduce the marginal cost of delivering care for patients with diabetic retinopathy—this is a learning that can greatly benefit eye care services during COVID-19. He noted that this pandemic may well be an opportunity to break open AI/telehealth use in mainstream eye care.
He also cautioned that optimism for AI and deep learning has seen years of disappointment and unmet expectations and that many barriers will likely remain in the use of tele-ophthalmology.
Webinar 2: Cost-effective innovations in eye care during COVID-19
The second webinar highlighted a variety of strategies for eye care networks and hospitals to work, post COVID-19. Dr Venkatesh showcased a variety of innovations in low-cost devices, protocols and safety measures that the Aravind Eye Care System in Pondicherry has implemented during the severe lockdown in India that began in March. As patient load plummeted, the hospital took several measures including altering seating arrangements and instituting safety protocols. As access to protective equipment was initially unavailable, the hospital improvised UV irradiation tanks from discarded refrigerators, built face shields from stationery and also deployed clear plastic sheets to maintain separation between the clinician and patient.
Guan Chunhong, from Orbis China discussed the benefits of using WeChat to reach out to Seeing is Believing's (SiB) CHEER – Children's Healthy Eyes bring Educational Rewards project. The project involves multiple partners and four international NGOs working over 19 project areas. WeChat helped reduce cost and increased access to information without any additional costs. It had the advantage of being a technology that everyone from patient families to clinicians were familiar with—WeChat is a very popular messaging app in China. As a WeChat-based process was already in place, and trusted by all the stakeholders in the project, it helped transition to e-consultations during COVID-19.
The two webinars saw nearly 400 participants and many more watched the live streams on Facebook. If you have any feedback on the webinars, please do write to us.
Watch the webinars
Digital Technologies & COVID-19
Cost effective Innovations in Eye care during COVID-19