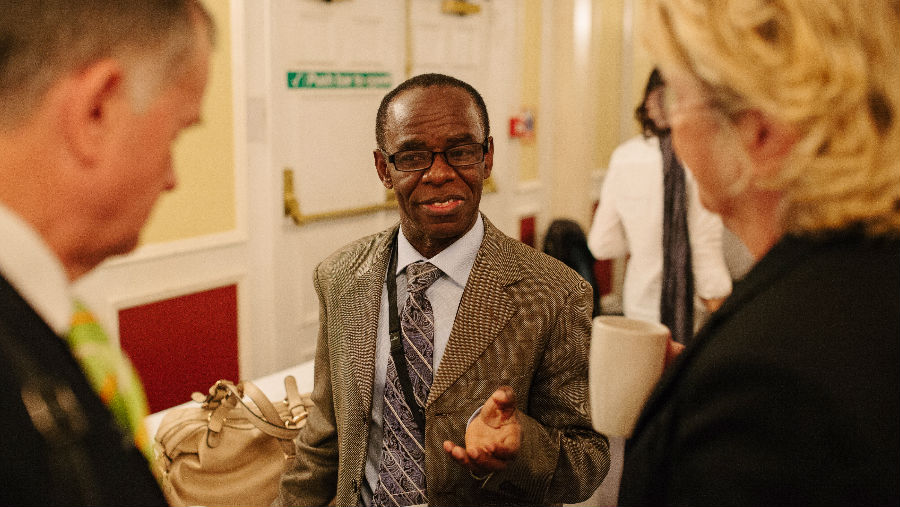 Dr. Boateng Wiafe who has been associated with Operation Eyesight Universal since 1985 has retired from his position.
With more than 35 years' experience in eye care, Dr. Wiafe is recognized as an authority in the development of sustainable eye care in Africa. In the early days, he was one of only eight ophthalmologists in Zambia. Working strategically with the government in Zambia, he encouraged them to take a lead role in the development and implementation of quality eye care. He also mentored and motivated other doctors to become ophthalmologists. He set new standards in volume of eye surgeries, completing 2,000 a year and engaging other ophthalmologists to undertake another 500. In addition, he launched the first primary eye care training course in Zambia. In all of the districts in which he worked, Dr. Wiafe established programmes that still serve their communities today, most notably the Lusaka Eye Hospital.
In 2001, Dr. Wiafe piloted a model trachoma control programme in the Gwembe District of Southern Zambia where the prevalence of trachoma was reduced from 50 percent to about 5 percent. Today, that model serves as the standard in prevention of trachoma in Zambia.
Dr. Bo became part of Operation Eyesight's team first on a contract basis in 2006 as Regional Advisor. By 2009, he was Regional Director for Africa, and in 2015 he took on a new role as Director of Quality and Advocacy.
In this role, Dr. Bo advocated Operation Eyesight Universal's work to eye health providers, ministries of government, corporations and other non-government organisations. Through his dedication to Operation Eyesight and the patients he's served, Dr. Bo's been instrumental in increasing support for eye care throughout Africa.
In 2015, Dr. Bo led the first ever Ghana National Blindness and Visual Impairment Study as the principal investigator.
"Thanks to Dr. Bo's experience and expertise, he has contributed to the development of Operation Eyesight's policy on quality. Working with a team of experts from Operation Eyesight, this policy sets the guidelines to ensure the best possible care for the people who need it. It's no exaggeration to say Dr. Bo's guidance and knowledge have been essential to our work."
"For all of us who've had the pleasure to work with Dr. Bo, I'm sure you'll agree, his kindness, graciousness and dedication will be genuinely missed. Dr. Bo, we're sincerely grateful for your devotion and loyalty to Operation Eyesight, and to eliminating avoidable blindness. We wish you all the best in your next pursuits…For All The World To See!"– Aly Bandali, Executive Director, OEU