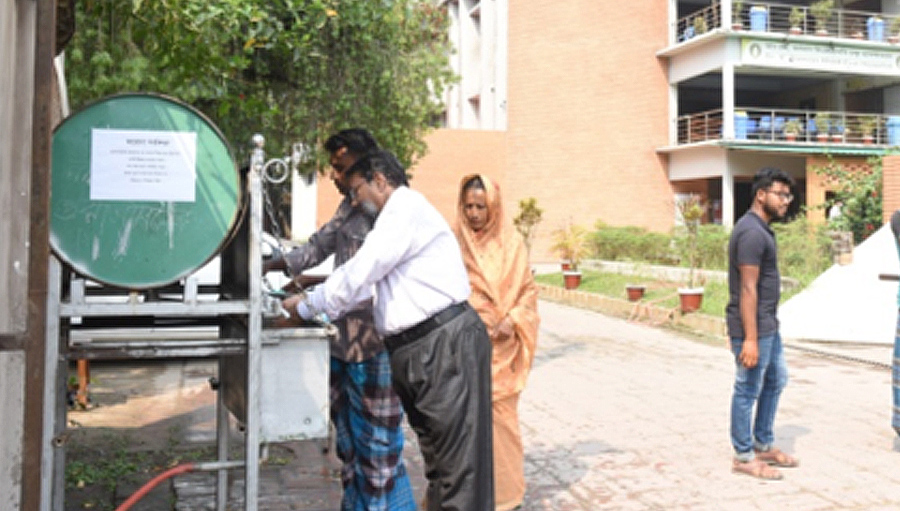 The World Health Organization (WHO) declared COVID-19 as a pandemic on 11th March 2020. Like the rest of the world, Bangladesh is also facing the toll of this highly transmissible zoonotic disease. The spread can be delayed or more precisely flattened by isolation of cases, quarantine of contacts and social distancing of non-infected people. Bangladesh has already started the mitigation process and this guideline is a part of the strategy, addressing the case management of COVID19 cases in Bangladesh.
In this challenging situation, Dr. K. Zaman BNSB Eye Hospital is providing emergency eye health care service at the hospital in Mymensingh, Bangladesh. We have trained staff to recognize symptoms of viral infection in patients as well. A senior leadership task force team has been formed to monitor the activities and take necessary decisions.
Before the pandemic started, the hospital served an average 600 to 700 patients every day in the general OPD. At present there are about 120 patients every day in the OPD. Although all kind of patients attend the OPD we emphasize only the emergency cases such as  injury, sudden loss of vision, red eye with pain,  post-operative follow-up patients, retinal patients, ROP etc. Besides giving the consultation at the OPD , we have also done investigations such as B-Scan, OCT and Fundus photo, etc. Only ocular emergency surgeries are offered  such as repairing the injury. No elective ophthalmic surgeries are being done during this period.
Our utmost priority is Staff safety.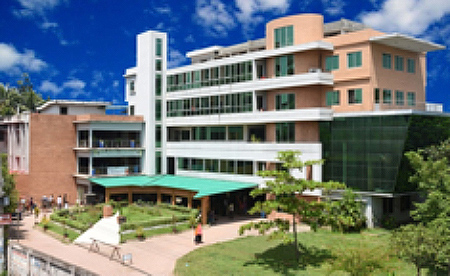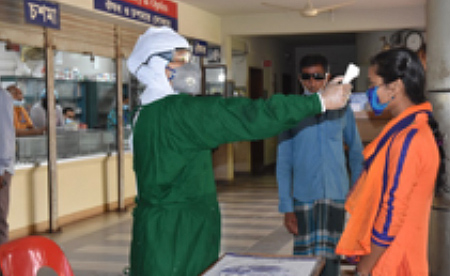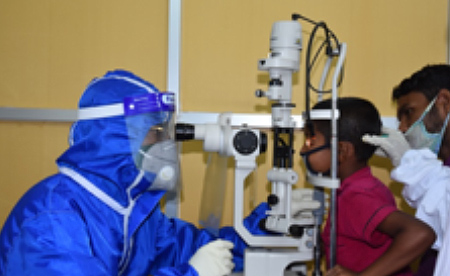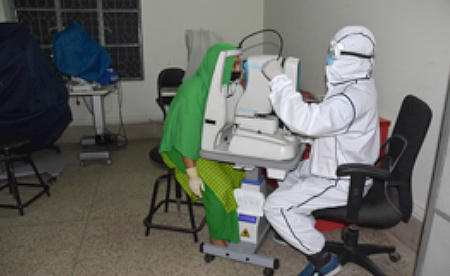 Measures taken :
Restrict the unnecessary movement of the patients' attendees. Body temperature is checked using a Thermal Scanner. In order to ensure clean hygiene of patients and staff, a temporary hand wash area has been built in front of the hospital entrance. All patients and staff are required to wash their hands before entering the hospital.
All ophthalmic equipment used including the slitlamp, fundus camera, B-scan machine in the OPD area are cleaned after every patients examination and investigation. A separate sterilizer has kept in the OPD to sterilize all ophthalmic instruments.
Case study

Kabita Rani
Kabita Rani age -36 (This is her pseudonym.) lives in a remote village in Jamalpur, which is 90Km from the Dr. K. Zaman BNSB Eye Hospital. She has severe Diabetic Retinopathy. Suddenly she lost her vision 3 days before attending our hospital. She used to be treated by the ophthalmologist of Jamalpur District hospital. Due to Covid-19 all the ophthalmic services at the district hospital closed down. She along with her family visited 3 more eye care facilities in the district but all were closed. Then she came to know from her neighbor that Dr. K. Zaman BNSB Eye hospital is giving the services during the Covid-19. She came to our hospital struggling with transportation as all are in lockdown.
After visiting our hospital, she has under gone fundus examination with fundus photo and got treatment from the Retina Department.
Reaction from Kabita Rani :
"The Almighty gives long lives of all the staff members of the hospital. After 3 days running here and there I received the treatment with very minimum cost. I spent Taka 5000 as transportation cost but I get treatment at one-fourth of the transportation cost in this difficult time. Now I will ask every one in my village to come this hospital for eye treatment".
For more please visit : https://www.facebook.com/DrKZamanBNSBEyeHospital/videos/233940927937233/