The gap maps provide visual summaries of the extent and distribution of evidence on particular thematic areas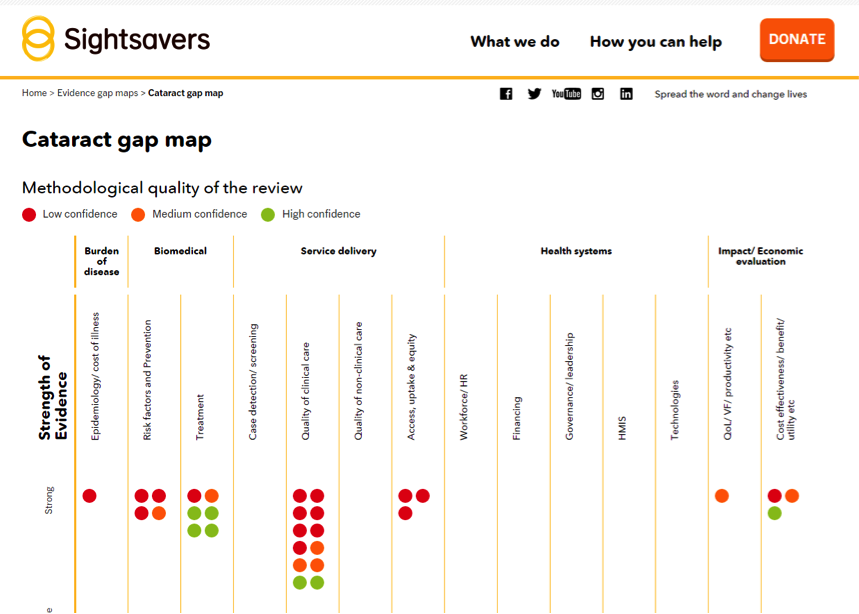 A screenshot of the Cataract gap map by Sightsavers
This week Sightsavers have launched the first in our new series of evidence gap maps. The gap maps are an exciting new tool, originally pioneered by the International Initiative for Impact Evaluation (3ie) to provide visual summaries of the extent and distribution of evidence on particular thematic areas. As well as showing where evidence exists, the maps will make clear where the 'gaps' in the evidence are – hence the name!
The new gap map focuses on cataract and over the next few months it will be joined by others that focus on diabetic retinopathy, glaucoma, low vision and a host of other topics relevant to eye health in the low and middle income settings where we work. The maps show the systematic review evidence available on the different topics and include an indicator of the quality of the review so users can understand the strengths and weakness of all the included studies.
As well as showing programme managers and clinicians where rigorous evidence on eye health exists, our maps can also be used to detect under researched areas and focus future priorities. As a researcher I'm interested to know which areas have less high quality evidence as it will help me decide where to focus in the future.
Policy makers and clinicians can find answers to their most pressing eye health questions when they are designing projects and new initiatives. They'll be able to see what the most up to date research is and draw conclusions about what approach might be most suitable for their purposes.
The gap maps were developed by a multi-disciplinary team from Sightsavers, the International Centre for Eye Health at the London School of Hygiene and Tropical Medicine and the Cochrane Eyes and Vision Group.
The maps were developed using a rigorous methodology, similar to that used when developing systematic reviews themselves. It has been a time consuming process to get them up and running and looking beautiful, but we hope that people will appreciate the efforts! We're looking for feedback to develop and improve the maps so please get in contact with us via gapmap@sightsavers.org if you have any suggestions.
I hope that the gap maps will allow policy makers and clinicians in the countries where we work the opportunity to access and understand the evidence behind what they do and the decisions they make. We hope that by making this evidence easily accessible evidence based programming and policy making will become an easier target to achieve in the field of eye health!
The gaps maps can be accessed at http://www.sightsavers.org/gap-maps/
An overiew of the gap map features