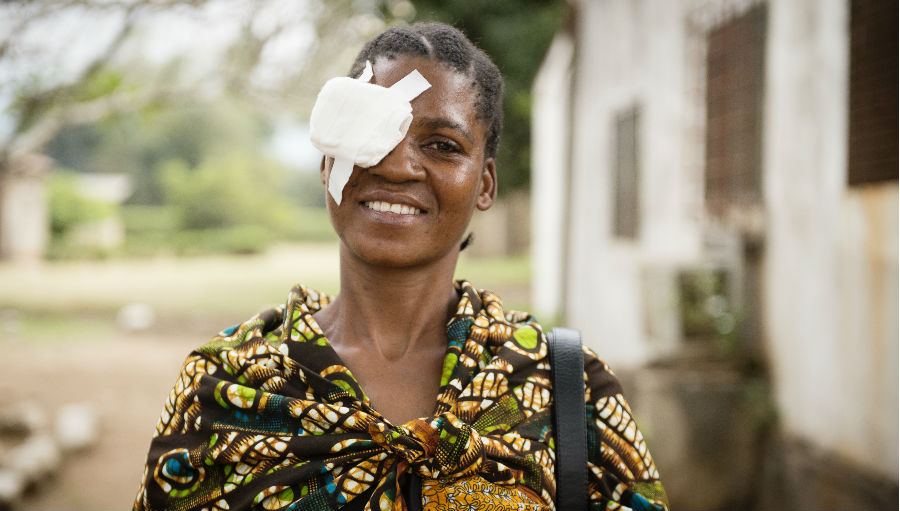 An equal world is an enabled world – which means equal rights, equal opportunities, and equal participation for everyone. This shouldn't be complicated to achieve, yet we know that it is. How can we make an equal world a reality for future generations?
The "Equal Measures 2030″ data hub provides a wealth of information to help assess our progress. It shows that not a single low- or middle-income country is on track to achieve gender equality by 2030, one of the Sustainable Development Goals. Are we imagining the impossible?
We know from our work so far that access to health and education can be life-changing for young girls and women, opening the doors to knowledge, opportunities and empowerment. Yet women and girls are at higher risk of marginalisation, especially those who may have visual impairments or other disabilities.
The latest data from the WHO World Report on Vision shows that of the 2.2 billion people around the world who have a visual impairment, at least one billion have a visual impairment that could have been prevented or has yet to be treated. This burden is not borne equally: it weighs heavily on people from low- and middle-income countries, women, older people and those from ethnic minorities. Despite long-standing international commitments and the known benefits of addressing gender inequality, we know that women and young girls are not able to access services with the same frequency as men. Incorporating gender into eye health programmes remains a significant challenge.
So, what can we do to change this? What should gender equity in eye health look like? How should it be measured? These are questions we are still grappling with! However, we are increasingly recognising the immense potential of looking at sustainable development through a gender lens.
This International Women's Day, Sightsavers and the IAPB Gender Equity Work Group have six key messages to share with governments, civil society and the private sector. If action is taken in each of these areas, we will make significant progress towards achieving our goal of an equal and inclusive world.
Women's voices must be heard. This will require a commitment to ensuring that women and other underrepresented groups are in positions of leadership and at the heart of decision making, from the implementation and design of eye health programmes to delivery and learning.
Harness the potential of eye care as a force for change. Only through bold new thinking will we be able to transform the landscape of eye care. This means greater alignment between international donors and national governments to ramp up funding, multisectoral collaborations and a global commitment.
Make sure that gender is prioritised in the design, implementation, and monitoring of eye health services. Affirmative action will be needed to ensure that women are playing an equal part in all levels of eye health programmes, from the community level to the global stage.
Recognise that we still have much to learn: it is high time to admit that it is OK to start from the beginning when reimagining and innovating systems change in eye care.
Encourage gender-responsive budgeting: This will mean that there is greater accountability and transparency in the budget process to advance the gender equity agenda.It will also mean that we will strengthen the capacity of governments to finance equitable and accessible eye health services.
Changes in society are essential. In order to dismantle societal and cultural barriers, we will need to understand the bias and stereotyping that hinders our progress. We need to shift existing power dynamics, encourage gender diversity and behaviour change, and engage men and boys as champions for change.
2020 is a significant year in the eye health sector – a year to reflect on progress, celebrate our achievements and define our strategic direction to achieve the 2030 goals. Let's take this International Women's Day as an opportunity to envision and plan for a more inclusive and equal world in which women and girls are visible and empowered.
#IWD2020 #EachforEqual #LeaveNoOneBehind #EqualWorld
Image on top: All smiles after cataract surgery by Eliza Deacon
The IAPB Global Assembly 2020 (GA2020) programme has several sessions on Gender Equity and Eye Health. If your work is around the topic, do submit an abstract–the sector needs to know!