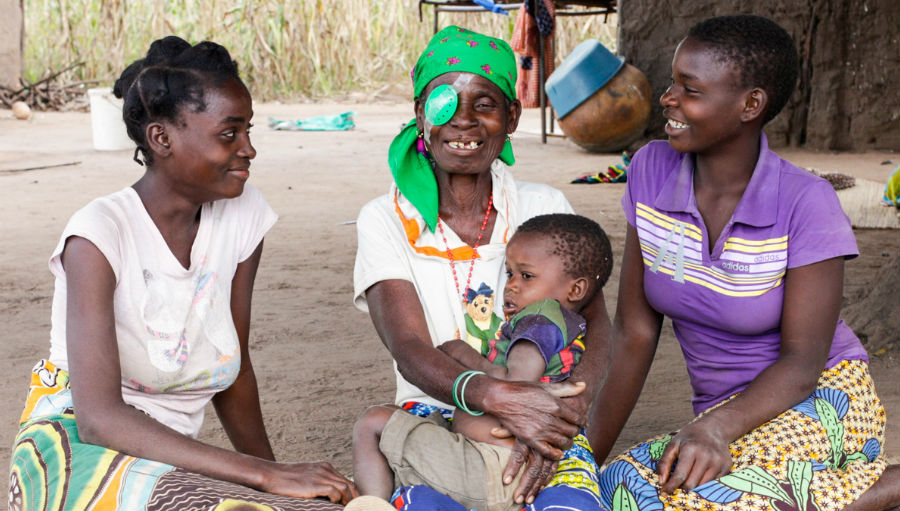 Of the 253 million people in the world who are visually impaired, 55% are women[i].
The overall disability prevalence rate for women is 19.2% whereas it is 12% for men.[ii]
Light for the World has observed that more women are screened and diagnosed with cataract, but more men receive treatment for it.
To truly reach all groups of society, NGOs need to take gender into account – on a programme level as well as within organisational structures.
Address specific needs
Women constitute the majority of the population, but significantly more men come to access our eye health programmes. The same holds true for services targeted at persons with disabilities. The analysis? Male oriented service provision contributes to and reinforces inequality. The solution? Recognise gender mainstreaming as a cross cutting issue, adapt the way we work, and implement solutions to successfully and sustainably work towards gender balance.
EXAMPLE:
In Mozambique, we saw a sudden increase in women's attendance at eye health surgeries after setting a higher target for number of women to be operated, convincing women to use available services, and raising awareness among female patients and their partners about the added value of undergoing treatment.
Empowerment and female role models
The voices of women with disabilities are often not heard, because social norms limit their potential, or because of inequality in accessing decision-making positions. A way to address this gap is by targeting women with disabilities in different programmes and advocacy work.
EXAMPLE:
Our team in Cambodia launched a leadership programme for women with disabilities in 2016, to build up the women's skills, relationships and networks.
The first international award for women with disabilities was established in 2018 – the Her Abilities Award[iii], which recognises the achievements of women with disabilities and promotes female role models. 
We also assessed the gender ratio within our organisation and – through targeted HR measures – raised the number of female staff, including at top management level. We established a gender focus group in 2015, updated our gender policy, and continually analyse the language we use in communications and fundraising.
EXAMPLE:
Our Ethiopian Office made it a practice to shortlist an equal number of female and male candidates, even if some of the women had fewer years of experience. After this, the recruitment process was merit-based. This balanced the gender ratio within a few years, and we also hired the first female Country Director.
Why is this Learning Guide important?
We at Light for the World are aware that we still have a long way to go. But we are constantly evolving, evaluating, and changing to achieve our goal: gender equality in our office culture, our programmes, advocacy, and our communications. With this guide we would like to share our experiences and invite others to "walk the talk" with us.
Download "Walking the Talk – Good Practices in Gender Equality" as accessible PDF here: https://www.light-for-the-world.org/walking-talk-good-practises-gender-equality
[i] https://atlas.iapb.org/global-burden-vision-impairment/gbvi-global-disaggregation-of-numbers-for-gender-and-age/
[ii] WHO. (2011). World Report on Disability. Available at: https://www.who.int/disabilities/world_report/2011/en/
[iii] https://www.her-abilities-award.org/
Image on top: Sara Sobe from Mozambique can see again after cataract surgery by Ulrich Eigner
The IAPB Global Assembly 2020 (GA2020) programme has several sessions on Gender Equity and Eye Health. If your work is around the topic, do submit an abstract–the sector needs to know!