For World Glaucoma Week, Imran Khan on Keep Sight, which is tackling glaucoma in Nigeria and India…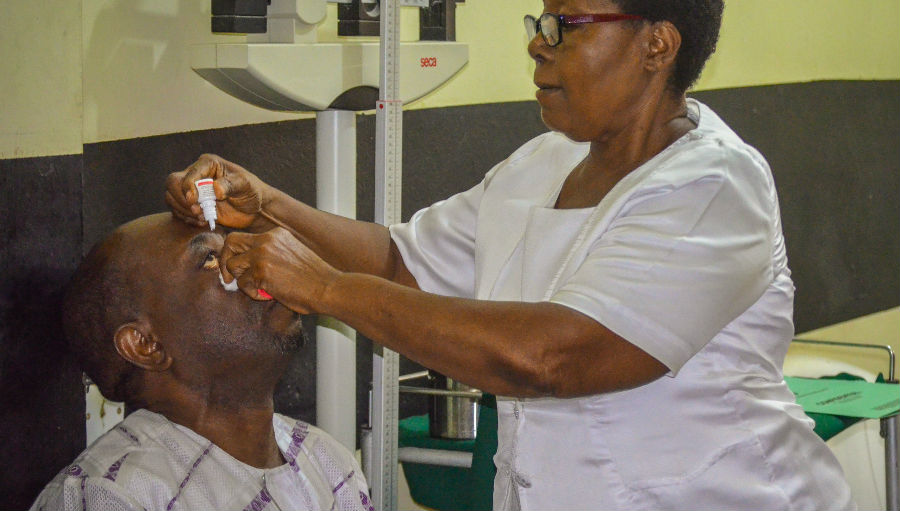 "My sight went in one eye about a year ago, and then in the other six months later. The consultant has told me that my sight could have been saved if I'd have come here sooner. I just don't know what I'm going to do."
Madame, who Sightsavers treated through one of our eye health programmes, was clearly distressed when she received the news about her glaucoma. But, like millions of others, Madame's blindness could have been avoided.
This is why Allergan, the IAPB and Sightsavers have joined in our bold Keep Sight partnership to tackle one of the world's leading causes of avoidable blindness. It is the eyecare sector's first, multi-year glaucoma initiative. It will combine the years of experience that all three partners have built in facing the challenges of a condition that can slowly and painlessly cause permanent loss of vision.
In countries where resources, training or health infrastructures are lacking, healthcare professionals struggle to help those most at risk. Keep Sight has started in two countries with the some of the highest unmet need for glaucoma treatment. In Nigeria around 5 per cent of the population has the condition, and it is the leading cause of irreversible blindness India.
Through Keep Sight, we aim to bring in a number of strategies to help both countries protect the sight of as many people as possible. These strategies include:
Raising awareness
One of the first challenges with glaucoma is the lack of knowledge about it. Over 90 per cent of cases in India and Nigeria remain undiagnosed. This is why we kicked off Keep Sight in Nigeria with an awareness raising week. The project will continue to focus on community awareness and on testing behavioural change within affected populations.
Eye screening
For many patients it is simply the case that they discover the condition too late, so eye screening is crucial to catching glaucoma early. Keep Sight has already screened over 8,000 people since October 2019 and we hope to eventually screen 500,000, an exciting ambition.
Training health workers
We are working with Ministries of Health to provide essential training for healthcare professionals to screen, diagnose and provide specialist care to those most at risk. In Nigeria we aim to train around 50 healthcare professionals. This echoes Sightsavers' commitment to strengthening health systems and making sure that eye care services are fully integrated into countries' health services.
Treatment
Although incurable, glaucoma can be controlled with medication or surgery, and this is vital to helping avoid unnecessary suffering. In our first year we aim to provide treatment or surgery for around 700 patients in India and over 500 in Nigeria.
—
These are just a few examples of the wide range work that we aim to do in the coming years.
I am very excited to be a part of this collaborative effort to prevent further harm from 'the silent thief of sight'. Everybody, regardless of where they live, deserves an equal right to sight. Keep Sight will make a real difference to people living with glaucoma in places where the need is greatest.
Image on top: Administering eye drops by TIMOTHY ABASIOFON 
GA 2020 – Act Now!
The IAPB Global Assembly 2020 (GA2020) programme has several sessions on Glaucoma. If your work is around the topic, do submit an abstract–the sector needs to know!