In the pursuit of its primary change objective "Every country with a 'Human Resources for Health' (HRH) strategy has a 'Human Resources for Eye Health' (HReH) strategy integrated within it" IAPB Africa held an Advocacy Training Workshop in Accra, Ghana, to train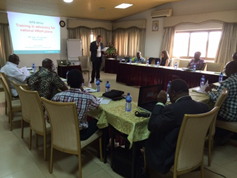 candidates from five pilot countries as advocacy advisors.
The goal of the workshop was to build advocacy capacity at a national level with the advocacy advisors going on to develop national advocacy plans for HReH and carrying out the implementation thereof, with support from the lead agencies, in their respective countries. The five pilot countries are Cameroon, Ghana, Kenya, Mozambique and Senegal.
The workshop which took place over five days was facilitated by Advocacy Consultant Mr Ian Chandler and along with the advocacy advisors was attended by members of the lead agencies from the five pilot countries and IAPB co-chairs.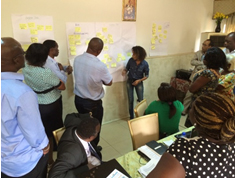 Proceedings began with HRH Consultant Dr Mollent Akinyi Okech presenting on the key stages in national HRH planning by governments and how HReH can be integrated within it. Thereafter Mr Ian Chandler took over with the advocacy training that would eventually enable the participants to develop an advocacy strategy on HReH. The workshop was very participative with the advocacy advisors, lead agency members and co-chairs all equally involved. Key principles for effective advocacy were recognised and then under Ian's guidance and through a series of activities the participants made use of a range of advocacy planning tools with national advocacy platforms on HReH. Progressing, they moved to a stage where they could map out their respective processes for involving stakeholders in developing national advocacy strategies for HReH and in a final exercise action plans were prepared along with a schedule of next steps which had participants primed to move forward in their various roles.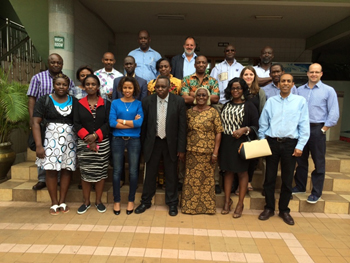 True to the form of a workshop, using tools and techniques, capacity was built. The next steps are to excel at advocacy and influence change.
Also read: the IAPB Advocacy Guide, along with a 'How to' document produced by IAPB Africa.