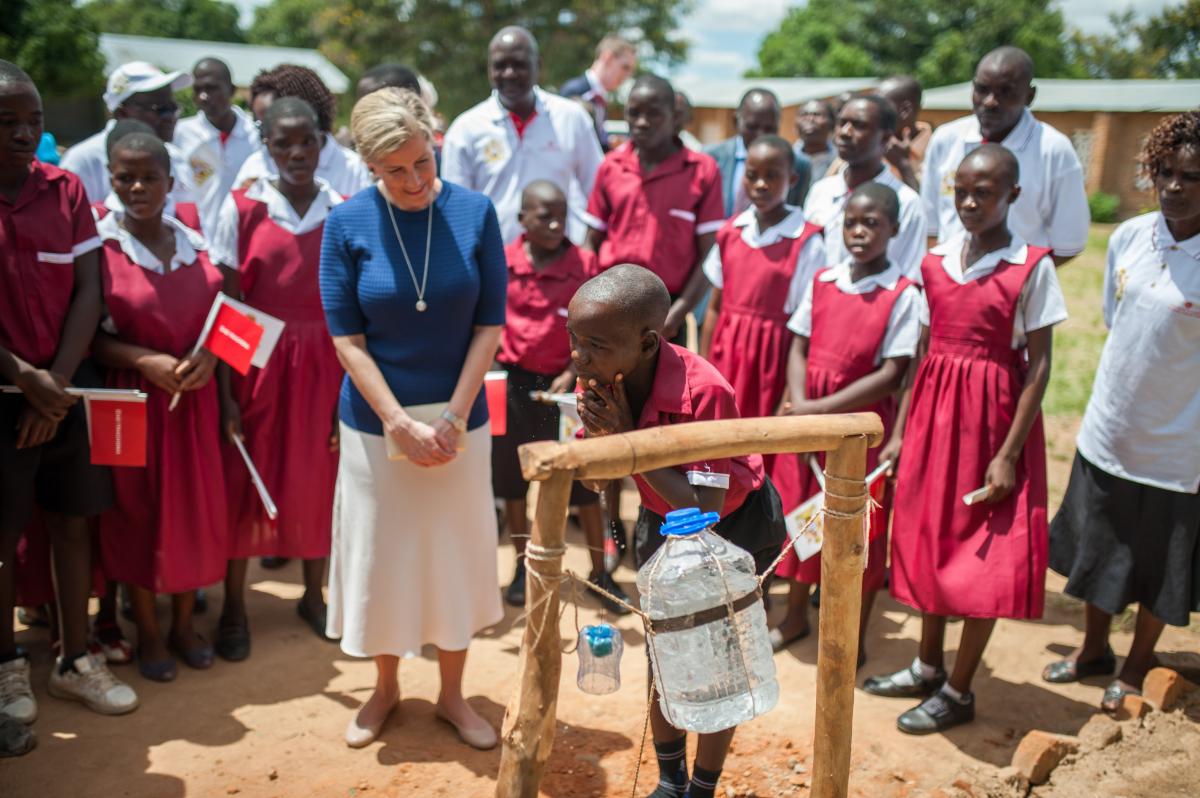 Today, on World Water Day, our focus is on how facial cleanliness and environmental improvements are helping to combat the risks of transmission and infection of trachoma.
Trachoma is the world's leading infectious cause of blindness
. It is triggered by a bacterium called
Chlamydia Trachomatis
which is spread through contact with eye discharge from an infected person – via hands, towels, sheets and, in some cases, eye-seeking flies. It is most commonly found in poor, rural communities where there is little sanitation and limited access to water for personal hygiene.
In 2014, 8.2 million people in Malawi were living in trachoma endemic areas and were at risk of getting the disease. Last week, The Queen Elizabeth Diamond Jubilee Trust's Vice-Patron, Her Royal Highness The Countess of Wessex, visited Malawi to discover the progress being made by our Trachoma Initiative, which is working to eliminate this ancient, painful and infectious disease once and for all.
The Trust's Trachoma Initiative
is implementing the World Health Organisation-endorsed SAFE strategy to eliminate the disease in 11 countries across three regions in the Commonwealth.
In Malawi
, we are doing this in collaboration with the Malawian Ministry of Health and with the support of our partners from the International Coalition for Trachoma Control.
The SAFE strategy stands for:
Surgery – to correct the position of in-turned eyelashes to prevent scarring of the eye
Antibiotics – carefully distributed to treat infection
Facial cleanliness – promotion to reduce reinfection and to prevent transmission from person to person
Environmental improvements – to increase access to safe water sources and sanitation
Promoting access to clean water for face washing and personal hygiene, along with ensuring communities have access to proper sanitation for the disposal of human waste (which reduces the fly population) are vital if we are to win our fight against trachoma.
The Countess of Wessex saw first-hand what the communities in the Kasangu district of Malawi were doing to tackle trachoma through these 'F' and 'E' interventions. She visited a recently built latrine in the community that is helping to avoid the spread of flies and infection. She also saw how children of Chisuwe Primary School were making use of 'tippy taps', home-made, pedal-operated devices that allow users to wash their hands and faces with a small amount of water – just 40 millilitres – in areas where there is often no clean supply of running water.
These interventions are going a long way towards helping eliminate this neglected tropical disease. Two years ago, Kasungu was a trachoma endemic area. Thanks to the incredible efforts of our partners to implement SAFE, today it is trachoma free.
By giving responsibility to the children like those in the Kasungu district of Malawi to help raise awareness about the importance of access to clean water for face washing and personal hygiene, we are ensuring that our goal to eliminate trachoma can not only be achieved but will remain in safe hands for generations to come.
Photo by Aurelie Marrier d'Unienville
We have more posts to mark World Water Day!