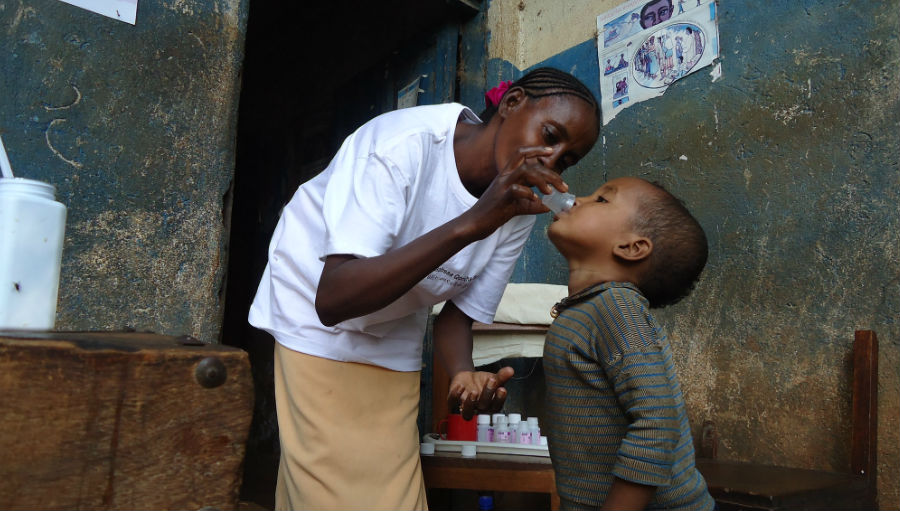 A new UK aid programme will fight diseases in 25 of the world's poorest countries
Support will target five Neglected Tropical Diseases (NTDs) which cause disability and death
A new UK aid package will help protect 200 million people worldwide from debilitating diseases. The flagship programme, called Ascend, was announced by the UK's international development minister Baroness Sugg at the NTD NGO conference 2019  in Liverpool.
Baroness Sugg announced that the £220 million will tackle five of the world's worst Neglected Tropical Diseases (NTDs), which can cause disability, death and disfigurement and trap victims in a cycle of poverty. These are lymphatic filariasis (also known as elephantiasis); onchocerciasis; schistosomiasis; visceral leishmaniasis and trachoma. The programme will also help national governments to combat these diseases themselves in future.
Sightsavers is leading the West and Central Africa part of the programme, along with a consortium of partners including Schistosomiasis Control Initiative, the Liverpool School of Tropical Medicine and Mott MacDonald. Between 2019 and 2022, it aims to deliver 440 million treatments in 13 countries, and make major progress towards treating, controlling and eliminating these painful  conditions.
These diseases affect over a billion people worldwide, stopping adults from working and children from going to school, and are estimated to cost developing economies billions of pounds every year in lost productivity.
The Department for International Development (DFID) package will deliver 600 million treatments to prevent NTDs as a vital step towards their elimination. It will aim to eliminate visceral leishmaniasis from Asia by 2022.
International Development Minister Baroness Sugg said:
These debilitating – but preventable – diseases stop sufferers from working, studying and leading prosperous, healthy lives.

This new UK aid support will stop hundreds of millions of people suffering unnecessarily from treatable conditions. It shows how the UK is helping to lead the way in tackling deadly global diseases more generally, including polio and malaria.
Last year, UK aid provided treatment or care to over 140 million people suffering from Neglected Tropical Diseases.
Sightsavers' Director of Neglected Tropical Diseases Simon Bush said:
More than a billion people are at risk of neglected tropical diseases – a group of conditions which are completely preventable and easy to treat, yet cause agony, disability and often trap people in a cycle of poverty.

Thanks to DFID's new flagship programme announced today we will be able to treat, control and even eliminate more of them than we have ever before. It is an unprecedented programme working on a scale and scope I have never seen, tackling five diseases in 25 countries and making a long-lasting impact on global health.
Image: Giving AZT syrup by Solomon Gadisa