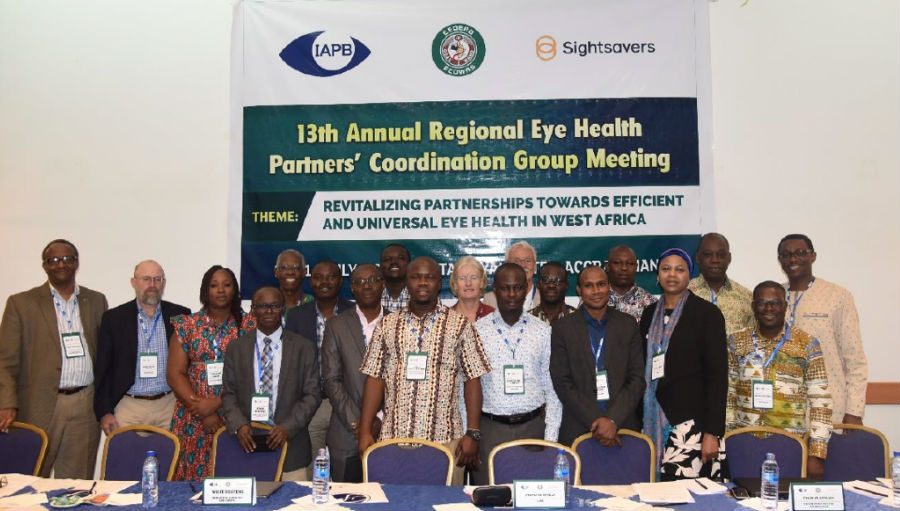 Following a regional meeting on eye health organized by West Africa Health Organisation (WAHO) in Abidjan, Cote d'Ivoire on 4-6 June 2002, it was recommended that a Regional Eye Health NGDOs Coordination Group be established to support WAHO and : Economic Community of West African States (ECOWAS) Member States to eliminate avoidable blindness by the year 2020 in line with the Vision 2020 targets.
Subsequently, the group was formed by WAHO, Sightsavers, CBM, Helen Keller International, International Trachoma Initiative (ITI) and Organization pour la Prevention de Cécité (OPC) in 2001 at the Headquarters of OPC in Paris in September 2003.  Since 2005, 12 meetings of the NGDO Coordination Group have been held in eight different ECOWAS Member States.
The 13th Eye Health NGDO Coordination Group meeting was held in Accra, Ghana, on 10-11 July 2019 with the theme of "Revitalizing Partnerships towards Efficient and Universal Eye Health in West Africa". The main objective of the meeting was to reflect on mechanisms to strengthen the Group and to make it more relevant to meeting the regional and global eye health targets.  There were 20 participants from 17 institutions
There was a review of progress made regarding eye health in the region which included reviews of recent regional meetings and partner activity reports.  IAPB Africa also presented on its regional workplan.  The group then looked at measures to revitalise itself, rekindling commitment to make it more functional and relevant.  The group will also prepare strategic plan and annual costed plans which could be funded by external partners as well as undertaking a comprehensive evaluation to assess, to what extent it is meeting its objectives.  The group will also seek long-term funding support.  In addition, a task force was formed to review and revise the existing ToR for the NGDO group to make sure they remain relevant for promoting an active, dynamic, effective regional NGDO eye health coordination group in West Africa.
Reverting to the issue of eye health within the West Africa region, the following conclusions emerged from the two-day deliberations:
Integration of eye health policies and services into primary health, task sharing, strengthening primary care, increased funding, reducing inequities and early detection are essential in achieving universal eye health
Most ECOWAS countries do not have validated eye health plans or functioning eye health committees
Ongoing reforms at WAHO may limit its institutional capacity in planning, coordinating eye health programmes in west Africa
ECOWAS countries do not evaluate or have difficulties in systematically evaluating the outcomes of cataract surgery, a situation not helped by the availability of user-friendly tools
While the NGDO Group is relevant to supporting regional and eye health programmes, it faces structural and operational challenges that have hindered its ability to meet or regularly communicate in recent years
Finally, recommendations were made to three stakeholder groups:
Recommendations to Member States

Advocate measures to make spectacles and other assistive technologies more available and affordable through measures such as local production, providing subsidies, removing taxes, and including them under health insurance service benefits
Facilitate the creation or functioning of national coalition of eye health NGOs
Encourage the creation or functioning of national eye health committees

Recommendations to WAHO, IAPB and Other Regional Bodies

Build capacity of Member States on the management of outcomes of cataract surgery
Obtain updated relevant information on countries including those with validated plans, eye health committees, or have undertaken national surveys
Support Member States to revise their eye health plans

Recommendations to Partners

Support WAHO's institutional capacity in eye health through the sponsorship of an eye health resource person
Update the original TOR in the context of the current global eye health strategies and the SDGs
Develop strategic plan / operational plan for the NGDO Group
Strengthen the capacity of national eye health NGDO Group
The next regional NGDO Group meeting will be held in Freetown, Sierra Leone, in 2020, hosted by L'OCCITANE Foundation.