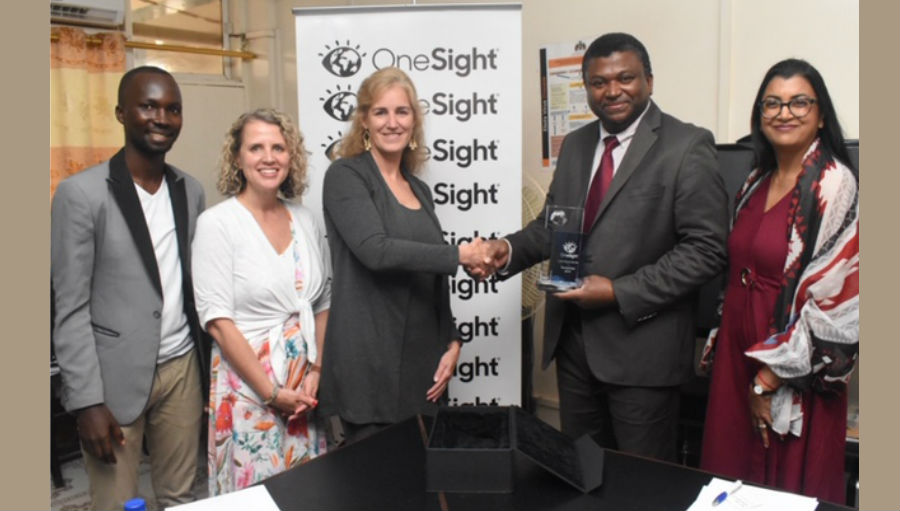 Press Release Cincinnati, OH – June 28, 2019 – OneSight, the leading vision care nonprofit organization, and The Gambia government signed a Memorandum of Understanding (MOU)  transitioning oversight of the country's sustainable vision care infrastructure and marking a major milestone in resolving the global vision care access gap. K-T Overbey, President and Executive Director of OneSight, and Honorable Minister of Health Dr. Ahmadou Lamin Samateh signed the MOU at the capital office in Banjul.
Six years ago, OneSight initiated its first sustainable pilot program in The Gambia, where there was only a single optometrist serving the country's entire population. Since then, OneSight partnered with the National Eye Health Programme under The Gambia's Ministry of Health to develop seven vision centers as well as a manufacturing center—creating more than 80 new jobs in the process and ensuring vision care access to more than 2.2 million Gambians.
"Our goal is to make sure quality health care and vision care is accessible and affordable for all Gambians," stated Honorable Minister of Health Dr. Ahmadou Lamin Samateh. "Eyeglasses not only enable people to see clearly, they improve their social interaction and economic status. We are so thankful to OneSight."
"This is a huge achievement for OneSight and for The Gambia and proves that we have the ability and the tools to close the global vision care gap," stated K-T Overbey. "By working together across public and private channels, we can unleash the potential of 1.1 billion people in the world who lack access to eye care."
On April 22, 2013, OneSight opened its first vision center in Farafenni and has gone on to open vision centers in Bansang, Kanifing, Brikama, Basse, Bwiam, and Jarra Soma, serving 131,375 patients and selling 15,271 glasses. Patients such as 26-year-old Constantine, who could not see to read and had difficulty studying at night for her master's degree in climate change, is now equipped to finish her degree. In turn, she will educate her fellow Gambians about issues affecting them, their country and their future.