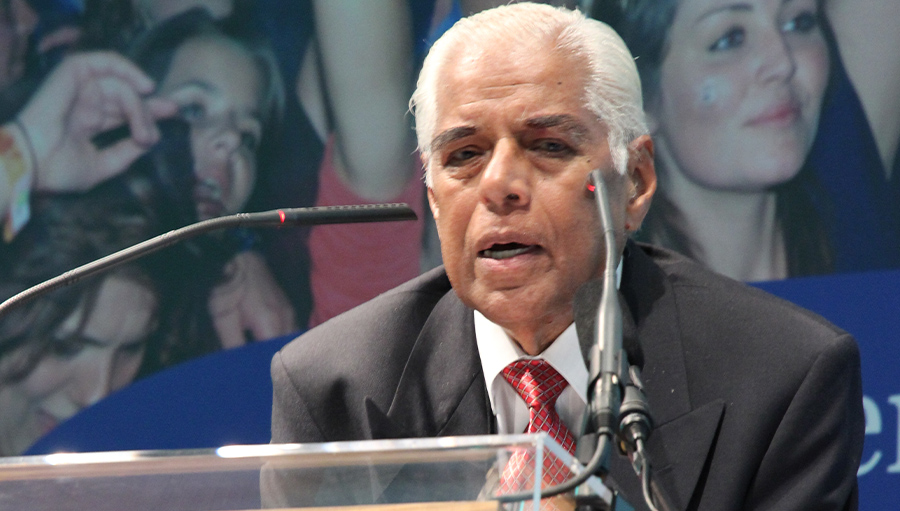 Dr Pararajasegaram, former WHO Regional Advisor and Consultant, and former President, International Agency for the Prevention of Blindness, is no more. Para, as he was fondly called by many in the eye care sector, was a mentor and supporter of many eye care programmes and organisations around the world.
Para played a key role in launching VISION 2020: The Right to Sight and was the President of IAPB from 1994-1999. He had also presented the John Wilson lecture at the IAPB General Assembly in 2004. He also played an advisory role in his later years through the IAPB Low Vision Working Group.
"We are saddened to hear of his passing, and would like to pass on our condolences to his family and friends across the sector", said Peter Holland, CEO, IAPB.
---
"Para has been a mentor and a father figure to many, certainly to me," said Ravilla Thulsiraj, Executive Director of the Lions Aravind Institute of Community Ophthalmology. "He has groomed and inspired many, always keeping the patient in the centre and harping on the right balance between heart and the hand – compassion and skills. His outlook to community eye health and moral guidance will be greatly missed. He leaves behind a legacy that will live for ever and continue to guide eye care."
---
"In the passing of our beloved Para, the entire eye care and prevention of blindness community has lost someone who added grace, humility and gentleness to our world. His mentorship will have a lasting impact on generations of eye care professionals and prevention of blindness efforts globally", said Gullapalli N Rao, Chair, L V Prasad Eye Institute.
---
"Dr Para was a true statesman of Global Ophthalmology. His driving force was to prevent blindness and improve the eye services for the poorest people on earth", said Allen Foster, International Centre for Eye Health, LSHTM. "He was highly intelligent and yet full of humility; a clear and passionate communicator, yet quietly spoken and a good listener; a man of highest integrity with a great sense of humour; a man who could talk and convince senior politicians and yet a man who was ready to befriend all people; and for many of us a Father figure whom we respected and tried to follow in his footsteps. Dr Para was the one who pushed for "Right to Sight" in the VISION 2020 global initiative insisting that to not provide treatment to restore sight was to withhold a human right – that is part of his huge legacy to humanity."
---
"Dr Para was one of the greatest international advocates for primary eye care. He started his career as a clinical ophthalmologist in his native Colombo, and was for many years the builder of eye care services across Asia, through serving, teaching, mentoring and supporting colleagues. A passionate public health professional who truly believed in the value of saving the sight of people who would otherwise spend a life in darkness. He was among the founders of many global initiatives like Lions SightFirst, VISION 2020: The Right To Sight, and LCIF's Childhood Blindness Prevention Program. He was a calm and powerful speaker, a world renowned ophthalmologist, and yet he could accept to share his office with junior newcomers like me in the WHO headquarters in Geneva back in 1994. He was a born mentor, a fine strategist and an accomplished diplomat, whose advice was sought by all of us in public eye care. He never refused a mission, an additional travel or another training seminar as he was in love with humanity, mainly with the suffering ones who he tried to reach with all his means. We all have lost a formidable ambassador, a professional father, a man of great knowledge and humility; we will all miss him–I miss him greatly." – Silvio Paolo Mariotti, World Health Organization, Geneva.
---
"Dr. Para has been part of the life and community of the Seva Foundation since 1979. Ever present as a skilled mentor, he shared much more than his expertise as an ophthalmologist and scientist. As importantly, he lived a life of compassion, of love for his family and his colleagues. He worked tirelessly to build eye health programs at the local and global level, always attentive to developing the people who would carry the work forward.
A frequent participant in Seva meetings in Berkeley California and around the world, we always knew that a meeting with Dr. Para would be special in unanticipated ways. We will miss him and share in the loss of this wonderful friend and guide", said Suzanne Gilbert, Senior Director, Seva Foundation.
---
"Para influenced generations of ophthalmologists to get interested in public health for larger good of the society", said
 Taraprasad Das
, Regional Chair, IAPB South East Asia region. "Yet, he remained a simple, affable, approachable, and humble individual always eager to learn and speak only when necessary, and always speak kindly, with care, and with conviction. I am sure the generations he has trained and influenced directly or indirectly will continue his legacy of compassionate and people-centric eye care."
---
"Like all of us, I am saddened to learn of Para's passing. He inspired all of us who crossed his path with his wisdom, vision and deep compassion and caring for his fellow human beings. I will always treasure the privilege I had working closely with him for so many years, especially during our time at WHO, and even before. In particular, I will never forget that almost thirty years ago, he was constantly reminding us that the patient should always be at the centre of any public health approach and that quality of care should be our top priority. His moral leadership will live for ever and will continue to guide eye care development." – Serge Resnikoff.
---
"I first met Dr. Para at the Chittagong Eye Hospital in Bangladesh in the mid-1980s and thought, who is this tall, handsome man with the stark white hair?  I soon counted him as a mentor, colleague and friend as so many found it easy to do down through the decades. When I traveled to WHO in the 1990s and 2000s, it was always a special occasion to meet with Dr. Para to learn about his activities in WHO PBL and to learn from his vast experience in eye health development programming, especially in Asia.  Dr. Para was one of the kindest people I ever met, wise and diplomatic at every turn, always with a smile and so very generous with his time and talent.  Losing Dr. Para leaves a big hole in my heart and in our entire eye health community I'm sure. God rest his wonderful soul." – Victoria Sheffield, Vice-President, IAPB and CEO, International Eye Foundation.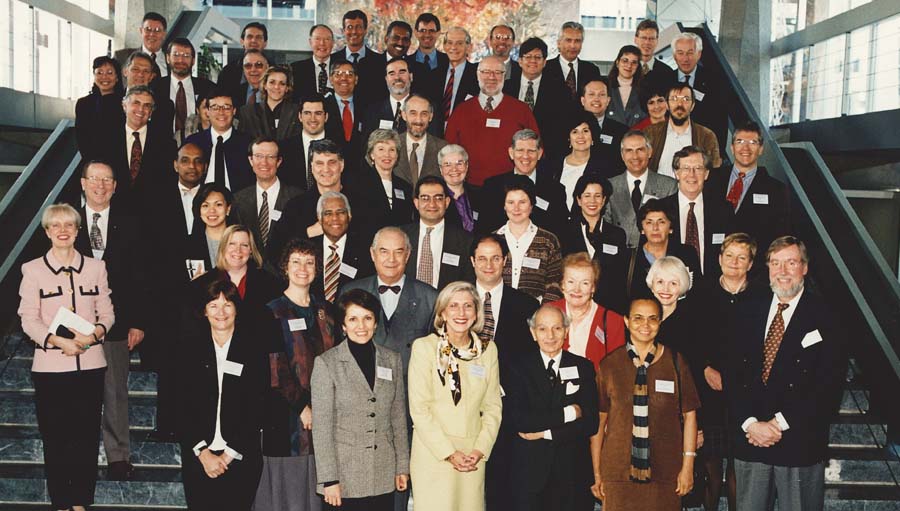 The photo is of the "IAPB Partnership Committee", the forerunner of the IAPB Council of Members, which I chaired from 1993-1999.  We met each year at WHO in Geneva and the tall, handsome Dr. Para is easily spotted 2 steps up behind me on my right.
---
"Dr. Para was one of the key founders of the Lions Clubs International Foundation SightFirst program and a valued member of the SightFirst Advisory Committee until his passing. He never stopped caring and serving.  Humility was a hallmark of his genius. He never claimed to be the expert but offered insight and looked beyond to create questions to seek solutions; no matter what the topic. When analyzing SightFirst grant proposals, he was always fond of posing the question; asking what is necessary to have, versus what is good to have, versus again, what is nice to have but not necessary to deliver affordable quality health care. Dr. Para would help Lions refine proposals that had worthy objectives to serve the greatest eye care needs of the community. He never gave up on a challenge, and the Lions SightFirst program benefited from his wisdom and counsel since being launched in July 1990. For his dedication to serving those in need, Dr. Para was awarded the Lions Presidential medal in recognition for his years of service to Lions worldwide. His contributions are countless, and appreciation is mirrored in the eyes of those he has helped. He was a mentor who inspired many, always keeping the patient in the center, insisting on attaining the right balance between heart and the hand – compassion and skills. His outlook and moral guidance will be greatly missed. He leaves behind a legacy that will live forever and continue to guide community eye care throughout the globe."  – Gudrun Yngvadottir, Chairperson, Lions Clubs International Foundation.
---
"We mourn the loss of Dr Ramachandra Pararajasegaram, or Dr Para as he was affectionately called, who passed away on 5th May 2020. He was an icon of eye health globally whose passion was to alleviate needless blindness in the world. Dr Para was foremost a humanitarian whose work in eye health transcended all racial, social and religious boundaries. For us in Pakistan, he leaves behind a legacy of the numerous eye health professionals who were fortunate to be trained and mentored by him" – read the full statement from the National Committee for Eye Health, Pakistan.
---
Photo credit: Photo by Pierre Metivier, Dr Para at AECS.