Sangchul Yoon and Mijin Kim on Vietnam school health project…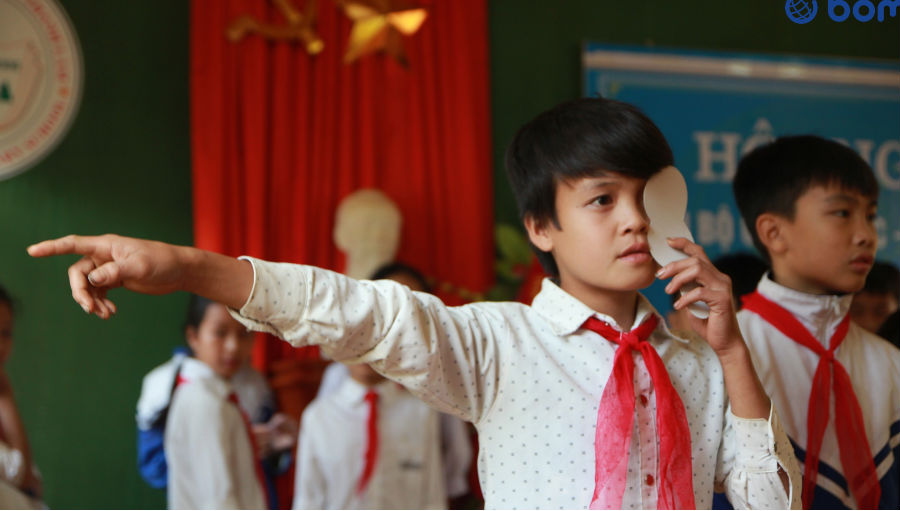 The ICT-based Comprehensive School Health Project in Thanh Hoa Province, had set out its goals as improvement of Health awareness and health behaviour amongst secondary school students in the area. Project BOM affiliated with Yonsei University Severance Hospital, a South Korea originated NGO, and a member of Vietnam's Eye Care Working Group (ECWG), has been carrying out this project in collaboration with Thanh Hoa Provincial People's Committee (PPC), Department of Education and Training (DoET), and Department of Health (DoH) since 2018. It has been funded by Korea International Cooperation Agency (KOICA).
The Project's four main activities are i) School-based health checkup using Android based mHealth application and health database system, ii) Capacity building for school health educators (teachers), iii) first response to the diseases or accidents at school level (i.e. Health room), and iv) School Health Awareness Improvement for students and parents in the area.
In the last two years, the project has had two significant achievements. First, a total of 34,738 secondary school students have received General Physical Examination measuring height, weight, vision, hearing, dental, bust size, and blood pressure. Specifically, 1,972 students whose vision were lower than 0.7 received additional vision examination by eye health professional. Project BOM has provided 500 pairs of spectacles to those students in order to correct their vision. It also plans to provide 1,476 more pairs of spectacles to the students with lower vision before June of 2020.
The second achievement is that the Project supported a health education training programme. This was for 541 school health teachers and 1,749 homeroom teachers. The education materials were approved by Thanh Hoa Medical College, and the five main topics covered in the training were 'Eye health,' 'Infectious disease and hand washing,' 'Food and Nutrition,' 'Sexual education' and 'Anti-smoking.' In 2019, Project BOM also made a video education programme for students to have better access for the education materials with repeated messages. As of April of 2000, a total of 199,072 students have attended the health education from their health teachers or homeroom teachers.
Lê Thị Quế, a parent of one of the students, commented that she is very much satisfied with the project. Her daughter now has wears glasses which will slow down the progress of myopia; while she did not even know she needed spectacles before the school health education programme and health check-ups.
The Project is scheduled to continue until its completion in 2020. The project will increase the number of its beneficiaries by lowering barriers to general health examination including vision screening, by extending the capacity of school teachers for health education, and by improving the awareness of school health among community, teachers, and students.
The ICT School Health Information System can be introduced to any province of Vietnam, and Project BOM is currently planning to expand its project sites. In addition, Project BOM is analyzing the data collected to find out the impact of the provision of glasses within school health activities and ways to effectively and efficiently correct vision of students.
These days school health education is on hold during the pandemic. We have followed the Vietnam government and Thanh Hoa DoET guidelines, and expect to pick up again after the Covid-19 has passed.
We hope all is well with the world. 
Stay focused on Project BOM's activities!