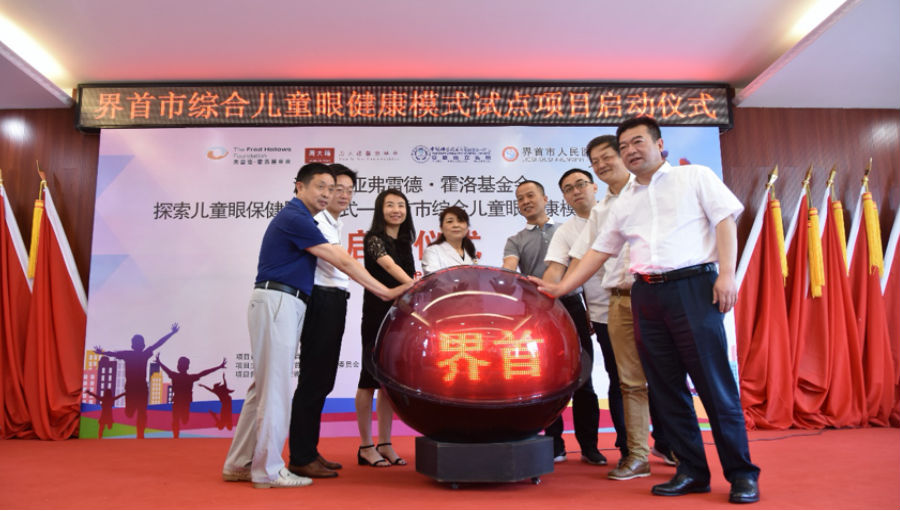 It was the 25th National Eye Care Day in China on 6th June 2020. The theme this year is "Vision 2020: focuses on universal eye health". The Fred Hollows Foundation organized a series of activities to celebrate the day in the country.
New project launched in Anhui
On National Eye Care Day, The Fred Hollows Foundation launched a new project, "Piloting a Comprehensive Model of Child Eye Health" in Jieshou City, Anhui Province. The three-year project is funded by the Chow Tai Fook Medical Foundation and supported by the Anhui Provincial Health Commission, Anhui Blindness Prevention Committee, Education Bureau and Health Commission of Jieshou City.
The project will screen 36,000 students for refractive errors. The project aims to improve the quality of diagnosis and treatment services for children with refractive error in Jieshou City. Key activities include screening for refractive errors and common eye diseases for primary school students, training to improve the professional skills of medical staff in pediatric ophthalmology and refraction, and increasing the uptake of optometry services for children. There will also be activities to encourage students to increase the time spent outdoors and to reduce the burden of students' work outside schools.
Free eye screening and consultation provided by The Fred Hollows Foundation's partners
In Xinjiang Uygur Autonomous Region, The People's Hospital of Shawan County, The People's Hospital of Hutubi County and Altay Prefecture People's Hospital held free eye screenings and consultation respectively for patients on the Eye Care Day. Over 250 local residents were screened and received primary eye health information.
The People's Hospital of Huanxian County in Gangsu Province organized free school screenings and education activities in the Gaozhaigou Primary School and Bazhu Primary School. 257 primary school students were screened and received eye health education in a day. Screening also found out 97 students had different degrees of myopia, 15 of them were not wearing glasses. The screening staff suggested that those 15 students go to the county hospital for further vision examination and glasses.
 In Lixin County of Anhui province, the primary schools in Madianzi and Panlou towns organised Writing Contest for students from 3rd to 6th grade. 510 students wrote around the theme "Protecting Eyes". Some shared their concerns on COVID-19 aggravating myopia since students had to take online course across the 3-month stay at home period. Some talked about tips on eye protection and others on how to take care of their grandparents with poor eye sight. The contest gave the students a chance to know more about eye health and build awareness around protecting eyes.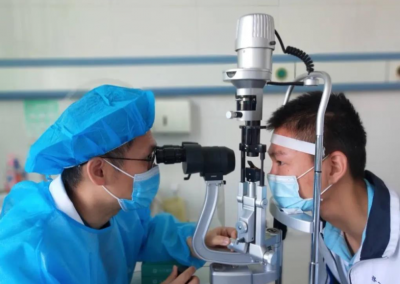 In Guangxi, partner-hospitals provided free screening and education in local communities, and eye health education for primary school students. Online promotion as well as distribution of free spectacles cleaning wipes were also carried out. About 350 were screened and 700 received eye health education by The Fred Hollows Foundation's hospital partners on the National Eye Care Day.
Eye Health Quiz to increase public awareness
An online campaign was also carried out to celebrate the National Eye Care Day. An online fun quiz about common eye health knowledge was launched by The Foundation to raise public awareness on Protecting Eye Health. The quiz covered questions on common eye diseases and reminded people about the importance of eye protection. The questions included: "What is Myopia?"; "Will people with myopia still get presbyopia?"; and What is the most effective way to cure cataract?".