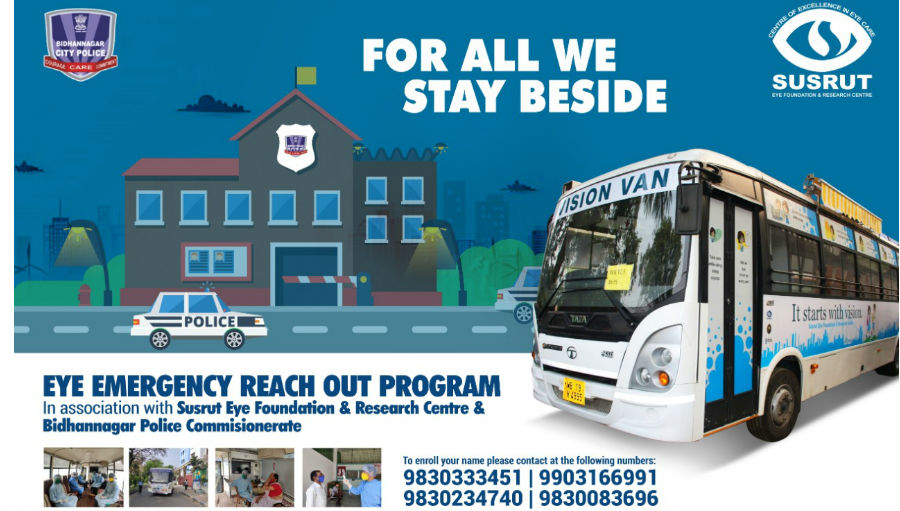 Susrut Eye Foundation & Research Centre, based out of Kolkata, West Bengal, India has initiated 'Reach Out Programme for Eye Emergency' in India due to circumstances created by the COVID-19 pandemic
To address the challenge, Susrut collaborated with local Police Commissionerate (Bidhannagar Police) to identify the patients who need emergency services. Seeking support of Police volunteers, working in the local area, Susrut identifies and reaches out to patients, first through a phone call to understand the urgency of eye care services required. Vision Vans, supported by Orbis, then bring eyecare services at the doorstep of the ones in need.
Susrut as well as the Police Commissionerate maintain WHO protocol including social distancing, sanitizing and use of PPE to conduct the Reach Out Programme.
The layout of the Programme is as follows:
• The Team comprises of a doctor, an optometrist/VT and two medical assistants. The support team comprises of a driver, Reach Out Programme Incharge and Police Volunteer at the spot. All team members are being provided PPE and sanitizers and are asked to maintain social distancing.
At the pre-decided venue, the waiting area is demarcated and is kept closer to the washroom so that patients can wash hands, maintain social distancing and wait for registration.
Patients are encouraged to wear masks and in case anyone is not carrying the mask, we are providing the same keeping in mind the safety.
Registration is being done one by one maintaining social distancing on ICOM and manually. Patients are encouraged to use alcohol-based hand sanitizers.
Patients are then guided inside the Vision Van one by one where an optometrist does the initial screening and then the doctor sees the patient (all maintaining hygiene and social distancing). Patients are being given manual prescription and discharged immediately. Those requiring dilatation, are being made to wait in a separate area. Dilated examination is also being performed, maintaining social distancing and discharged immediately after prescription is being issued. A copy of the prescription remains with the hospital.
The Reach Out Programme, initiated on 12 April, catered to 77 patients on day one. 47 were provided with clinical intervention and further referred to hospital, 6 patients were given near vision glasses, and the rest were prescribed medication. Out of 47 patients, 13 patients were identified with cataract.