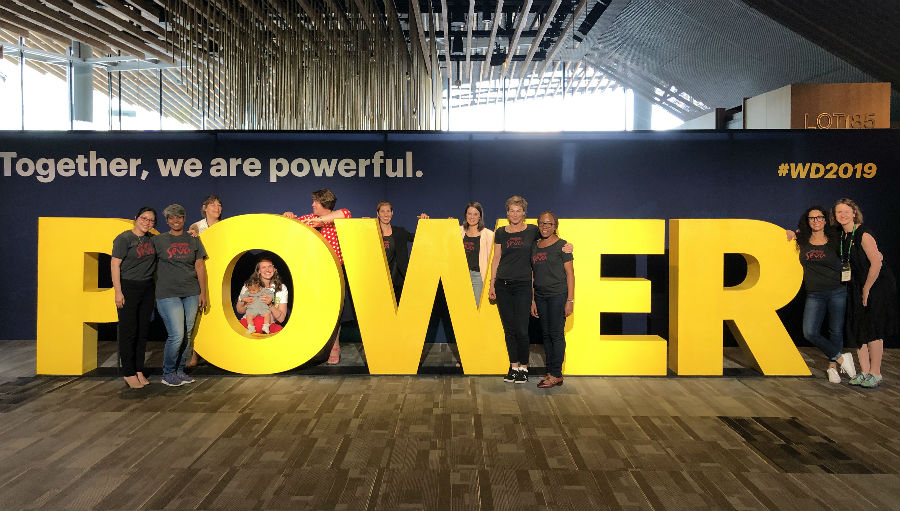 I recently attended the Women Deliver 2019 conference (June 3-6) in Vancouver, Canada. It is the world's largest conference on gender equality and the health, rights, and wellbeing of girls and women. It was my first time attending and I was eager to learn from pioneers and advocates of gender equality. Power, progress and change were the theme of the conference. It focused on power, and how it can drive, or hinder progress and change.  Health, education, economics, politics, human rights, governance, gender equality — were topics under discussion. Activists, leaders, NGOs etc — about 8000 participants from 165 countries attended.
There were many new people and colleagues to connect and network with. A lot of sessions, workshops and, a multitude of opportunities to learn, and be inspired.
Taking stock
Most of the sessions I attended took stock of progress in their area. They consisted of different advocates' positions on their commitment to gender equality. Discussions focused on what is ahead, and what actions are needed to move forward. As well as how individuals/organisations can incorporate gender-integrated approaches into policies, programmes and projects to bridge the gap.
Below are some insights:
Panelists at "The Power of Movements" session discussed the power of people coming together for the same cause. It was striking to see how movements shape critical perceptions and form collective action for change: for and with girls and women around the world. Young girls were encouraged to think outside the box about their careers. To think on what they're trying to build for their future and their field of work. They can create the life that they want. They can be successful in their career, become a wife and a good mother if that is what they choose.  They were reminded to maintain their identity and break down the silos. But while striving for gender equality, keep in mind they will never be one of the boys. So, they need to keep using their voice and perspective to advance.
I learned that:
gender roles, norms and power relations between women and men lead to inequities that affect health
gender mainstreaming and empowerment addresses inequality and improves health outcomes.
2. The workshop on "New Tools for Turning Data into Gender Equity Advocacy Across the Sustainable Development Goals" walked us through strategies on using index data to frame issues. As well as highlight problematic areas in a country's/ organisation's gender equity profile. It is important to identify relevant data and to visually communicate advocacy messages. Why? To strengthen the case for investing in girls and women.
It was good to be reminded that we need to properly track our progress. To know the challenges, and opportunities that can accelerate progress for the marginalized groups that we serve, especially women and girls. This is only possible if there is proper field data collection along with good stories to illustrate the numbers. The data helps to describe what is happening, what future actions are needed and how to implement those strategies.
Seva Canada booth
Being at the Seva Canada booth allowed me to converse with conference attendees. People visited the booth to learn more about the work that Seva Canada does in collaboration with its local partners in Africa and Asia. Seva Canada and its partners are leaders in research and strategies to increase the uptake of eye care services by women and girls.
I liked Seva's "chocolate tied to a brochure idea." This gift idea attracted many to come closer to the booth and learn what Seva Canada and its partners do. We helped them understand how giving women and girls the power of sight is an investment in the future for us all. Sight is so much more than good vision, it is access to education, and employment. It is the foundation for a better life for individuals, families and entire communities. Visitors also tried on the cataract-simulating glasses to get the idea of what it might be like to suffer from visual impairment.
The booth served as an information centre for people to learn about the necessity of eye care services in underserved communities. It was fascinating to learn that many people didn't know about eye diseases and their impact. Many were unaware of the gender inequity in the treatment of blindness and visual impairment. The barriers that women and girls face accessing eye care services.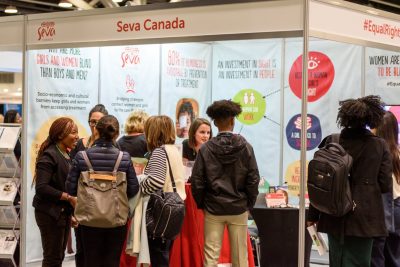 The power of cross-sector collaboration
Katja Iversen, President /CEO, Women Deliver, in her closing speech, insisted on the need to work together, the need for partnership, and the need to support organisations that advocate for gender equality. "We need to collect our ties, understand the problem and advance collective action."
I took this message at heart and to share my newly acquired knowledge with fellow members of the IAPB – Gender Equity Working Group. Significant progress for girls and women, especially on the accessibility of eye care services, will be seen when we work collaboratively across sectors and issues. Allies in the gender sector can help us raise awareness of eye-health issues across their networks and help build cross-sector linkages.
Women Deliver allowed me to expand my knowledge on topics and issues related to gender equality including ones that I was unaware of. For example, breast ironing or gender categories such as transgender, gender non-conforming, two spirit and intersex, that serve as the basis of the formation of a person's social identity in relation to other members of society.
Thanks to the organizers and to Seva Canada and Seva Foundation for making it possible for me to attend.