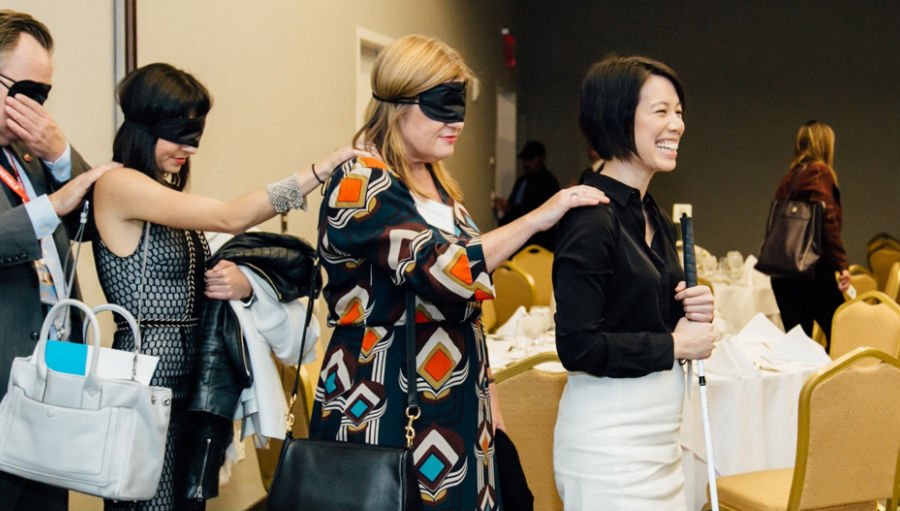 The immersive dining experience featured a menu curated by Christine Hà, the first-ever blind contestant and winner of FOX's MasterChef
New York, NEW YORK (October 25, 2019) – On Wednesday night, the Global Coalition on Aging (GCOA), the United Nations Department for Economic and Social Affairs (UN DESA), and the Permanent Mission of Antigua and Barbuda to the United Nations, along with three leading organizations addressing vision loss, brought together more than 60 United Nations (UN) ambassadors and leaders from global nongovernmental organizations for an immersive dining experience directly connecting the growing numbers of people who are visually impaired with the 21st century megatrend of aging. Drawing on the newly released World Health Organization (WHO) World report on vision, the organizers called for urgent and immediate actions to prevent skyrocketing rates of visual impairment and vision loss as we age, the vast majority of which is avoidable with screening, treatment, and access to quality care.
Guests at the dinner wore blindfolds for the entire meal, only learning the menu at the close of the evening. The menu was specially curated by American celebrity chef Christine Hà. During the dinner, Hà addressed the ambassadors about her personal experience as a busy professional in a sighted world. She began her cooking career after being diagnosed with a central nervous system disorder that resulted in almost complete loss of vision. Known as "The Blind Cook," Hà is now an esteemed chef, author, restauranteur, and winner of MasterChef season three.
"The Dine in the Dark experience puts sighted people in our shoes and makes them aware of the types of challenges we come across on a daily basis," explained Hà. "At the United Nations, ambassadors and other global decision-makers gained a first-hand appreciation of our sense of sight and what we can and should be doing to promote eye health for all."
Dine in the Dark UN established important linkages between major policy initiatives currently shaping the global health and economic agendas. Taking place immediately following the release in Geneva of the WHO's first-ever vision report, Dine in the Dark UN served as the pre-launch for a series of planned events around the report's official release at the UN in November.
"Building on the success of Dine in the Dark events around the world, it is absolutely fitting that we now bring Dine in the Dark to the UN, particularly on the heels of the WHO's new World report on vision, and as the UN itself prepares for the WHO declaration of the Decade of Healthy Ageing from 2020-2030," explained Ambassador W. Aubrey Webson, the Permanent Representative of Antigua and Barbuda to the UN, Chair of the UN Friends of Vision Group, and one of the principal hosts of the event. "Vision loss can impact every stage of life and in the case of older adults can contribute to social isolation, a higher risk of falls and fractures and a greater likelihood of early entry into nursing or care homes. At the UN, we have a clear mandate, through the Sustainable Development Goals and our work towards achieving Universal Health Coverage, to ensure that eye health is accessible for all people, everywhere, at every age."
"That 2 billion will be over age 60 by mid-century and aging is identified in the new WHO report as the primary risk factor leading to visual impairment should be a clear call to action for all of us," said Michael Hodin, CEO of the Global Coalition on Aging. "The costs for individuals, for societies, and our economies stemming from vision loss – most of which is preventable – are too great for us to ignore. Further linking to the Decade of Healthy Ageing and goals for independence, functional ability, and healthier aging, addressing vision loss must be central to health and economic policy alike," said Hodin.
At the event, the hosts, which included the International Agency for the Prevention of Blindness (IAPB), Lighthouse Guild, and the National Council for the Blind of Ireland (NCBI), in addition to GCOA, UN DESA, and Antigua and Barbuda, sounded a call to action to support a life course of healthy vision for all:
Vision loss is not just a normal part of aging. It is largely preventable. We need more investment to support a life course of healthy vision for all, recognizing that investment now generates savings into the future.
The numbers of people who are blind and visually impaired will skyrocket, as the prevalence of visual impairment and vision loss increase with age. Without significant action, we will be faced with unsustainable health and care costs for countries.
Integrated people-centered eye care – including better monitoring, early detection, diagnosis, and treatment – should be embedded within all countries' Universal Health Coverage (UHC) goals, no matter where they are in their progress toward achieving UHC.
We must establish and sustain a supportive environment for continued innovation in people-centered eye-care treatment and supportive technologies for earlier and better detection and diagnosis.
We must invest and train the eye care and general health workforce based on quality and competence to ensure that workers across the care ecosystem can provide screening, prevention, and specialty care to meet the needs of aging societies.
We must commit to supporting age-friendly and disability-friendly cities and communities that are accessible for those of all ages and abilities.
Dine in the Dark United Nations was made possible by contributions from Novartis as a member of GCOA. "We are proud to contribute to this event," said Victor Bulto, Head of U.S. Pharma at Novartis. "And we're excited to bring together these essential players to address urgent unmet needs in the treatment and prevention of vision impairment and blindness."
Image on top: Celebrity chef Christine Hà leads guests in for the first-ever Dine in the Dark United Nations (Photo: Global Coalition on Aging / Jenna Salvagin)