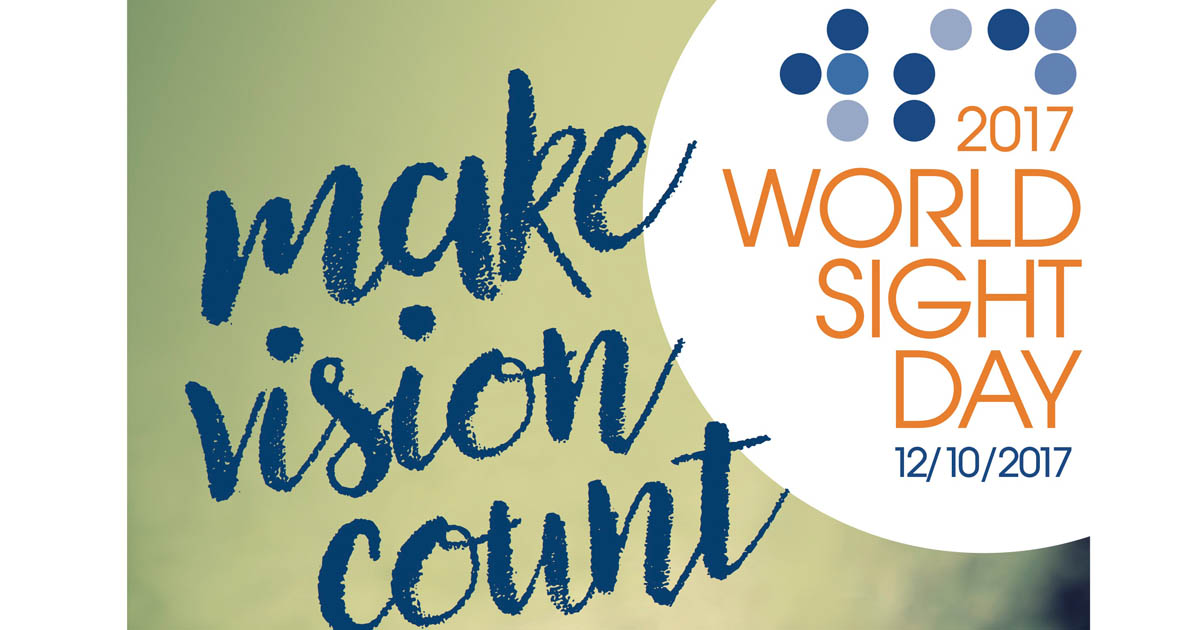 We are delighted to publish World Sight Day 2017 material online, today.
This year, the call to action we encourage you to use is "Make Vision Count". In 2010, just over 28% of the world's population were affected by Myopia (short-sightedness). This is predicted to rise to 34% by 2020 and nearly 50% by 2050 (read more about it here). In 2014, approximately 422 million people – or 8.5% of adults worldwide – were living with diabetes, compared to 108 million in 1980. Low- and middle-income countries account for approximately 75% of the global diabetes burden. Approximately one in three people living with diabetes have some degree of Diabetic Retinopathy (DR) and one in 10 will develop a vision-threatening form of the disease (read about the scale of the problem here).
This World Sight Day, let's get the numbers out, so we know where we stand.
Remember, 4 out of 5—80%–of the world's blind are avoidably so.
Promotional material
This year, we have two wonderful posters highlighting the theme "Make Vision Count". With pictures from the WSD Photo competition of the previous years, the posters capture the essence of the call to action, I feel. On popular demand, we also have the World Sight Day logo in multiple languages—Arabic, Chinese, English, French, Russian and Spanish—this year! All logos are available in print quality. You can also find designs for a WSD ribbon and balloons. See them all here.
Implementation pack
As with every year we have a pack of material outlining what World Sight Day is, the key messages and media guidelines. We also have social media messages that you may find useful when crafting your own messages.
Photo competition
This year too, IAPB encourages amateur and professional photographers from around the world to take part in an International Photography Competition with theme, 'Make Vision Count'. Send us your pictures – professional shoots, amateur compositions, or flickr – with the hashtag, #WSD2017 and #MakeVisionCount by 12 October 2017 – World Sight Day. Details of the photo competition will be out soon.