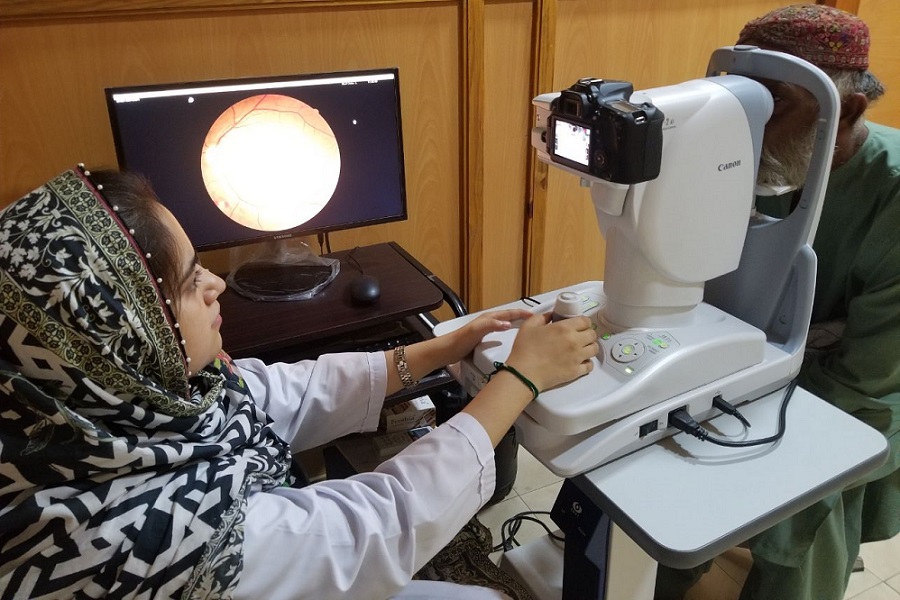 Sustainability is at the heart of the projects and constitutional part of any project design. Eye care projects are without exception. Sustainable eye care programmes are one in which the interest and benefits achieved by programme are preserved long after donor endow has ended. An example of this project is Diabetic Retinopathy Seeing is believing project in Holy Family Hospital, Pakistan starting in 2015 till 2020 where we will continue to abolish preventable blindness long after support from Standard Chartered Bank has ended. Seeing is believing is global collaboration to tackle preventable blindness across our Population. This project is fixed in health structure where we work closely with primary, Secondary, tertiary health care facilities supporting a elaborative eye care program that focus on range of diabetics eye diseases. To ensure that even the poorest people living in remote areas have access to eye care services. We have aligned the programme with core strategic of Vision 2020: disease Control, human resource development, infrastructure and appropriate technology development.
The diabetic retinopathy project was designed to prepare the hospital to provide sustainable service for screening, diagnostic staging, therapeutic services and regular follow-up of diabetic retinopathy patients.
At the start of project, our hospital was inadequately equipped and shortage of personnel with limited supply of services. Even if the supply of quality health care services was there, the demand was missing. People were not seeking eye health care due to a number of factors including inadequate knowledge about diabetic eye disease, lack of affordability, low referral from physician, poor mobility among elderly people.
By completion of project:
equipment had been partially upgraded in hospital.
A standard treatment protocol for Diabetic Retinopathy patients including laser treatment and referral for VR Surgeries, standard guideline for diabetic retinopathy identification, management and referral were developed.
Training was provided to ophthalmologists and optometrist regarding usage and screening of patients via non mydriatic fundus camera.
Regarding provision of awareness to physician for referral of every diabetic patient to ophthalmologist workshops and symposium were conducted describing stages of retinopathy and their treatment strategies.
Existing employees along with fresh inducted employees were trained to refresh or update their skills to screen and counsel people.
For these employees to continue to providing eye care services in the future beyond the funding of this project, we need financial support from government authorities. For longevity and sustainability of this project, equipment still missing in our clinic include OCT and FFA machine which are critical tools for diagnostic purposes. In Operation Theater we are lacking latest vitrectomy machines. The implementation of sustainable programmes like this one is the first step toward eliminating avoidable blindness permanently from the onset, we think its important to consider that our implementing partners and government and institutional higher authorities own the project and continue to achieve results once the donor funding has ended.
In our five years Diabetic retinopathy Project, key tool was to develop a sustainability plan to transfer ownership of diabetic retinopathy services from sight savers to public sector hospitals, so we can achieve important mile stones toward sustainable services in public sector hospital. With the help of project data, Holy Family Hospital could generate enough evidence to demonstrate the need for further Diabetic Retinopathy project services. It requires funding for necessary equipment and provision for its maintenance to provide diabetic retinopathy service. It include positions such as vitreoretinal surgeries equipment supplies, human resource development and creation of post of relevant project staff. Our current young consultant ophthalmologists need to be trained in vitreoretinal subspecialty internationality to gain surgical skills and bring back experience to parent institution.
Key components for this project include a free of cost system where patients who cannot afford to pay higher fee which will subsidize the treatment of poor patients. It also includes the expansion of screening and diagnostic diabetic retinopathy clinic and vitreoretinal surgical units.
The sustainability of eye project such as this one are viewed through.
Health management and information system
Health financing
Human resources like trained operation theatre technician and vitreoretinal staff
Supply chain management
Vitreoretinal training of current consultant ophthalmologist
For evaluation based practice and reporting, reliable and complete data is critical. Seeing is believing exports data using hospital health management. The tool breaks out data by age and sex along with summary of diagnosis and staging of diabetic retinopathy and details of argon laser sessions and surgical procedures. Data is analyzed on monthly basis and reporting done to sight savers (SIB) showing various trends in diabetic retinopathy.
Awareness creation for Patients:
To support the activities, create awareness among public, materials were designed including printed banners, brochures showing information on diabetic eye disease and its consequences. Different campaigns in general practitioner's clinics and camp materials were distributed to strengthens community knowledge on diabetic retinopathy and encourage public attendance for screening of diabetic eye disease.
Advocacy:
It will play a critical role in ensuring the long term stability of project. Meetings with health management teams to provide technical support had to be taken place to ensure adequate systems and to monitor income and financial strategies.
We are receiving few support from country. The support of SIB gave us track to subsidize costs of laser procedure and surgery. But to sustain this project long we need financial and resources support from the government authorities.
1st Author Name: Dr. Ambreen Gul
Designation: Senior Registrar
Holy Family Hospital, Rawalpindi
2nd Author Name: Prof. Dr. Ali Raza
Designation: Head of Eye Department
Holy Family Hospital, Rawalpindi