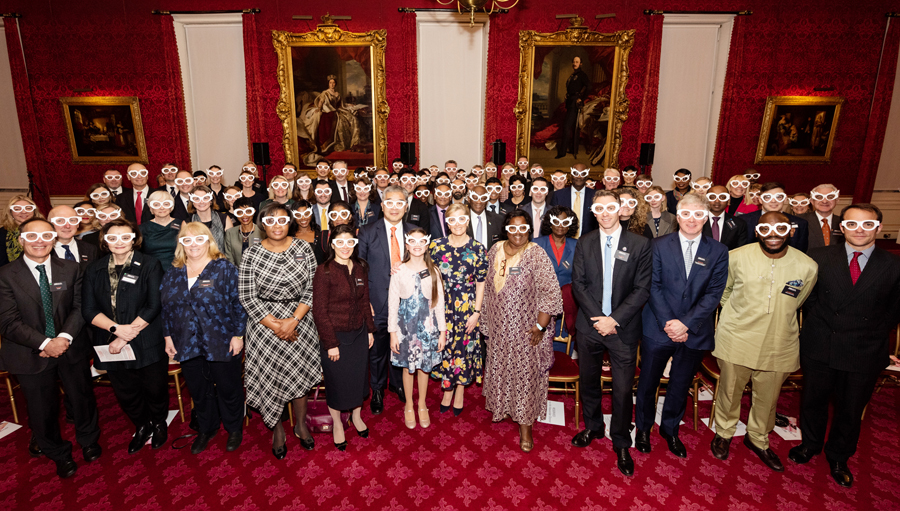 "There is no smile quite like the one that is returned from eyes that once more can see."
So says Sophie, The Countess of Wessex who hosted a hugely successful gathering at St James's Palace at the end of February for an event organised by Clearly on behalf of the 'Vision for the Commonwealth' coalition. The aim was to press Commonwealth heads of government to continue their leadership on eye care.
How right she is. Every day we hear stories of people whose lives have been changed by a simple remedy – a pair of glasses.
But as we know, across the world there are billions who do not have access to that remedy.
Two years ago, we took a big step when the summit of Commonwealth leaders in London committed to achieving 'quality eye-care for all.'
What the event at St James's Palace was about was demonstrating progress since 2018 and build on it at the forthcoming Commonwealth Heads of Government Meeting in Rwanda in June, particularly in relation to young people.
Rwanda was the home of Vision for a Nation, the charity I established some 10 years ago to work with the government there to give access to primary eye-care for all 12 million citizens. It has worked in Rwanda. We want it to work everywhere.
What we want to do in Kigali is to persuade the 54 leaders to go further than last time and focus particularly on the needs of children.
We appeal to them through our new Glasses in Classes campaign to commit to offering sight tests, affordable glasses and other treatments to every schoolchild in the Commonwealth, giving them the best possible start in life.
We are working with schools across the Commonwealth to engage them with the issue and it would be a wonderful breakthrough if we succeed.
And what a boost it is to know that the Royal Family supports us in our aims. The Countess – we know – has done so much over the years in the cause of eradicating avoidable blindness.  And after the event the Royal Family's official Twitter account hailed the campaign and the words of Dr Agnes Binagwaho, former Rwandan health minister, that children must be helped to read the board in schools, so that they can be well-educated and become active economic agents in their communities.
It was a serious get together, with High Commissioners and other senior officials from many countries, but it was fun-filled too. The Countess joined everyone else in donning big white glasses for what we call a #GlassesOn photo opportunity – something of a feature at our major events.
And we also heard from a very special campaigner, 10-year old Lowri Moore, who last year wrote to Robert Iger, Disney's chief executive, asking them to create a princess with glasses.
She told us about her campaign and revealed she was writing a story about a princess with glasses since Disney have so far refused to do so. Will Straw, Clearly's Chief Operating Officer, joked that Lowri had been so successful that Mr Iger had now resigned.
And everyone attending was enthralled by a brilliant animation aimed at the 54 leaders and asking them to help change the lives of hundreds of millions of children who struggle with poor eyesight.   The one-minute film, featuring a voiceover from South African comedian Loyiso Gola, outlines that Commonwealth leaders can help children become scientists, leaders and innovators if only they showed 'vision on vision.'
As we approach Kigali we have that new battle cry. Vision on vision in 2020.