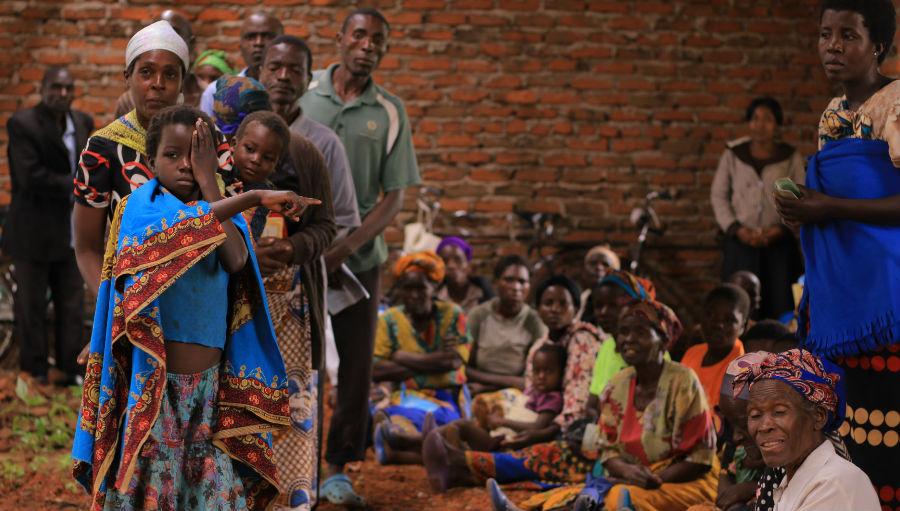 Since 2015 the UK aid funded CATCH programme (Coordinated Approach to Community Healthy eyes) has transformed access to eye health services across remote areas in Kenya, Malawi, Mozambique, Uganda and Zambia.
Initially CATCH "piggybacked" trachoma programmes, using trachoma surgery camps to identify people with other eye conditions and provide treatment. The most common condition found through CATCH has been cataract, a blinding disease that is treatable with a simple operation. As with many eye conditions, cataract disproportionately affects women – yet in a lot of places, reaching women or people from marginalised groups can be challenging.
Getting feedback, meeting needs
One of the most successful ways of reaching more women happened in Malawi. Here, we held focus group discussions during screening camps, enabling us to hear what women thought of the camps. It became apparent that holding camps over the lunch hours wasn't working as many women wanted to go home to cook for their children. So we began to hold sessions early in the morning or late in the afternoon to accommodate more women.
In one particularly patriarchal context, we decided to use a female surgeon to operate on female patients. But women in the area told us they were less comfortable with this because they thought a female surgeon might not be as competent as a male surgeon. During community meetings we repeatedly emphasised that female surgeons are just competent as male ones – and women became more receptive to receiving surgery, irrespective of gender.
Reaching out to marginalised community members
For some people, even getting to the camps to be diagnosed was difficult. This was especially the case for very elderly people or those living with disabilities. To address this we enlisted local volunteers to identify people in need of treatment then went and collected them.
Many of these people already needed assistance with everyday living and brought a helper along to the camps. We came to see how the presence of these caretakers helped people accept surgery. Faced with the prospect of going to the unfamiliar environment of the district hospital for the operation, many people were worried. But being able to take someone they trusted with them helped them to understand all was going to be well.
Finding new ways to communicate
During CATCH's first year the trachoma programmes we were working with began to change; some stopped holding outreach camps, swapping to house-to-house searches, while others were so successful they stopped treatment all together. So we began to find new ways to reach people with eye care.
In Mozambique, we used women-only investment groups in villages and radio talk shows aimed at women to raise awareness. In Malawi, we worked with Under 5 clinics because young mothers often brought their mothers-in-law or other older women with them when attending appointments. By working with community and religious leaders, we were also able to pass on information during weddings, funerals and other church services.
Striving for equity
CATCH finished in March 2019 and resulted in more than 415,000 people being screened for eye conditions and around 22,500 people having their sight restored through cataract operations. It has also given us a better understanding of how to deliver equitable eye health services in remote contexts, meaning future programmes will be better equipped to ensure everyone in need of eye care is able to access it.
Both images copyrighted to Sightsavers. Photographer credit: Effie Rarite