The Fred Hollows Foundation Philippines celebrated International Women's Day 2019 by featuring five women making an impact in the eye health sector.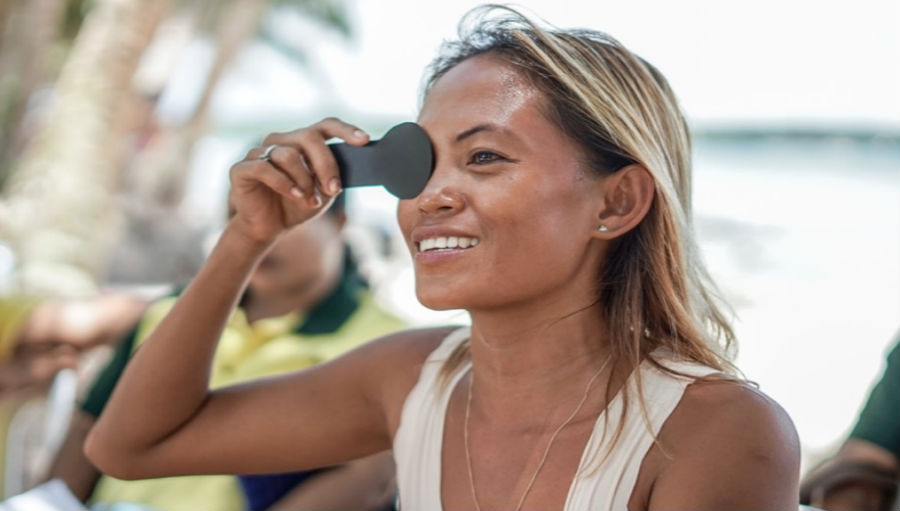 In Filipino society, we look up to women as our "ilaw ng tahanan," – light bearers who guide us and help us see. On International Women's Day, we look at the stories of five Filipino women who help us see – both in the literal and figurative sense.
Blindness and vision impairment are a health issue that leaves a tremendous impact on someone's mobility, independence, and well-being. Yet for every five people who are blind, four of them don't need to be. Treatments like cataract operations can restore their sight in a matter of minutes.
Despite the technology being available, vision impaired Filipinos still suffer from the consequences of blindness. In developing countries like the Philippines, blindness is both a cause and effect of poverty. Blindness is also a women's issue. More than 20 million women in the world are blind, accounting for 55 percent of the world's total. A further 120 million women are vision impaired.
When a family member loses their sight, women often take on the role of carer. This has a significant impact on the family's economic circumstances, both in the short-term as women are unable to work and bring in household income, and long-term as girls stop going to school to take on family responsibilities.
Yet women also play a role in ending avoidable blindness. From barangay health workers to nurses and doctors, women comprise a big portion of the eye health sector. Often unseen and unknown by the public, these women are moving communities and shaping policies to eliminate avoidable blindness in the country.
Leaving a Legacy: Dr Rosario Uy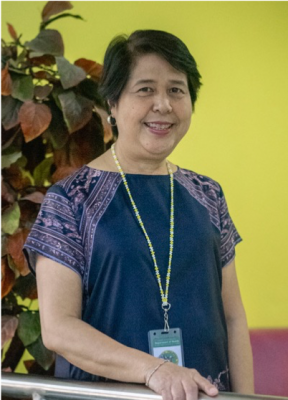 Dr Rosario Uy, more fondly known as Doc Bebi, was a medical doctor for more than 25 years in Mindanao. There, she spent some of her time serving the poor and marginalized, where she would encounter patients who hiked up mountains just to reach the nearest health care facility. Her stint in Mindanao opened her to the social realities of the country, leaving her with a desire to serve as many people as possible – especially the poor and marginalized.
Eight years ago, she started working at the Department of Health in Manila, as a public health specialist. "Shifting gears from clinician to public health physician took a lot of adjustment to unlearn some things I knew as a medical doctor and shift to a public health lens. Public health was totally different. Instead of focusing on each individual patient, you now think of the bigger picture, working with partners, stakeholders, communities, policies, and programmes," Doc Bebi said.
In her time at DOH, she gained an appreciation of blindness as an issue that deserved national attention. "The value of eyesight is tremendous. It affects many aspects of life – social, economic, cultural. A child with a simple error of refraction, when given the correct eyeglasses, can go back to school, perform well at school, attend college, and have a good job later. Older people who have their cataracts removed can extend and improve the quality of their life and be productive members of society," she said. She now leads the country's Prevention of Blindness Programme.
"When I started in DOH, blindness prevention was not led by the Department, and it was not even a priority. We had to fight it out," Doc Bebi said. Under her leadership, the Community Eye Health Programme (CEHP) was born. The CEHP is an integrated approach to treat blindness and vision impairment. Starting at the community level, it brings together local government agencies and different partners from the public, private and non-profit sectors to provide quality eye care to the people. Since public health services are decentralized, Doc Bebi and her team have to compete with other health programmes and convince each province to set-up the CEHP in their own localities.
Thanks to Dr Bebi and her team, CEHP is now present in more than 40% of the country's provinces. There is still a long way to go, but provinces like Surigao del Norte with only three ophthalmologists serving its 485,000 people have benefitted a lot. The work carries on for Doc Bebi, even if results don't come instantly. "I'm turning 60 next year, and often ask myself if I've already done anything significant. As a medical doctor, you can readily see the changes in the patient's life. But as a public health professional who works at the national level, it will take years before you see the results. I am determined to leave a legacy, starting with the community eye health programme."
She has a lot of wishes for her 60th birthday. Her list includes mandatory eye screening particularly for school children and elderly people, the inclusion of eyeglasses as a PhilHealth benefit, and to reach even more provinces with the CEHP.
Smashing Stereotypes: Dr Shelley Ann Mangahas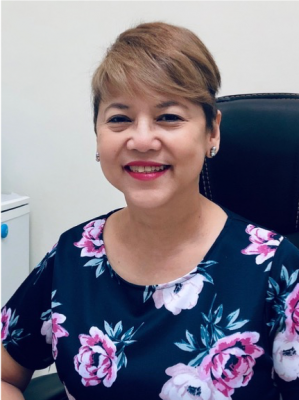 It is no secret that most Filipino doctors would choose to practice in private hospitals instead of public ones. While government hospitals offer services that are generally free, they are often crowded or lack facilities and equipment. But there is one public hospital that defies this stereotype.
The Tarlac Provincial Hospital Eye Center is one of the country's most reliable. Since it opened in 2011, the Center has delivered more than 22,000 cataract operations.
Before its establishment, Dr Shelley Ann Mangahas was the only ophthalmologist working in Tarlac's public hospital, with all other ophthalmologists and optometrists in private practice. Cataract surgeries in private hospitals would cost from P30,000 to P90,000, too expensive for many minimum wage earners.
Dr Mangahas wanted to change this and serve the people of Tarlac. With support from former Governor Victor Yap, the Linaw Tingin (Clear Vision) Programme was created. Linaw Tingin is a comprehensive eye care programme aimed at decreasing avoidable blindness in the province. The Linaw Tingin programme improved the province's eye health system by providing state of the art ophthalmic equipment and attracting private eye specialists to attend to patients in Tarlac Eye Center (TEC) while still retaining their private practice. An additional 13 ophthalmologists and six optometrists have signed up with the Hospital since the start of the programme. Benefits from the Philhealth national health insurance programme and the availability of specialists in Tarlac Eye Center now enable the people of Tarlac to access sight-saving operations at no expense to themselves.
The legacy of Linaw Tingin has been recognized nationally with a Galing Pook Award in 2014 given by the Department of Interior and Local Government. Internationally, Dr. Mangahas received a distinguished service award in 2015 from the Asia Pacific Academy of Ophthalmology (APAO) for her work in Tarlac. And in 2017 in Singapore, the Linaw Tingin Programme was given an Award for Outstanding Service in Blindness Prevention by the APAO.
I found ophthalmology interesting while I was in medical school. The eye is such a small organ with a very big role in survival. Unfortunately, eyesight is often taken for granted by leaders, not realizing that for people to overcome poverty, sickness, or any difficulty for that matter, good vision is a must. Or at the very least, an advantage," Dr Mangahas said. And through the Linaw Tingin Programme, Tarlaqueños are sure to have the advantage of clear vision.
Pain-Point to Passion: Hazel Ladroma
She used to be frustrated with the country's eye health system in her early years as a nurse. Now, she's championing eye health in her province.
Hazel Ladroma has been the Department of Education's nurse-in-charge for the province of Surigao del Norte for the past 11 years, working with schools in various health initiatives, including eye health programmes.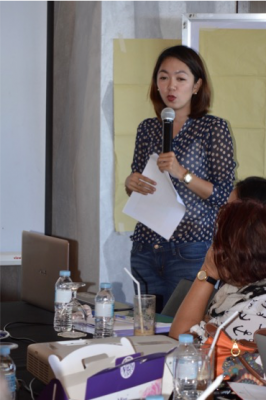 Having suffered from poor vision in high school, Hazel knows how difficult it is to study when you can't see clearly. Her passion is to help students, especially those who could miss out on opportunities because of vision impairment. But her passion was dampened when she was confronted with the realities of the country's eye health system.
"I was frustrated with the state of our eye health services. All students enrolled in public schools are required to go vision screening. The problem is, when we identify students with eye problems, we don't know where to refer them. In the province, we don't have an established eye health facility as all optometrists and ophthalmologists are in private practice, leaving many of our students untreated. We constantly lobby to local government units to provide eyeglasses to students, but not all of them are responsive. Over the years, our enthusiasm for eye health wavered due to lack of support," Hazel said.
Things started to change in 2016 the Community Eye Health Programme (CEHP) was launched in Surigao Del Norte. With doctors and nurses from the private and public health systems working collaboratively with teachers, social workers, government and corporate donors, Hazel regained her enthusiasm as she made her own contribution as a school nurse.
"I am happy just by seeing students being examined by an optometrist. The majority of these students have never even visited an eye clinic. That feeling you get when you distribute eyeglasses to students and they're wearing it – that keeps me going. I can't make this possible without the assistance of all the schools, nurses, and teachers that we trained," Hazel said.
Hazel leads by example, training teachers, so they can conduct vision screening in their own schools. If teachers are able to detect vision impairment early on, students are given the right eye treatment. In serious cases where further treatment is needed, Hazel helps refer students to the provincial hospital.
With every new student getting quality eye care, Hazel's passion is reignited.
Sessions for Sight: Shalom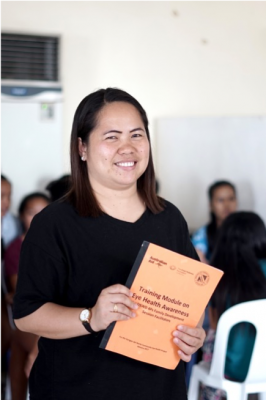 Before you can cure the blind, you have to find them first. And in remote areas where access to basic health facilities is difficult, it's a significant challenge.
The Department of Health's Community Eye Health Programme has taken up this challenge, seamlessly connecting different government agencies and NGOs.
In Surigao del Norte, the provincial government has worked with The Fred Hollows Foundation, an international NGO working to eliminate avoidable blindness in more than 25 countries.
To reach the poorest communities, The Fred Hollows Foundation has seen an opportunity with the Department of Social Welfare and Development's Pantawid Pamilyang Pilipino Programme (4Ps).
Under the programme, the poorest Filipino families are given monthly cash assistance in exchange for regular visits to the health centers, active school attendance, and participation at 4Ps training.
The training includes modules on livelihood, health, and other life skills. The Fred Hollows Foundation was involved, collaborating with local partners to create and roll out modules on eye health.
One of the trainers was Shalom Dapar-Sumaguila, a social worker from Surigao del Norte. "We wanted to maximise the presence of The Foundation in the province, so we wanted to disseminate the information on eye health through these learning sessions, even in the remote areas. The 4Ps programme is present in hard-to-reach areas, and there are many poor families who are not able to have their eyes checked or operated." The training resulted in greater awareness on eye health issues, even in the remote communities of her province.
"Our city and municipal links know that when someone has a problem with their eyes, they will be referred to the provincial hospital for further treatment. In the hospital records, a huge number of patients come from 4Ps beneficiaries or indigenous peoples (IPs)." The learning sessions eventually lead to detection of diseases, and to sight-restoring operations.
"We see heads of families who can now see and return to their jobs and earn again, and children who stopped schooling who can now study again. It's really an accomplishment. It cannot be done by the Department of Social Welfare and Development alone, so we really need to converge with other organisations like The Fred Hollows Foundation."
The First to See: Nene Calinawan
Sometimes, being a champion means being the first one to take a leap. Nene Calinawan, 55, is among the first people in her Indigenous community to receive a cataract operation.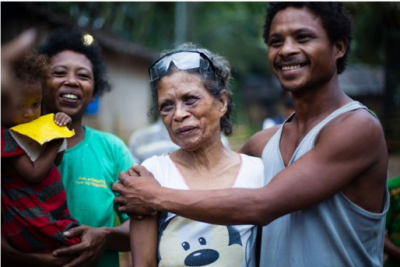 Nene used to be a productive member of Surigao del Norte's Mamanwa tribe before her vision started to deteriorate. She would go with her husband to farm potatoes, corn, and coconuts. She would also collect bamboo, which she would use to weave baskets.
When she developed cataract, Nene started to depend on other people. She couldn't walk or eat by herself. Every day, her husband Prudencio cooked for her before he left for work. Then their daughter would come and help Nene eat. This lack of independence caused Nene to become very depressed.
Things changed when Nene's daughter-in-law heard about free eye surgeries covered by PhilHealth at their provincial hospital. She accompanied Nene to the hospital for an examination where they were told that a simple 20-minute operation could restore Nene's sight.
After surgery on her right eye, Nene smiled and said: "I can see the beauty outside again!" Nene returned home to find her whole village had come to greet her. They were overjoyed and amazed that her sight had been restored.
"I am very happy to see. I am excited to clean the house. I look forward to seeing my grandchildren as they come around to see me. I will also be able to help take care of my baby grandchild too," Nene said.
In order to reach people like Nene, The Fred Hollows Foundation has worked in collaboration with the National Commission on Indigenous Peoples to hold frequent eye health awareness sessions with indigenous communities. Materials on eye health have been produced in local languages and tribal health workers from the Indigenous communities have been trained in eye care.
The Foundation also conducted a survey to understand health seeking behaviors of Indigenous communities which revealed several of their barriers in accessing eye health services such as remoteness of villages, local superstitions and the use of traditional medicine.
With her sight restored, Nene is now an example to the Mamanwa people of how simple and effective eye treatment can change lives, "I am very grateful to our God, and to The Fred Hollows Foundation."
======
The Fred Hollows Foundation is an international NGO committed to ending avoidable blindness in more than 25 countries worldwide. In the Philippines, it has helped thousands in the provinces of Tarlac and Surigao del Norte. Now celebrating its first five years in the country, The Foundation is expanding its work to the provinces of Quezon, Oriental Mindoro, Negros Oriental, and Antique.
Committed to closing the gender gap in eye health, The Foundation has established She Sees, a new funding campaign to raise $25 million over the next five years. She Sees will fund programmes to ensure that all women and girls can access eye health care and services, and that women play a strong role in the eye health sector.