On World Diabetes Day, Dr Zareen Khair, the Fred Hollows Foundation's Bangladesh Country Manager, writes about a DR project they are implementing (thanks to the Trust's support) highlighting lessons & successes…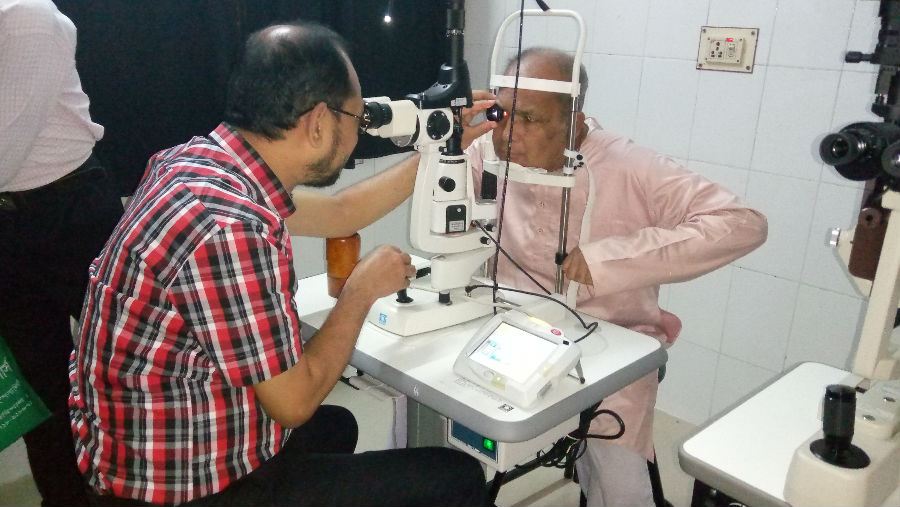 Bangladesh has nearly 1.85 million people with Diabetic Retinopathy (DR). People with DR require ongoing laser treatment and professional monitoring to keep them from going blind.
The South Central District of Barisal lacked adequate local health services for many years. So, patients had to find the means to travel regularly to Dhaka–eight hours away for such treatment. This was impossible for many, especially women.
A couple of years ago, local public and private partnerships provided the solution.
Setting up a DR Clinic
The Sher-e-Bangla Medical College hospital (SBMCH) in Barisal is a renowned teaching institution, with a capacity of 1,000 beds serving the 2.3 million population of the district. The Fred Hollows Foundation – in partnership with Queen Elizabeth Diamond Jubilee Trust – converted an area of the hospital into an impressive DR clinic in 2017.
Doctor Mohammad Shafiqul Islam, who leads the facility, notes; "They provided the infrastructure and instruments – a good fundus camera, laser and OCT (Optical coherence tomography) machine – everything you can see here".
"They trained me in laser surgery, trained the nurses to use the new equipment, provided awareness training for General Practitioners including those outside the city and helped raise awareness in the community ."
"With the availability of laser surgery in Barisal, patients are happy that they can get the treatment here and that there is no need to go to Dhaka."
Local impact
Abdul operates a successful car rental business that supports his wife, son and two daughters. Four years ago, as his DR worsened, Abdul needed to frequently take long trips to Dhaka for treatment. He managed a few trips to Dhaka up until last year, when he needed the assistance of his son-in-law, who had to take time off work to ensure Abdul made his appointments. With Abdul's vision loss increasing, his business in Barisal began to suffer.
However, The Fred Hollows Foundation Diabetic Retinopathy Centre has allowed Abdul to receive inexpensive laser treatment in his hometown and keep his business running.
Local partners
The Diabetic Association of Bangladesh (DAB) is a private facility that provides complete healthcare for all diabetic patients, but did not cover eye health. The Foundation has now introduced DR screening in the Barisal DAB Centre.
The Centre has since played a major role in referring many patients to The Foundation's DR clinic.
Improved access
Tertiary level hospitals can provide eye care services to large populations at a very minimal or no cost. Those screened for DR were therefore mostly from tertiary hospitals. For example, SBMCH screened 1,114 patients (47% female and 53 % male) compared to 351 patients (56% female and 44% male) from Brahmanbaria District Hospital, which is a smaller, 250 bed hospital. However, it is difficult for female patients in rural areas to access tertiary level facilities, as it often requires long distance travel, which is both expensive and requires a chaperone.
It is therefore more convenient for rural women, as well as rural men, to access comprehensive DR facilities in relative proximity. It may seem a large investment but access to low-cost treatment for vulnerable rural communities has a significant positive impact on those communities.
The results
 The Fred Hollows Foundation has overall provided an integrated model of care for provision of eye care services to people at risk of vision loss due to diabetes. The testing of various components of this model of care will provide evidence to further scale up and replicate projects that will result in sustainable improvements to the capacity of the public and private health system to deliver eye care services to diabetics in Bangladesh.
The results in a snapshot:
50,000 patients (53 % female and 47 % male) underwent initial eye screening for Diabetes (since inception)
5,912 patients then underwent advanced secondary screening, which identified DR symptoms more accurately. It was found that 21% of these patients were detected with DR and 24% patients later received treatment, both laser and injection in severe cases
The patients cleared for signs of DR were advised to have a regular check-up and monitoring
Evidence from this project was a critical factor in having DR included and prioritised in in the National Eye Care Plan. The Foundation took the lead role in the development of that plan.
This led to the National DR Strategy and Action Plan, which is overseen by the DR Working Group, consisting of INGO, NGO and private sector members. The Foundation is the Member Secretary of the group
Liked it? Today is World Diabetes Day! We have more stories for you: