On World Diabetes Day,  Emily Edwards, The Fred Hollows Foundation NZ and Basil Aitap, National Eye Coordinator at Vila Central Hospital write about a recent outreach to Port Vila in Vanuatu, and their work to tackle the devastating impact of diabetic eye disease there.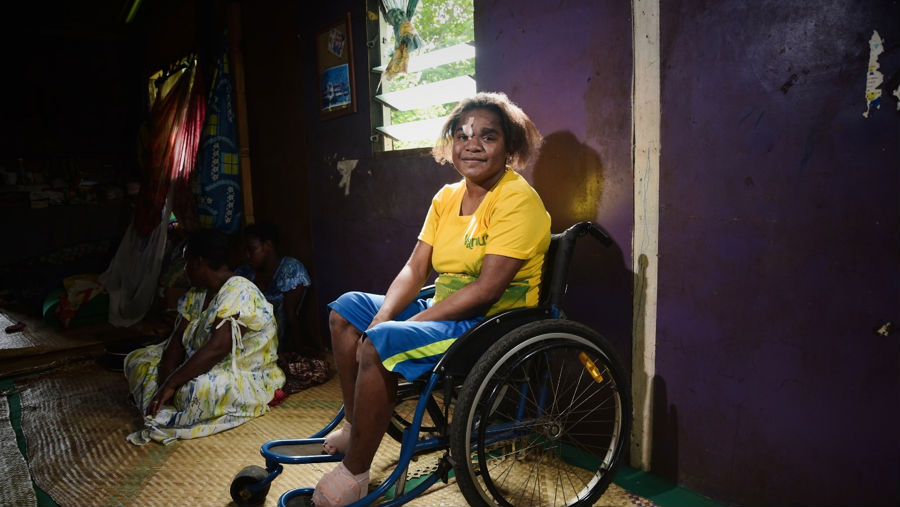 The vibrant, green landscapes of Vanuatu in the South of the Western Pacific region is home to 280,000 people. Spread across 83 islands, over 80% of the population here lives in rural and isolated villages , which makes accessing basic health services a challenge.
Since 2001, The Fred Hollows Foundation NZ have been working with skilled local eye care personnel to ensure that the ni-Vanuatu population has access to high quality eye care.
Eye Health Concerns in Vanuatu
Cataract is still one of the major causes of blindness in Vanuatu. However, the challenge is the high rate of diabetic retinopathy. Almost 60 percent of people with diabetes have it.
Twenty-two year-old Clerence is a ni-Vanuatu woman being treated by one of our teams.
We met Clerence at her home, during a recent visit to Port Vila by our Pacific Outreach team. She was sitting alone in the dark, in a wheelchair that once belonged to her father.
Clerence is one of many affected by the epidemic of diabetes hitting the Pacific. Clerence has suffered from diabetes since she was a baby. As is often the case in Vanuatu, her condition was not diagnosed until many years later. While Clerence is now taking insulin, she has been continuously affected by infections for which she has not always been able to afford to take antibiotics.
Amongst the consequences have been two amputations to remove her toes on both feet. She also has dense cataracts, leaving her with seriously impaired vision. This is the result of diabetic eye disease, another devastating complication of her diabetes, and the world's leading cause of avoidable blindness in the working age population.
We wouldn't blame you if you thought this story has a sad ending. But there is hope for Clerence, and other ni-Vanuatu.
Coordinated approach to tackle DR
The Fred Hollows Foundation NZ has been taking a coordinated approach to tackle diabetic eye disease and the wider problem of diabetes. For this, we are working with national Governments and other key organisations, notably The Queen Elizabeth Diamond Jubilee Trust.
We're raising awareness of the disease, which is a big part of tackling the problem, through health promotion campaigns and events. This leads to well-informed patients who are more likely to take action to manage their diabetes.
We're providing diabetes eye care training to local eye doctors and nurses, as well as general community health workers, to ensure early signs of diabetes are detected and referral systems are strengthened.
Earlier this year, the Foundation also announced the $2.1 million upgrade and expansion of the Port Vila National Eye Centre in Vanuatu. The upgraded eye centre, combined with the upcoming return of a Foundation-trained eye doctor, will help to eventually increase Vanuatu's eye surgery capacity from 200 to 800 per annum, which will meet the country's needs as estimated by the World Health Organization.
Together, these efforts are enabling the Foundation to help overcome the significant challenges of diabetic eye disease.
As for Clerence, she will be able to have an operation as soon as she is clear of her infection.
Photo Courtesy: Darren James
Liked it? Today is World Diabetes Day! We have more stories for you: