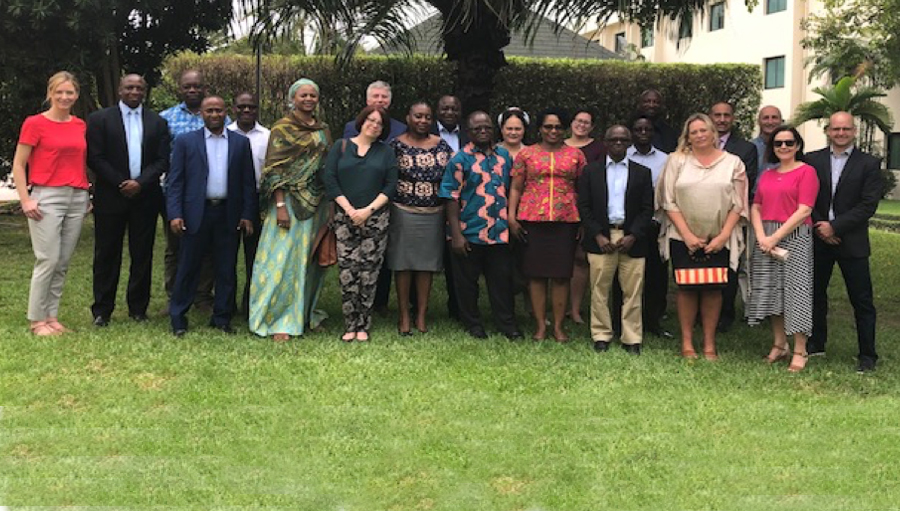 The IAPB Africa Planning meeting took place in Accra as the first of a series of IAPB regional meetings following the development of the 2018-2021 IAPB Global Secretariat Plan. The meeting brought together participants from across Africa, representing the secretariat, members and partners.
The meeting had three objectives: To draft the 2019-2022 IAPB Africa Strategic Framework; re-invigorate collective action and commitment to the implementation of the strategy within IAPB Africa; clarify the roles of the IAPB Secretariat and Members in Africa.
Understanding the Context: 
Following presentations by WHO on the forthcoming World Report on Vision as well as other WHO developments in the field of eye health and WHO AFRO on work that has been going on in Africa in partnership with IAPB. The participants reviewed the current situation of eye health in Africa.  Key insights that emerged were that the overall feeling was that while progress had been made, many issues still remain and many are issues that have been around for some years. Progress on workforce issues was noted as being encouraging.  The importance of focusing on governance and leadership, workforce and finance as main the drivers of change was stressed.
Exploring IAPB's response:      
A presentation on the IAPB Global Secretariat's Plan set up the discussion on the relevance of the four proposed themes (Advocacy, Partnerships, Connecting Knowledge and Services to Members) in the African context.  The conclusion of the discussion was to continue to explore IAPB's response in Africa, using the global themes but adding the theme of Governance and Leadership, which had emerged from the earlier Review.
Prioritising and Planning for Implementation:
Taking the key priorities identified within the four themes, participants then discussed which priorities fell into the same areas of work. This resulted in a total of six categories being identified: Integration; Supply Chain; Partnerships; Knowledge; Social Mobilisation and Strengthen Leadership and Governance.  Participants then signed up to those areas which they were ready to commit to and ready to take forward in their role as members/partners. This resulted in groups forming around all the areas of work except Social Mobilisation, and working to bring greater focus, clarity and detail to the priorities.  Based on this, the groups developed implementation plans for each category outlining the key actions requires, timeframe, resources requires and the individual roles of the members and the secretariat.
Next Steps:
The implementation plans will now be reviewed and consolidated by the Secretariat, the IAPB Africa Chair and co-Chairs before being finalized.