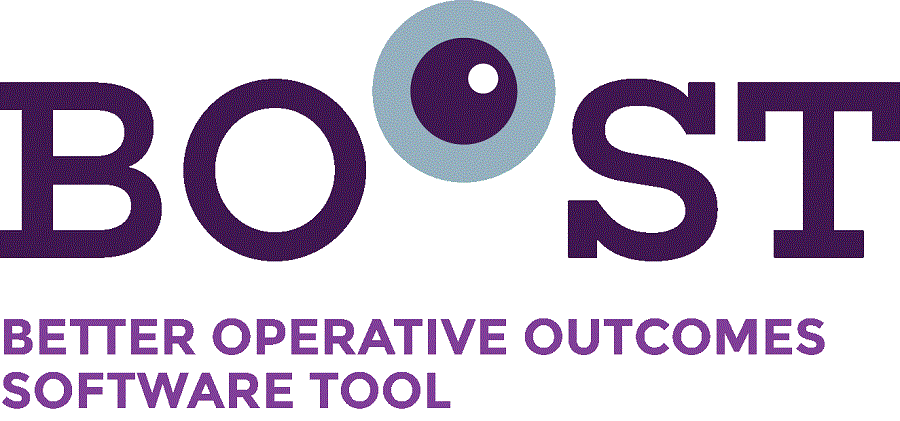 Fecha inicio: 1 Noviembre 2018;   Fecha final: 30 Septiembre 2019
Elegibilidad para participar:
Los participantes deben ser cirujanos calificados o en entrenamiento que realicen una cirugía de cataratas en hospitales o centros quirúrgicos de cataratas.
Los participantes deben descargar, registrar y acceder a la aplicación gratuita BOOST para un teléfono Android o computadora a través dehttps://boostcataract.org.
Antecedentes
Cataratas BOOST (Better Operative Outcomes Software Tool) es una aplicación simple, gratuita y fácil de usar para ayudar a los cirujanos a monitorear y mejorar los resultados quirúrgicos de cataratas.
BOOST permite a los cirujanos registrar los resultados el día después de la cirugía de cataratas, luego analizar y comparar sus resultados con otros usuarios de todo el mundo. También sugiere estrategias para mejorar la calidad quirúrgica cuando los resultados son malos.
Propósito
El estudio prospectivo de Cataract BOOST tiene como objetivo demostrar si el uso de la aplicación BOOST puede mejorar la proporción de cirugías de cataratas con buenos resultados (AVNC ≥ 6/18) y estar efectivamente integrado en la atención quirúrgica de rutina.
 Requisitos de estudio
Hay dos grupos participantes en el estudio: 1)Cirujanos de cataratas; y 2)Administradores / gerentes de centros quirúrgicos de cataratas.
El principal grupo participante son los cirujanos de cataratas. Se le pedirá a cada cirujano que registre datos de resultados quirúrgicos anónimos de una muestra de sus pacientes de 35 años o más que presenten una catarata por primera vez.
Los cirujanos son elegibles para participar si son: a)Actualmente practica y continuará practicando consistentemente durante el período de estudio (i.e. descansos de la práctica de no más de 4 semanas durante el período de estudio); b) practicar en un país de ingresos bajos o medios; c) realizar en promedio más de 6 cirugías de cataratas por semana. Los sitios son elegibles si tienen uno o más cirujanos elegibles.
Los cirujanos deberán descargar y registrar información en la aplicación BOOST de un total de 140 cirugías de cataratas en tres (3) fases:

Fase I: Mínimo de 60 pacientes, evaluados 1-3 días después de la cirugía

Fecha de la cirugia
Edad y género del paciente
Ojo operado
AV preoperatoria mejor corregida.
AV postoperatoria no corregida en el ojo operado
Técnica quirúrgica (Faco, SICS, ECCE)
Uso de LIO (Sí /No)
Fase II: Minimum of 20 patients who register poor outcomes at follow up appointments (these can be different to Phase I patients)

Fecha de la cirugia
Edad y género del paciente
Ojo operado
AV preoperatoria mejor corregida
Fecha de seguimiento (entre 6 a 12 semanas)
AV postoperatoria
AV postoperatoria mejor corregida
Causas del resultado visual deficiente (trastorno refractivo,
complicación quirúrgica, Selección inadecuada de casos / comorbilidades)
Fase I – segundo: Mínimo de 60 pacientes para comparación de datos.

La misma información es 1. Fase I – ver arriba
Los cirujanos dan permiso para que el equipo de investigación acceda a los datos que ingresan en BOOST. Todos los datos de pacientes registrados por los cirujanos están sin identificación y los cirujanos pueden elegir participar anónimamente.
Duración
El estudio se realizará del 1 de noviembre de 2018 al 30 de septiembre de 2019.
Los participantes deben registrar datos de resultados quirúrgicos de un mínimo de 140 cirugías durante este período. Los participantes pueden optar por registrar datos adicionales, olo se utilizarán para el análisis los datos de hasta 140 cirugías según las fases del proyecto.
Su participación en esta investigación
Su participación es completamente voluntaria y puede retirarse de esta investigación en cualquier momento y por cualquier motivo, sin una explicación, notificando al equipo de investigación a través deBOOST@hollows.org. Puede que no sea posible retirar sus datos de los resultados del estudio si ya se han registrado en la aplicación BOOST.
Si acepta participar en este estudio, se le pedirá que firme el Formulario de consentimiento del participante.
Deberá descargar y registrar una cuenta protegida con contraseña con la aplicación BOOST (a través de un teléfono inteligente Android, computadora portátil o computadora de escritorio) desde https://boostcataract.org. Se le pedirá que otorgue permiso al equipo de investigación BOOST para ver sus resultados, pero todos los resultados serán anónimos.
Su participación, o no participación, no afectará su progresión profesional ni sus derechos legales
Los datos recopilados se tratarán de forma segura y confidencial según sea necesario en virtud de la Ley de protección de datos y se almacenarán según lo requerido por Queen's University Belfast (UK).
Todos los resultados, si se publican, serán tratados de manera anónima. Nadie será identificable en los datos producidos a partir de este estudio.
Si lo desea, sus detalles se agregarán a una lista de distribución y se le informará sobre el resultado del estudio y cualquier publicación.
Puedes contactar con el equipo de investigación a través deBOOST@hollows.orgcon cualquier inquietud en cualquier momento durante el período de estudio y los 12 meses posteriores.
Al finalizar el estudio, es posible que se le solicite completar un cuestionario para proporcionar comentarios sobre la aplicación BOOST y su experiencia. Puede omitir cualquier pregunta que no desee responder.
Gracias por tomarse el tiempo para considerar este estudio.Si desea participar, firme el formulario de consentimiento adjunto.
Para obtener más información, comuníquese con el coordinador del proyecto de investigación o el investigador principal:
Elise Moo

BOOST Research Coordinator

Professor Nathan Congdon

BOOST Lead Investigator

ncongdon1@gmail.com